Shard developer Sellar brings WSP on board for two further Renzo Piano-designed towers in London Bridge Quarter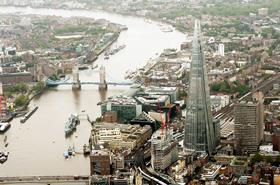 Engineer WSP has been drafted in by the Shard developer Sellar to work with architect Renzo Piano on designs for two further, smaller towers in the London Bridge Quarter.
Building understands WSP was appointed last month, following the appointment of Piano earlier in the summer. Piano and WSP previously worked on the design of both the Shard and the Place, which stand adjacent.
The towers will house flats and be built on the site of Fielden House, by the Shard and the Place, which currently houses ground floor bars with offices above, including a Sellar office. Sellar and a Qatari consortium bought the site earlier this year.
Sellar had previously developed plans for three smaller towers on the site, called "the Shardettes", designed by architect Herzog and de Meuron, which comprised 370 homes, a hotel, shops and a cinema. The current scheme is now being dubbed "the Shardlets".
All parties declined to comment.