Firm pays $400m for Louis Berger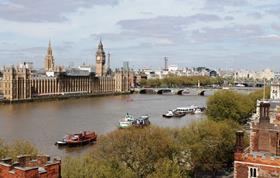 WSP has snapped up US consultant Louis Berger for $400m (£304m).
The firm employs around 5,000 staff with over two thirds working out of offices in the US, where it is based in Washington DC.
WSP, which is working on the deal to move MPs out of the House of Commons and into temporary accommodation while the Palace of Westminster (pictured) is refurbished, said its takeover of the $480m (£365m) turnover firm strengthens its foothold in the US's transportation, infrastructure, environment and water sectors.
It said the deal would see annual savings of $15m (£11m) a year. It added the move would cost it $50m (£38m) in one-off integration and restructuring costs.
Louis Berger, which was founded in 1953, also works in Spain and France as well as the Middle East and Latin America.