WYG returns to half-year pre-tax profit on the back of a strong UK market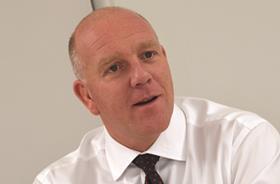 Consultant WYG has said it is "actively reviewing a number of acquisition opportunities", after posting a return to a half-year pre-tax profit over the six months to September 2015.
WYG posted pre-tax profit for the period of £2.1m, compared to a £416,000 pre-tax loss the previous year. Over its last full financial year to June 2015 WYG posted a £1.4m pre-tax profit.
The firm has made a number of recent acquisitions - including consultant North Associates in October. Chief executive Paul Hamer (pictured) said a newly-secured £25m bank facility would help it make further acquisitions "in support of our aspiration of building towards a profit before tax of £15m by 2018."
WYG said strong performance in the UK - which makes up 74% of its revenue - boosted the firm's profit over the half-year period. The firm posted unchanged revenue of £62.3m.
Key wins in the UK included WYG's appointment as technical assessor to the Co-op Group and selection by the Defence Infrastructure Organisation to undertake surveys on accommodation standards for service families on all of its international estate.
The firm also won 16 new projects under the Defence Infrastructure Organisation's principal support provider framework, including a £1m two-year programme to support the Ministry of Defence's development of a new naval base in Bahrain.
WYG's management services and engineering arms have also been successful in winning a number of major projects, including the recent appointment of its Belfast office to design and manage the delivery of an undisclosed education project with a construction value of £114m, it said.
The firm's total order book stood at £60.9m.
Hamer added that WYG was seeing "an increasing flow of work from major public and private sector clients, underpinned by continuing economic growth and infrastructure spending which are the main drivers of our core front-end planning and consultancy business."
WYG has also announced the departure of its finance director Sean Cummins, who will leave following the appointment of a successor.