Consultant is seeking to grow its presence in the Yorkshire city and across the region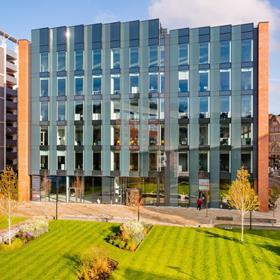 Leeds-based consultant WYG is moving its corporate headquarters from its current base in the city's Headingley district to the 3 Sovereign Square development in the centre of the city.
More than 300 people will take part in the move, scheduled for this summer.
WYG's new offices will span 21,000ft² on the 4th and 5th floors of the building (pictured), which was built by Kier and is owned by the city council.
The firm, which employs a total of 1,600 people working out of 50 locations across the world, said the shift was part of a strategy to grow its presence in Leeds and the wider Yorkshire region.
The building is located close to the railway station and part of a development that will eventually include a new city park and a terminus for the HS2 eastern route.
Last month, WYG announced it had slashed half-year losses from £2.8m to £755,000.
The firm also reported a new business unit it had set up in the Netherlands to protect its European business ahead of Brexit had won its first jobs, including a scheme for the European Investment Bank in the Balkans.