Consultant posts reduced loss as UK division posts double digit growth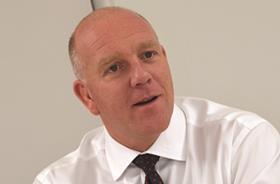 Consultant WYG has posted a reduced half-year loss, while its UK division posted strong growth for the period.
For the six months to 30 September 2014 WYG posted a £416,000 pre-tax loss, down from a £743,000 pre-tax loss the previous year.
These figures included £2.3m of costs from separately disclosed items- mostly from share options, amoritisation - in 2014 and £2.2m in 2013.
When these were taken out of the figures the firm reported a pre-tax profit of £1.9m, up 35% from £1.4m.
Revenue declined marginally to £63.3m, down from £63.9m.
However WYG's UK business bucked the trend, recording a 13% increase in revenue to £40m, driven by growth in infrastructure and planning work. The UK accounted for 64% of the firm's revenue in the first half of 2014/15.
Speaking to Building chief executive Paul Hamer said he expected the balance of the firms UK and international work to "move around a little bit" over the next few years but that he was happy with it as long as it was close to a 50:50 split.
He added: "Because the contracts outside the UK are much larger and there are a lot of them you will probably see that swing back towards 50:50."
The expansion of the UK business was driven by a number of appointments to major framework's including Sainsbury's planning framework, which it was appointed to in March. Earlier this month the supermarket chain announced it was halving its development pipeline.
But Hamer said he was not worried about this damaging the opportunities WYG might get through the framework as it was "bid on their current strategy".
The firm also increased its staff to 1,424 at the end of September up from 1,255 at the end of March.
Hamer said WYG needed to recruit around 100 people a year to service the growth in work he had planned.
During the period WYG acquired planning consultant Alliance Planning, which Hamer said had made it the fourth largest planning consultant in the UK.
He said he was continuing to look at acquisitions to expand the business. He said: "We are seeing slightly larger assets that might be of interest, businesses of £10m or so. But we are taking our time and we are very choosey."