Delivery team appointed to oversee construction of the Wylfa Newydd nuclear power plant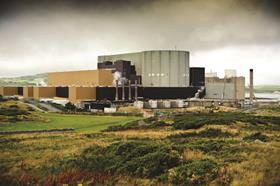 A joint venture between Bechtel, Japanese contractor JGC Corporation and Hitachi has been confirmed as the delivery team for the £10bn Wylfa Newydd nuclear power plant in Anglesey, Wales.
Called 'Menter Newydd' – meaning 'New Venture' in Welsh – the JV will work as the engineering, procurement and construction (EPC) contractor on the project.
The JV's project director, Hitachi's Malcolm Twist, said the JV will now begin to develop relationships with sub-contractors, and expects most of them to be British.
The announcement comes after the project's developer, Horizon Nuclear Power – which itself is wholly owned by Hitachi – told Building it will begin the search for a programme management partner to oversee the work of the EPC contractor once it had finalised discussions with Bechtel and JGC.
Now the EPC contractor has been confirmed, Horizon will also look for a project delivery partner to work alongside Bechtel, JGC and Hitachi.
Consultants expected to bid for those roles include Aecom, CH2M and Jacobs - which is working on the Hinkley Point C nuclear power plant in Somerset.
Commenting on his firm's win, JGC's Tsuyoshi Iwasaki, deputy project director for Menter Newydd JV, said JGC was pleased to be working on a project "which will contribute so much to local communities, as well as to the wider UK."
He added: "We bring significant expertise, accumulated through our global experience of EPC delivery, and look forward to helping ensure the safe, on-time, on-cost delivery of Wylfa Newydd."
Yokohama-based JGC has extensive experience in construction of power plants around the world, specialising in gas power plants.
The £4.5bn-turnover contracting giant has been involved in one UK project previously, providing EPC services for Unilever's Colworth research lab.
Bechtel's Mike Robinson, the JV's other deputy project director, promised his firm, as part of the JV, will "bring Wylfa Newydd safely into delivery to cost and budget in collaboration with local communities and our partners."