Horizon Nuclear Power begins search for management roles on Wylfa Newydd project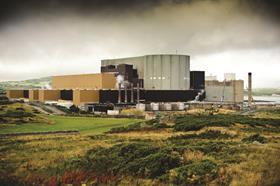 The energy company planning to build a £10bn nuclear power plant in north Wales is set to start hiring firms to oversee the work.
Horizon Nuclear Power, which is owned by Japanese conglomerate Hitachi, told Building that it was about to begin the search for a programme management partner and project delivery partner.
Consultants expected to bid for the work at Wylfa Newydd plant in Anglesey include Aecom, CH2M and Jacobs - which is working on EDF Energy's Hinkley Point C scheme in Somerset.
Horizon said it will switch its attention to these roles once negotiations with its preferred engineering, procurement and construction (EPC) contractor
are completed.
A joint venture between US firm Bechtel and JGC Corporation - a £4.5bn-turnover Japanese contractor - is currently in the final stages of tying up this deal with Hitachi.
Speaking at the Nuclear New Build Forum in London last week, Horizon's programme director for Wylfa Newydd, Carl Devlin, said it will be "bringing on a programme management partner to help us oversee that [EPC] contract".
News that Horizon is about to begin looking for a programme manager and project delivery partner will come as a relief to firms frustrated by the slow pace of procurement.
One source said Horizon still hasn't updated the supply chain on the roles despite initially wanting consultants in place at the start of this year.
The source said: "They put out expressions of interest last year and told us they'd come back in November, then they told us it would be in the new year and now we still haven't heard anything.
"They wanted someone in place for Q1 of this year but that obviously hasn't happened. We don't know what they're looking for. There are all sorts of angles that need clarifying."
In a statement issued to Building, Horizon added: "As is the nature of a project of this scale, it is important that long-term commercial agreements are formed in a timely manner and with proper consideration.
"In this vein, we are currently prioritising the final stages of the formation of the delivery team, after that, contracts for the programme management partner and project delivery partner will be delivered."
Meanwhile, EDF has admitted that a final investment decision on Hinkley is now not due to be made until September. The long-delayed decision had been expected next month.