In healthcare, we see modular construction increasingly gaining favour. Here, Tim Molden, MESH's managing director, alongside Tim Ashton, architect and director at Hunters, summarise MESH's experience as a cost management business and leading experts in healthcare, and specifically, what has worked well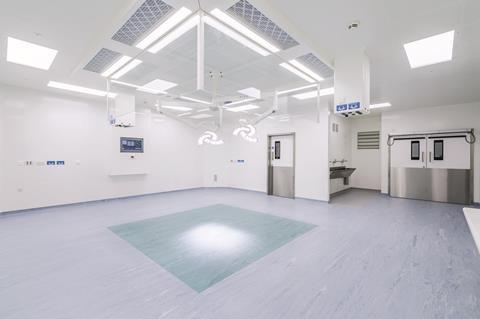 We have all been there. Managing pressures from clients on time and budget, finding quick, reliable, and cost-effective solutions. The solution that we have found is quite simple. Modular builds.
Modular has been in use in the UK for some time, with many large-scale residential projects, for example, frequently using modern methods of construction (MMC) for kitchens, bathrooms, and unitised facades. It has very much been part of the design process, providing benefits such as, improved health and safety of the workforce, high quality construction standards and reducing site programme.
And to top it off, they are sustainable and support the UK's net zero target by 2050.

Modular is, of course, increasingly popular in the healthcare sector and there are a number of reasons it is continuing to gain traction.
These include:
Meeting the MMC requirement for the majority of NHS funding while also supporting the NHS's net zero objectives.
Speeding up procurement of a main contractor using a favourable D&B contract, while using NHS approved national frameworks of contractors.
Speeding up delivery as modular buildings can be completed 30%-50% quicker than traditional construction methods.
Reducing the on-site construction programme with minimal impact made to the client's business. With 80% of the construction delivered off-site within factory settings, it is easier for clients to continue business as usual.
>> Also read: Christy Hayes discussing modular contributing to the reduction of carbon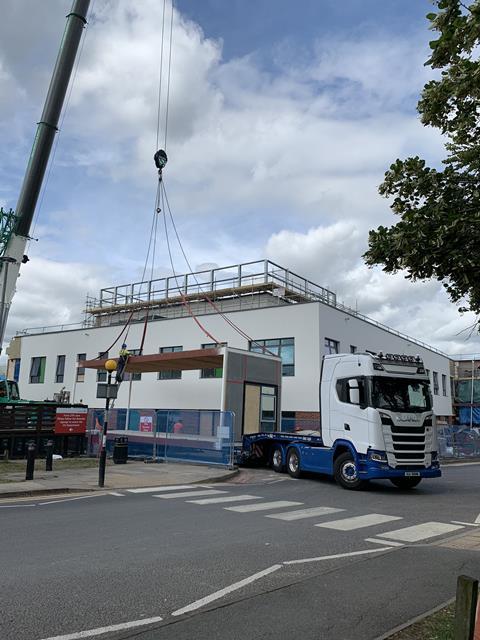 Moreover, in a world where sign off can often be a challenging journey, the concept of buying a solution that is built and ready to use has some appeal. It's a bit like buying a car. Would you wait 12 months for the exact specification or buy one which has the same specification and is available for collection within half the time?
But it is important that the solution is considered from the outset as modular has some inherent structural implications that need to be considered at an early stage for a successful project. The design of mechanical building services around optimised structural solutions is a particular challenge. But designing a well-considered building is certainly possible if these constraints are worked with.
Having a knowledgeable design team appointed early is immensely beneficial as MMC is simply a design obligation to be addressed, no different from other design constraints, such as budget, site specifics and of course the client's functional content.
The challenges come when the "pre-order car" is trying to be adapted to align with expectations later in the process or planning pressure was not an early consideration.
The architect's challenge is to make sure the design works and at Hunters, this is done by working with the whole building team from the start, ensuring any issues are resolved and the space and aesthetics aren't compromised. Using this method has meant working closely with Trusts delivering a range of building uses from outpatient clinics to highly serviced specialist care facilities.
Other challenges include, fire certification, with it being a must that clients appoint modular manufacturers who have robust certification in place for their building systems, and planning constraints in large cities.
On this latter point, it is worth noting that at MESH we have not been commissioned on any modular healthcare schemes within zone 1, and perhaps it's because it's not logistically feasible.
So, what does the future bring? It's evident that healthcare clients have responded well to modular, and the supply chain see it as a credible solution.
At MESH, 40% of all new build projects have been for healthcare modular schemes, where we have delivered projects on theatres, diagnostic suites, extensions to children's hospital, laboratories, and new mental health units.
Hunters experience designing modular schemes demonstrates that any specialist clinical service across the healthcare campus can be accommodated; from offices and outpatient clinics to; robust mental health facilities and highly serviced departments such as, ED Resuscitation and cardiac catheter labs.
But despite this we are not seeing is the same passion in other sectors.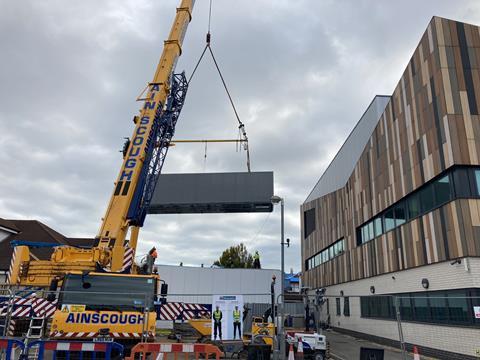 On a recent project for an NHS Trust, a crane was erected outside of a 24-hour emergency department, which maintained a 24/7 access over a 16-month period whilst the modules were delivered and installed. If we consider there are perhaps more regulations for healthcare modular schemes especially when housing large medical equipment.
If we can make it work for a hospital outside an A&E department, then surely it could work within a larger city and for office fit-outs?