Building's report on the venues that saw Muhammad Ali win a gold medal aged 18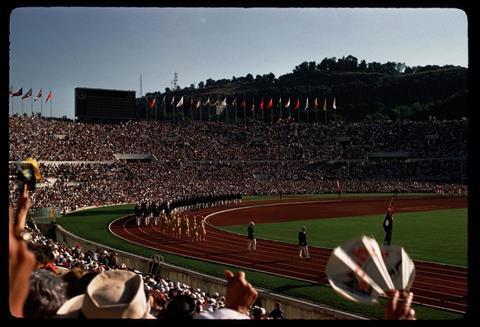 This time last year, the nation was well and truly gripped by London 2012 fever and Team GB's medal count was rising. We'd watched an area of east London be transformed into centre stage for a global sporting event and now the eyes of the world were on the action taking place inside buildings desgined by Populous, Hopkins and Zaha Hadid.
Building has been reporting on the venues that play host to Olympic Games for over a century. This week, we took a look back through our archive and came across a feature published on August 26, 1960, when an 18-year-old Muhammad Ali was about to win his first Olympic gold medal in Rome.
Building ran this description of the Palazzo dello Sport, the venue for Ali's early victory:
"The Palazzo dello Sport is a flattened dome 300 ft. in diameter, carried above super-imposed galleries encircled by slim tapered peripheral columns which contain glazing. The building is designed for tennis, basket ball and boxing, and seats 14,000 with another 2,000 at ring-side during boxing.
"The dome's structure is similar to that of the Turin exhibition hall, rows of precast V-shaped ferro-concrete units placed side by side to form corrugations varying in depth from 1 ft at the crown to 4ft at the edge, with 'in situ' reinforced concrete ribs in the ridges and valleys. Nervi and Bartoli were thecontractors for the structure only. Total cost: £350,000."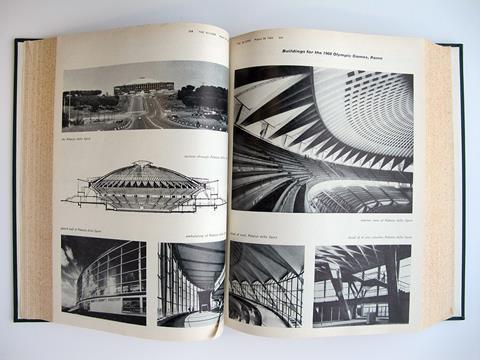 Images of the Palazzo dello Sport, including a section through it (left middle), glazed wall (bottom left) and the interior (top right)
The venues were clearly impressive at the time. Building reported: "The Olympic Games 1960 opened in Rome this week in what are possibly the three finest structures ever erected for this four-yearly festival of sport. They are the Flaminio stadium on the via Tiziano; the Palazetto dello Sport, also on the via Tiziano; and the Palazzo dello Sport, sited on a small hill at the centre of the EUR exhibition ground.
"The stadium accommodates 30,000 seated spectators with standing room for 20,000 more. It is constructed entirely of reinforced concrete, the strands being formed with main extended cantilevers upwards to the rear. Surrounding the stadium below the portals are four gymnasia and a swimming pool, as well as changing rooms, administration, central heating plant, etc. Antonio Nervi collaborated in the design which was carried out by Impresa Ingg. Nervi & Bartoli."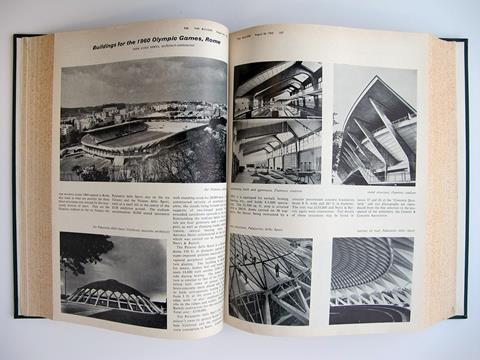 Images of the Flaminio stadium (top left), swimming bath and gymnasia (top right) and roof structure of the Palazetto dello Sport (bottom left).
The Team GB of 1960 put in a somewhat less momentous performance than last year's Games, winning 20 medals overall in comparion with last year's 65, two of which were gold, and finished 12th overall.