Prime minister and Chancellor hail the "crucial" role of infrastructure in their "long term economic plan"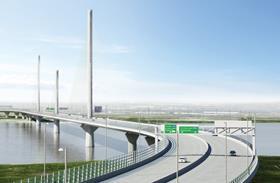 The prime minister and the Chancellor have pledged that 200 infrastructure projects worth a total of £36bn will start in the 2014-15 financial year.
The projects span rail, road, local transport, flood defences, broadband, airport infrastructure and waste management and include the Mersey Gateway Bridge and flood defence project in Sheffield Lower Don Valley and Exeter.
The schemes will be funded by £5bn of public investment, £21bn of private investment and £10bn in joint public and private investment.
Prime minister David Cameron said he wanted Britain to have "first class infrastructure" and that it was "a crucial part of our [the government's] long term economic plan".
He said: "This government is backing business with better infrastructure so that more jobs and opportunities are created for hardworking people, meaning more financial security and peace of mind for families.
Chancellor George Osborne said investment in infrastructure would create a "more balanced, resilient economy".
He added: "Because of the tough decisions we have taken in day to day spending, we can prioritise public investment where it is most needed and create the right conditions for private investment in infrastructure where it brings value for the taxpayer."
Nelson Ogunshakin, industry chair of the National Infrastructure Plan Strategic Engagement Forum (NIPSEF), said: "This fantastic emphasis is testament to the positive collaborative approach government and industries involved in the delivery of infrastructure, such as construction, have engaged in through NIPSEF over the past two years to ensure projects listed in the National Infrastructure Plan come to fruition."
He added the government's "full throated support" for infrastructure would "further inspire the confidence of the industry".