Find out the construction companies and professionals already signed up as backers of our Brexit manifesto recommendations, and sign up yourself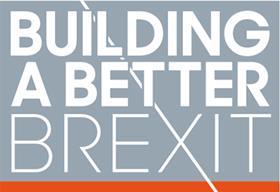 The feedback from our Building a Better Brexit campaign has been that industry and government need to work together to create the conditions under Brexit in which construction can continue to operate and even hope to thrive.
To this end, we have launched the next phase of our campaign: a manifesto of recommendations for government, based on the outcomes of our reader survey, and some key pledges that we are asking readers to commit to in return.
Taken together, the measures are designed to help the industry – and the country – be successful during the transition period and well beyond our exit from the EU.
Below is our list of supporters so far - the list is being added to and updated daily, and we would encourage all our readers to sign up over the next days and weeks. Remember, the more supporters we have, the greater influence we can wield with the government:
| Company/professional | Message of support | On behalf of |
| --- | --- | --- |
| Capita | | Company |
| Richard Steer, chairman, Gleeds Worldwide | The government has said that they want to prioritise construction through their apparent investment in infrastructure but do not appear to support constructors in terms of recognising their influence as a key touchstone sector during Brexit negotiations. The Building Brexit manifesto is a shopping list which has all the key elements to safeguard our future as an effective and vital part of the economy. They ignore it at their peril. | Themself & company |
| Richard Threlfall, partner, UK head, infrastructure, building and construction, KPMG | I very much welcome the initiative taken by Building to identify a path to the success of our industry in a post-Brexit world. The clamour of voices around government will grow ever louder. Only by being clear and consistent about what we need from government, and sincere in what we offer in return, can we hope for our industry to have the influence it deserves. | Themself & company |
| Jack Pringle, managing director EMEA, Perkins+Will | Brexit is our defining economic event of this decade and beyond. The government has to grasp the importance of the construction industry to the UK's future and prioritise protecting its interests. | Themself |
| Simon Rawlinson, head of strategic research and insight, Arcadis UK | Brexit will undoubtedly bring some major challenges to construction that can only be dealt with by working together as an industry and with government. If we together grasp the opportunity to change the industry as a result of Brexit, then there could be some very positive outcomes for construction. However, if we do nothing, then there are real risks to the future capability of the industry. | Themself & company |
| Mark Farmer, founding director and chief executive, Cast | The Building a Better Brexit campaign is an important part of making sure that the construction industry's voice is heard loud and clear in the upcoming negotiations. Brexit could have a profound and disruptive effect on the capacity and performance of the industry throughout the UK, but especially in London. "An intelligent deal needs to protect against the immediate risk of Brexit-related resource erosion while allowing the industry to concentrate on addressing its ultimate challenges of structural modernisation and productivity improvement which should progressively reduce reliance on migrant labour. This compromise should also form the backbone of construction's industrial strategy 'sector response' to government. | Themself |
| Mark Reynolds, chief executive, Mace | Construction is absolutely critical to the future of the UK economy. It should be at the forefront of the government's mind during the upcoming Brexit negotiations and while further developing its industrial strategy. Construction is one of the country's largest employers and can play an important role in boosting productivity. | Themself & company |
| Mathew Riley, managing director, Ramboll UK | Drawing on our shared knowledge will be more vital than ever, however the government's role is to listen to our industry and create the environment for success. This different level of co-operation, coupled with modernisation of industry, could save billions of pounds of taxpayers' money. The size of the prize must make this a high priority for government | Themself & company |
| Andrew Robertson, managing consultant, Robertson Commercial and Contracts Services | I fully support the initiative and trust that the Government will heed our concerns and note our commitment to doing all that we can as an industry to make the United Kingdom a nation and an economy an example of what can be achieved when people work together towards a common goal. | Themself & company |
| Mark Cooney, architect, Make Architects Ltd. | This is essential for the industry. | Themself |
| Gabriel Tofalos, project manager | I fully support the Building Magazine Better Brexit Manifesto as its articles are sensible and potentially ensure a smooth and gradual transition into the post-Brexit era of the construction industry and sector. | Themself & company |
| Evelin Kallas, director business development, Atom Consultants | We support the manifesto 100% | Company |
| Andrew Lock, principal designer, Adamson Associates International (UK) Ltd | | Themself & company |
| Sarah Peake, sustainability manager, Sika Limited | Sustainable workforce in the construction industry is a must for the future of the UK, especially after Brexit. Fantastic iniative that will hopefully unite the voice of the construction industry & galvanise the government into action… | Themself |
| Peter Dark, managing director, Impart links | Taking an eye off the construction industry when negotiating Brexit is folly the government need to take heed of the implications of relegation of a construction industry which is fundamental to post Brexit success and prosperity. | Themself & company |
| Declan Palmer, architecture technician, Black Architecture | | Themself |
| Robin Thorpe, associate - structural engineer, Willcox Cooper Associates | Building a better Brexit is a vital task to keep Britain building | Themself & company |
| John Smith, retired | Given the stupidity of not accepting the referendum was only advisory and as EU supporting MPs will not stand up to the Brexit supporting MPs it is essential that a pragmatic and workable exit from the EU which minimises economic costs to all industry but especially construction is obtained. I therefore support the Building manifesto. | Themself |
| Damien Carr, editor, BRE / Building4Change.com | | Themself & company |
| Roosje Barr, professional studies advisor, Nottingham University | | Themself |
| Jas Channe, principal architect, Ealing Council | | Themself & company |
| Mark Kilcran MCIOB, planner, Wates Group | | Themself |
| Jordi Oller, senior PM, Capita | I consider this manifesto a proper approach to the interests of the Construction Industry, which is key in every developed economy. | Themself |
| Rennie Dalrymple, managing partner, Bruceshaw LLP | The Building Manifesto contains several key initiatives that will assist in ensuring a robust construction sector in a post Brexit economy. The construction industry is a hugely important contributor to the UK economy in terms of GDP output and employment. Bruceshaw support the Manifesto and working together we can strive to promote the sector to high priority status, while working to ensure we have the future talent the industry needs so that we can all support in delivering the government's aspirations on housing and infrastructure to the benefit of the whole economy. | Themself & company |
| Bill Chalmers, partner, DSSR | | Themself & company |
| Rebecca Lovelace, director, Circle Three Consulting | | Themself & company |
| Robert Marr, director infrastructure and project finance, Artelia UK | Essential and sensible proposals from an industry with a lot to offer the exciting future. | Themself |
| Patrick Flaherty, chief executive – UK and Ireland, AECOM | In the short-term the construction industry will suffer due to the Brexit impact on labour availability and construction material costs. The government's commitment to infrastructure delivery, increased housing and energy self-sufficiency can be the catalyst for job creation and economic growth post Brexit. The construction industry will be critical to that delivery and should be at the forefront of government thinking during Brexit negotiations. We support the Building manifesto and call on the industry to support it through commitment to training, embracing of the digital revolution, employing locally, upskilling domestic labour and driving improved productivity. | Themself & company |
| Francis Ho, partner, Penningtons Manches LLP | This manifesto recognises our need to preserve access to top construction talent for ambitious projects while promoting measures like training regimes and R&D to bring about lasting change. There's a danger of the negotiations centring on other areas and missing the endgame or the success we've achieved as an open and fair society. Careful planning in construction and infrastructure is vital to this country's future success. We must make sure the government remembers this. | Themself |
| Paul Smyth, managing director, Loughton Contracts plc | Great to see the industry joining forces with a measured approach to Brexit that should hopefully demonstrate to the government the importance of our industry and everyone that works within it, to the UK economy. | Themself & company |
| Helen Barfield, internal comms executive, Ramboll | | Themself & company |
| Paul Aubrey, divisional director - UK, SAS International | | Themself & company |
| Adam Sloan, graduate structural engineer, Ramboll | | Themself & company |
| Paul Greenwood, managing director, Greenwood Consultants Limited | | Themself & company |
| David Roden, director, David Roden Architects | | Themself & company |
| Michael Daniels, regional commercial manager, Wates Construction | | Themself |
| Julien Grange, QS, Multiplex | | Themself |
| Andy Marginson, director, Ramboll UK | Brexit brings with a lot of challenges but also a lot of opportunity. It is important that access is retained to as many markets and resources as possible post Brexit so that the industry can deliver its current workload and has time to adapt to the change in our relationship with the EU | Themself |
| Andrew Keen, principal technician, Ramboll | | Themself |
| Nigel Huish, partner & managing director, Idom Merebrook Ltd | | Themself & company |
| John Bloomfield, director, Medway QS Consultancy Ltd | This is a good driving force because the Building Industry and Industry in general need to take the lead. The government approach gives the appearance of being led by people who are predominantly pro hard brexiteers and have a lacklustre interest in getting the best business deal for Britain.We need to harness the support of the younger generation who were more likely to vote remain and so would be in favour of retaining the single market. As well we should try to encourage former government ministers such as Lord Heseltine to support our cause. | Themself & company |
| Peter Gough, senior quantity surveyor, H T. Forrest | | Themself |
| Kerstin Sonnemann, architect, Red Pebble Design | | Themself |
| Gavin Henderson, architect, Stanton Williams | | Themself |
| Steve Wooler, chief executive, BWB Group | Building's Brexit Manifesto is a well thought out, balanced and incisive set of proposals that Government needs to heed and quickly act on. Its legitimacy, in terms of representing the wide spectrum of interests that make up such a complex and diverse industry, is proven by the broad-based support it is generating | Themself & company |
| Martin Burden, consulting director, Ramboll | Any change brings with it the opportunities and conduits to do things better. Brexit is the biggest of changes and with it we must now embrace it and see it as a conduit for success toour industry gets bigger and better. This will require detailed engagement support and encouragement of the government to ensure we are no worse but better off as a result. A challenge government alone cannot do by itself. Not an easy challenge but a challenge we must face together. | Themself & company |
| Helen Gough, lead director, building consultancy, project management & cost management, JLL UK | It is in all our interests that we make a success of Brexit. The UK Construction Industry is one of the largest sectors of the UK PLC, and the best way for it to maintain and grow its status, develop its talent, innovate and successfully deliver the housing, real estate and infrastructure demands of the country is to ensure that it has a detailed manifesto, such as 'Building a Better Brexit'. We must engage and collaborate with the government and across the construction industry to ensure we safeguard our industry and related professions. | Themself & company |
| Malcolm Clarke, managing director, Baxall Construction | | Themself & company |
| Anthony Brown, sales and marketing director, BW: Workplace Experts | Fit out will not be immune to a potential post-Brexit skills drought. There are specific measures we are reviewing to ameliorate that possibility. Given that the construction industry accounts for nearly 10 per cent of the UK's working population, it would be encouraging to know that the government is considering assistance to soften any impact. | Themself & company |
| Shyam Samani, project quantity surveyor, Gardiner & Theobald | The Government needs our industry continues to flourish in the UK, EU and the world and that they support the industries requirements for migration to support the skilled labour required. In addition to the above the Government needs to invest in schools, collages and universities to help young people select a career in Construction. And finally, the UK needs to spearhead a new technical revolution in construction within education, manufacturing, infrastructure and services to make our nation a destination for tourism, development, investment, growth and most importantly for other areas of the UK to grow not just London. | Themself |
| Tom Sheldrake, sustainability consultant, AECOM | | Themself |
| Hannah Berry, marketing manager, Horne Engineering Ltd | | Themself |
| Liz Jenkins, Projects & Construction Partner, Clyde & Co | Much has been said about Brexit and its potential impact on the construction industry but remarkably the Government doesn't seem to have paid much attention as it remains a 'low priority sector' in negotiations. The Government has a clear focus on developing the country's infrastructure but doesn't seem to have taken into account just how close the ties between the UK construction industry and the EU really are. Whether you voted remain or Brexit it is in all of our interests to make a success of this situation. The industry must now pull together to ensure the Government truly understands, and takes into account, our concerns as it enters Brexit negotiations. The Building a better Brexit manifesto sets out some of the key areas that must be addressed and should serve as an important reminder to the Government. | Themself & company |
| Sergey Skorokhodov, Senior Quantity Surveyor, Gleeds | | Themself & company |
| Paul, QS Manager, Daewoo E&C | I support better Brexit manifesto to sustain building, construction out to ensure UK remains competitive post brexit. | Themself |
| Gareth Parker, Quantity Surveyor, Skanska | | Themself |
| Faizan Chaudry, Bid Writer, Hill | | Themself |
| Shahbaz Mukhtar, Quantity Surveyor, George Corderoy & Co | | Themself |
| Pete Carvell, Associate, Battle McCarthy (Consulting Engineers & Landscape Architects) | Whilst many of us would have much preferred to stay; we recognise that the EU has a record of regulatory conservatism, attempting to legislate and control many aspects of design, science and engineering. We must ensure that high standards of sustainability, green engineering and recognition of the benefit of exemplary health and well-being within the built environment continue to be bettered, even from our position outside of the EU. We should push to recognise Brexit as a fresh opportunity for innovation. One that will further cement Britain's position as industry leaders, not simply in Europe, but also throughout the rest of the world. | Themself & company |
| David Mills, commercial manager, Lyons & Annoot | | Themself |
| Richard Osbond, director, Curtins | | Themself & company |
| Robert Lawrence, SPM, T&T | | Themself |
| Elaine Anderson, registered architect, Independent | I do hope that industry in Britain continues to thrive as suggested above. I am concerned that the Equality and Diversity at Work, does continue and that all citizens of this country who are qualified professionals, as well as those who are currently in training continue to be considered on an equal footing. I am dismayed to be getting overtones of ageism and sexism because certain individuals who ought to know better, think it appropriate to speak to people as they see fit. I was brought up in a civilised society, and I would like to see that remain so. | Themself |
| James Dickson, commercial, LMD | | Themself |
| David Hunter, chairman, Stride Treglown Ltd | A thriving construction industry is central to the UK's prosperity post-Brexit. Not only does it employ a significant proportion of the labour force and further Britain's global reputation for construction expertise and professionalism; it catalyses and enables all kinds of other economic activity in the UK. It is crucial that government receives a clear unified message on the importance of the construction industry to the UK economy and helps support the delivery of Britain's infrastructure and buildings. With the right help there are real growth opportunities: without it, a secure economic future will be more difficult to achieve. | Themself & company |
| Jordan Cornish, trainee building surveyor, AECOM | | Themself |
| Nick Shepherd, CEO, Federation of Archaeological managers and Employers | Archaeology is now an important part of the construction process and the great majority of archaeological research now gets done as part of development projects. Many of the manifesto issues apply as much to archaeologists as building professionals, particularly training, EU workers rights and building the investment pipeline. We may be a very niche, specialist service, but we can play a part in improving the wider sector. | Themself & company |
| Catherine, director, Guarda Landscape | We need to get construction onto the agenda, otherwise the industry will be left behind. The manifesto is a great start to highlight the issues and provide a list for the government to consider (and hopefully action). | Themself & company |
| Richard Sawko, design manager, Laing O'Rourke | It is imperative that European labour is retained to ensure there are no gaps in the skills market | Themself |
| Richard Jay, building surveyor, AECOM | | Themself |
| Trevor Kirby, managing director, Anglian Architectural Glazing & Rainscreens | | Company |
| Nick Buckingham, managing director, Colt International Limited | | Themself & company |
| Sean Maguire, principal designer, RPP Architects Ltd | | Themself |
| Donna Sullivan, director, C&V Consulting Ltd | | Themself |
| Clare Coyne, PR consultant, CAM PR | Vital to ensure construction is a high priority in the Brexit negotiations as its success or failure will impact on every other area of the economy. | Themself |
| Richard Harries, Richard Harries Associates Ltd | | Themself & company |
| Chris Myers, senior commercial manager, Kier | | Themself |
| Paul Richards, managing director, Aquarian Cladding Systems | Brexit provides the construction industry with a once in a lifetime opportunity to unite with government and achieve a common goal of building a better Britain. No excuses. | Themself & company |
| Mark Elton, environment director, WYG | | Themself |
| David Keddie, chartered quantity surveyor, Gardiner & Theobald | | Themself |
| Jill Sutcliffe, lecturer, GCU | | Themself |
| Michael Downes, student - town planner, University of Glasgow | The triggering of article 50 will create a period of significant uncertainty in the built and natural environment industry. Key planning policies and infrastructure investment should be prioritised and maintained in order to ensure a positive future. | Themself |
| Gurpal Virdee, managing partner, John Rowan and Partners | It is vital that the construction industry has a strong and united voice to effectively communicate our needs during Brexit negotiations. Our industry is 'high priority' and should be treated as such. We fully support Building's Better Brexit manifesto and the pledge. Both are positive, logically and achievable and would be excellent for the industry and Britain. | Company |
| Michael Thirkettle, CEO, McBains Cooper | Brexit will be a watershed moment for the construction industry. We've made no secret of our concern that skills shortages in particular will be a key issue, but we also need to ensure a continued commitment to public spending and an improved procurement system as the UK extracts itself from the EU so that the sector remains competitive. With the starting gun now having been fired on the UK leaving the EU, this is the time for the industry to come together with a unified voice to make its case for support from government. | Themself & company |
| Benedicta, director, AKN Resources Ltd | | Company |
| Helen Millington, HR business partner, Ramboll | | Themself |
| Patrick, building surveyor, Faithful + Gould | The construction industry needs support now more than ever. This period of uncertainty, and the volatile nature of the industry in general is contributing to the scale of the skills shortage, which in turn is contributing to a poorer quality of our homes, public and commercial buildings, and our infrastructure while costs for these poorer quality services are ever rising.. For a strong economy, and to safeguard the future of our houses and buildings, the nation needs a strong construction sector. | Themself |
| Yanchee Lau, design & communications associate, Eckersley O'Callaghan | The future prosperity of the UK economy will rely heavily on the health of the construction industry. We call for the government to negotiate the right conditions for us to collectively contribute to overcoming the challenges ahead. | Themself & company |
| Sharon Mault, associate director, Knight Frank | | Themself |
| James Davies, completions manager, Complan Ltd | Working together we will make Britain strong again | Themself |
| Marguerite Cameron, principal property manager, London Fire Brigade | | Themself |
| Stephen Gee, NED/consultant, GeeConsultancy | A hard Brexit would be disastrous for the country and our industry. We do need to improve get more efficient and train more UK staff but that all takes time and if the 2 year timetable is kept to will not replace those from the EU and retiring from the industry. The manifesto is a great piece of work and shows what we as an industry will deliver as well what we need the government to deliver as part of the Brexit deal - lets hope they listen. | Themself & company |
| Patrick Ryan, director, Patrick Ryan Associates Limited | | Themself & company |
| Nick Taylor, chief executive, Waterman Group Plc | | Themself & company |
| Neil Humphrey, chief operating officer (infrastructure & environment), Waterman | It is critical that the Government starts to listen to the realistic concerns of the industry (and UK business) and adopts a softer stance on BREXIT. The reality is that the eventual terms of BREXIT from the EU's perspective will have to deter further countries considering leaving and consequently the continued hardening of the UK's position presents a significant tangible risk to the sector, and the country as a whole. We need a far more conciliatory tone, and there is action the Government can take now to minimise the risks moving forward. I support the Building manifesto and call on the industry to maintain the pressure on the Government, to recognise the priority of the construction and infrastructure sectors, and to provide as much stability as possible as the negotiations progress, and the transitional arrangements are established. | Themself & company |
| Ali Mahdavi, director, Sustain Summit Ltd. | Brexit will cause a massive impact on construction industry and we must stop it. Thanks for taking this action. | Themself & company |
| Fay Ferguson, part II architectural assistant, Duggan Morris Architects | | Themself |
| Philip, director, Interserve | | Themself |
| Richard Saxon, chairman, JCT | I fear that a hard Brexit is the most likely outcome: other EU countries want us to suffer to discourage secession elsewhere. The disruption wont be just to construction but it will be bad for us. We have to push offsite construction anyway and this will help with the loss of workers and the import costs. | Themself |
| Daryl, senior estimator, Midgard Ltd | The industry requires forward thinking and considered planning. It is important for all in the industry and those that support it that Brexit works for all of us, both in the short term and long term. | Themself & company |
| Ciara Walsh, architect, Pozzoni Architecture Ltd. | | Themself |
| Mark Lambert, sales director, Sunsquare Limited | | Themself & company |
| Al Watson, partner, Taylor Wessing | This post-Brexit world that we are all now heading towards relies upon our industry delivering the kit that society needs; homes, infrastructure, and the capacity for economic growth. Though we need help, and part of that help has to come from Government leadership. The manifesto shows that as an industry, we are ready to commit for the country's benefit. Government needs to do the same, and it should do so by endorsing the manifesto. It's one for a successful industry and for a vibrant country. | Themself & company |
| Robin Nicholson, convenor, The Edge | The Edge strongly supports Building's Better Brexit manifesto and is working to develop a vision for the future of our industry. Rapid change towards an integrated supply chain is long overdue as is performance-based design and contracting. The Edge (www.edgedebate.com) promotes Interdisciplinarity and Professionalism and is championing the ideas in Paul Morrell's Edge Commission Report 'Collaboration for Change'. | Themself & company |
| Richard Elvidge, principle - real estate & construction, Millar Cameron | I'm delighted that Millar Cameron has signed up to the Building a better Brexit manifesto - this is an important statement of the support we provide to our clients. The construction sector and its suppliers must work together to ensure Brexit does not place a burden on companies who already struggle to source key individuals | Themself & company |
| Owen Williams, commercial director, PP Construction | | Themself & company |
| Marcel Palmer, sales manager, ICF Southern | | Themself & company |
| Charles Harrison, senior partner, Tenon Partnership LLP | The Construction Industry affects all our lives in some way, so it must be given the priority it deserves. Many of our long term major projects rely on working with partners from the EU so we are dependent on free transfer of people and materials to and from Europe and are procured in accordance with EU Procurement rules. Our industry is dependent on stability of supply and demand and a "level playing field". Any continued uncertainty will be very damaging. We appreciate there is much we need to do to modernise our industry but we need the support and leadership of central government to help us build a sustainable future. | Themself & company |
| Ashley Sutherland, assistant project manager, Arcadis | | Themself |
| Lee Hiskett, web developer, TNL Technology | We need to be steadfast in creating internal UK wealth, taking control back of our borders and fixing the broken systems like health due to the overburdens placed on them with open migration, also to reduce crime by deporting foreign nationals who commit crime and revoking their UK citizanship | Themself & company |
| David Lindsay, general manager, Echo Barrier | | Themself & company |
| Farhan Ashiq, quantity surveyor, AA Projects Ltd | | Themself |
| Jackie Biswell, director, Apex Roofing Anglia Ltd | | Themself & company |
| Sally Peck, director, Apex Scaffolding Anglia Ltd | | Themself & company |
| Mark Cooney, architect, Make Architects Ltd. | Input from leaders of the industry essential. | Themself |
| August Nazareth, nittygritty.net | And interested in learning how we can help with Skills in the AEC sector. We train in BIM, Navisworks, Revit, 2D to 3D transitions, etc. We also provide free apps to make it easier. | Themself & company |
| Simon Tolson, senior partner, Fenwick Elliott LLP | I share the aspirations and goals Building is advancing on a positive Brexit outcome for this nation. | Themself |
| Gary Tucker, managing partner, Hoare Lea | If the construction industry is to thrive in the post Brexit environment it is essential that we collaborate together to increase our influence. It is vital that we continue to be able to trade with the EU and the rest of the world and to be able to employ the best possible resource, irrespective of where that resource is from. The Building a better Brexit manifesto sets out what is needed in order for us to adapt smoothly to the changes that we can expect. | Themself & company |
| Diego Gonzalez, architect, NFDC | | Themself |
| Temitope Jacobs, senior QS, Kelly group | | Themself |
| Gareth Stapleton, CEO, Rise | The "Building Manifesto" shows that as an Industry we can come together to give a constant voice in how we interact with Government across a wide range of themes and issues and in doing so are prepared to put our own house in order for the long term good of the country. | Themself & company |
| John Bollen, design, bollen.design | | Themself & company |
| T Gordon, building surveyor, Strawberry Park Corporation Ltd | | Themself & company |
| David Clements, managing director, FUTURE Designs Ltd. | I shall look forward to reading the Building Magazine manifesto | Themself & company |
| Lawrence Rankin, founder, NuVuw.com | | Themself & company |
| Lisa Lovell, quantity surveyor, Moore MacDonald | | Themself |
| Steve Cooper, general manager UK & Ireland, Aconex | We applaud Building for taking this initiative and setting out such a strong and clear manifesto. Brexit can be a catalyst for change in enabling UK industry organisations to embrace innovation and collaboration more boldly than ever. Greater digitisation across enterprises and supply chains can empower the industry to be an engine for competitive leadership & economic growth post-Brexit. | Themself & company |