London - a global city with top-calibre international architectural staff - is about to feel the effect of Article 50 and all that follows. Can the profession maintain standards in a newly constrained landscape?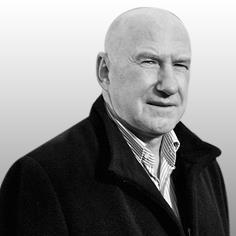 The die is cast: we're leaving. In the week the prime minister has triggered Article 50 – the formal process to start our divorce from the EU – I've been thinking about what it's all going to eventually mean for UK architects who employ about 136,000 staff, contribute £4.3bn in gross value added to the economy and earn around £400m in export fees. Moreover, these people and practices are at the head of a very large supply chain, which will multiply these figures many times.
Right now, London is the world capital for architectural design. We have more of the best architects working here than in any other city on earth. That's remarkable – but will the ingredients for this success change?
Architecture is a capital-intensive business that needs a strong economy to thrive in. London has done very well since the 1990s and is now in an economic Indian Summer. We are still in the EU, with all the trade and labour benefits that brings. And as the world's markets have voted "no confidence" in Brexit, the pound has devalued by 20%, making us hyper-competitive for exporting and cheap for inward investors looking for UK assets. We are enjoying a mini boom, and the myopic among us say: "Look, everything is OK". But that will all change once – whether it turns out to be hard or soft – we really Brexit.
Why is architecture so strong in London? It is an open, world city with a powerful economy.
Architects are fleet-of-foot camp followers. We go where economies are strong, where development is needed and where our services are required
We have great schools of architecture in the UK, have grown great offices and are a magnet for talent from all over the world, seeking opportunity. My company, Perkins+Will, came here from the US to build an international hub because of the concentration of talent in London. EU students flood to our schools of architecture, only paying "home" rates of fees. They strengthen and enrich our schools, which have become elite institutions. That will all change when EU students have to pay full overseas students fees. The schools will still be good, but will they start to decline?
I have about 170 people in my office in London. Over half of them are non-UK citizens and because we are reluctant to pay legal fees for non-EU visas, the vast majority of those are EU citizens. They are very welcome and I am grateful that they have chosen to join us. A lot of them are Spanish, as that country trains architects very well, but we also have Germans, Slovaks, Estonians, Italians, French – you name it.
These staff are loyal to us and we are loyal to them. We have told them that we will support them to stay in the UK, but I know that many are worried and feel the climate has changed here. Unless we have "frictionless" immigration for designers (unlikely, I fear) it's going to be much more difficult for us to get the very best staff and our costs are going to go up in processing visas into a less open UK and a significantly less global London. Many other architecture practices will be in the same position.
And then there is the big one: the economy that underlies our success. It probably won't be an outright disaster unless the three Brexiteers really screw it up, but it could be pretty bad. How two second-raters like Liam Fox and David Davis got into such important positions for our future will surely go down as one of history's ironies.
The vast majority of our international staff are EU citizens. They are very welcome and I am grateful that they have chosen to join us
The UK is used by many international companies, from Japanese car manufacturers to international banks, as their friendly aircraft carrier from which to trade into the EU. We speak the world language (American), have reasonable labour laws compared with France or Germany and seem to be happy to be managed by foreigners: American, German, Japanese or Indian, for example. Unless we get the right trade deals, this inward investment, which builds developments, industries and jobs, will dwindle or crash. The banks are already planning new EU headquarters; my money is on Dublin, as they also speak American.
So, with poorer quality graduates, difficulty in getting the most talented staff and a weaker economy, will London become less of a world centre for architects? Probably. We have a big hit coming and architects have vulnerable businesses as we have no recurring income. Every pound we earn is a new pound that we have to compete for. How we envy the business models (but not the businesses) of, say, accountants who do regular audits for the same clients every year.
But architects have one particular skill that will serve us very well: we adapt. To compensate for an ever-changing client list, we have become fleet-of-foot camp followers. We go where the economies are strong, where development is needed and where our services are required. Sure, we may face tariffs on our fees when working in the EU, but as long as the pound remains weak that will compensate.
It's going to be tough – needlessly tough – but I think UK architecture will survive Brexit as one of the jewels in London's crown of endeavour.
Jack Pringle is principal, managing director EMEA at Perkins+Will