Following on from our piece looking at how Brexit could affect London, what do business owners across the rest of the UK think the picture will be like after Brexit? They have a broad range of opinions, as Jonathan Owen discovers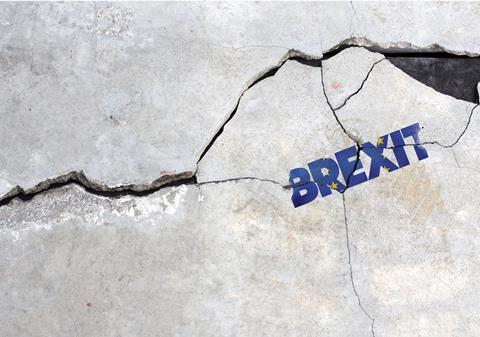 Two weeks ago we looked at the grim picture of the impact that Brexit could have on London; now we turn to the regions to see what might happen in other parts of the UK after the UK leaves the EU.
Construction firms across the country remain in limbo over Brexit, amid mounting concern over what could be biggest the economic gamble in generations, especially as a no-deal scenario looks increasingly likely. Britain could pay a heavy price for leaving the EU, with Brexit putting more than 2.5 million jobs and almost £140bn of economic activity at risk. More than two years after the decision to leave, there are still few certainties about Brexit, and it continues to divide opinion, but it is clear the change is set have a seismic impact on the way in which construction operates in the UK.
The impact of leaving the EU will not be uniform across the UK, because of differences in the vulnerability of the construction sector across the various regions. For instance, some parts of the UK, such as northern England, export the vast majority of their goods to the EU and will be more affected by the higher trade tariffs that would be set under a no deal scenario.
London labour shortage
Leanwhile in London a key issue is a shortage of foreign labour after Brexit, as one-quarter of construction workers in the capital are from the EU – unlike in the rest of the country, where they account for just 4%. Nevertheless, an exodus of migrant workers from London could have a knock-on effect on other parts of the country if rising wages due to labour shortages attract workers from other regions to the capital.
In terms of future prospects, the picture is brightest in Wales, where construction output is projected to increase by an annual average of 4.6% up to 2022. This is largely due to big public sector infrastructure projects such as the Wylfa nuclear power station and the M4 upgrade. By contrast, output in London – which accounts for much of the commercial work in the sector, an area that could be hit hard by Brexit – is expected to grow by just 1.5% annually.
Building has spoken to directors of SME firms in four different UK regions to get their perspectives on Brexit and find out what fallout they expect for the local construction sector and for their own firms in particular.
"I'm settled here and I contribute more than some of the people who were born in the UK"
"There are going to be initial adjustment issues but I think the transition period we've got in any deal with Europe is going to be more than adequate to cover that"
"I definitely think it's a threat, 100%. Personally, as a construction industry managing director, I can't really see any positives"
"We have taken no precautions whatsoever – it's such an unknown subject"