Find out the overall top five winners in this year's Good Employer Guide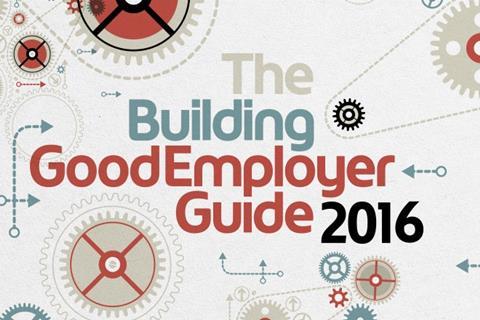 1. Architype
Architectural practice Architype scoops the prime position in this year's guide, proving itself to be a truly inspiring employer. Architype has taken flexible working to the next level by empowering staff to choose a working pattern to fit their individual needs and attain an ideal work-life balance. With progressive family-friendly initiatives, it's no surprise the practice has a strong record on diversity, with women making up 58% of staff numbers, up from just under 50% last year. Judges also highlighted its refreshing approach to new and temporary staff, who have the same core benefits as other employees. On top of all this, this employer puts a lot of thought and effort into making the working environment a fun and engaging place to be.
2. Cullinan Studio
Cullinan Studio is an architectural practice with co-operative principles at its heart: it is committed to employee ownership, seeking to be inclusive and collaborative while demonstrating a listening attitude. The judges felt its parental benefits were very progressive, in particular they noted that fathers who opt for shared parental leave receive the equivalent enhanced payment for maternity leave. All employees are actively encouraged to contribute to the business plan and develop management experience. The firm also has strong sustainability credentials, collaborating on industry-wide initiatives as well as looking inwards to reduce its own 2008 carbon footprint by 40% by 2020.
3. JTP
New to the guide this year, architect JTP has shot to number three for being an all round generous employer. Its stated commitment to a positive work-life balance for staff is backed up with concrete measures such as a recent clamp down on overtime, a flexi-leave scheme to buy back days as holiday and six months of full pay for women on maternity leave. On top of that it has rolled out a pioneering housing support loan that has enabled 10% of staff to get a foot on the property ladder. This forward-thinking practice also likes to treat employees to an overseas study trip once a year.
4. Assael Architecture
Assael is now a regular in the top five, consistently impressing the judges with an excellent package of benefits and a real desire to invest in its people. Its reputation as a caring employer has been boosted this year with the introduction of private medical care for all staff. It also has some novel "nice to have" initiatives, such as dinner and taxis home for late workers, sabbaticals after 10 years service and an individual training budget to be spent on training of staff's choice. All that effort seems to have been rewarded with staff loyalty: 30% have been at the practice for more than five years and another 27% over three years.
5. Alinea
For the second year in a row, consultant Alinea has made it into the top five - ticking all the boxes for its commitment to developing its people. The average employee clocks up 85 hours of training, with CPD being supported by a coaching and learning programme for every single employee. The firm has worked hard in the past 12 months to improve diversity among its employees, offering enhanced maternity pay and increasing the number of women it employs to 16% this year. The judges noted a focus on wellbeing with careful monitoring of workloads and a policy of discouraging a long hours culture.
The judging panel
The entries were assessed by a judging panel comprising:
Nicola Ihnatowicz
Nicola Ihnatowicz is an employment partner at law firm Trowers & Hamlins. She advises on all aspects of human resources and employment law, and acts for a range of public, private and third-sector employers and senior employees. In particular, Nicola has experience advising on TUPE, large scale restructures, changes to terms and conditions and equal pay.
Rosalind Connor
Rosalind Connor is a partner in ARC Pensions Law and has experience in dealing with pensions on transactions, advising trustees, employers, investors and funders. She is a regular speaker and writer on pensions issues and is the current chair of the Association of Pension Lawyers.
Michael Ryley
Michael Ryley is a partner in the employment group at Weightmans. He has an extensive knowledge of the employment issues arising on business transfers. He acts both on the procurement side - for government and for multinational companies - and for service providers, advising on the TUPE implications of outsourcing and major infrastructure projects. The second edition of his book TUPE: Law & Practice was published in April 2014.
Sarah Richardson
Sarah Richardson is editor of Building, the UK's longest-running weekly title for the construction industry, and its website Building.co.uk. She has reported on the industry for more than 10 years, and has authored a series of research reports on aspects of the built environment, including education building and the construction market in China. Her broader journalistic experience includes work for the New Statesman.
Chloë McCulloch
Chloë McCulloch is managing editor of Building magazine and its website. She has over 15 years experience in print and online journalism. Since joining Building in 2003 she has worked in a number of roles including legal editor, deputy web editor, production manager and special projects editor. She has been involved in many of Building's events and editorial campaigns and is currently responsible for maximising editorial impact across multiple platforms.
Deborah Duke
Deborah Duke is group production manager and special projects editor of Building magazine. She has more than 10 years' experience in print and digital publishing, and joined Building in 2008. She currently oversees production of the weekly print magazine and website, and works with industry clients to
produce bespoke content for sponsored webinars, round tables, events and features.
Methodology
Readers of Building that are eligible to enter Building's other "Top" tables, such as consultants, contractors and housebuilders, and other industry firms were invited to take part in the selection process for the Good Employer Guide 2016, through a call for entries published in print and online. Each interested firm was sent a link to an online staff survey to send to all employees, which had to be filled in anonymously by a minimum of 33% of total staff, excluding those who work in purely support functions such as HR. This survey gauged strength of feeling on the company's performance in nine key areas: leadership, corporate social responsibility, employees' opportunity to contribute, working atmosphere, opportunities for smarter working, career progression, the company's response to current market conditions, the promotion of mental wellbeing, and how likely staff would be to recommend their company to a new entrant to the industry. Survey responses were sent direct to Building magazine, and not seen by the company in question.
Separately, each interested firm was asked to complete an entry form giving the following information:
Number of full-time equivalent UK employees
Number of female non-administrative staff
Annual staff turnover for 2014 and 2015
Percentage of staff from a non-white ethnic background
Average number of training hours per employee per year
Minimum number of paid days holiday available to staff per year
Maximum number of paid days holiday available to staff per year
Private healthcare provision
Maternity benefits offered
Paternity benefits offered
Existence of an entry-level recruitment programme (eg apprenticeships, graduate intake) and number of people starting the programme from
Sept 2015-Aug 2016
Opportunities offered for flexible working
Opportunities offered to work abroad
Opportunities offered for sabbaticals and career breaks
Details of pension scheme offered
Companies were also asked to provide a 500-word statement in support of their entry, addressing the following areas: stand-out benefits; how the company
has adapted to current market conditions; leadership and development; employee engagement; staff wellbeing and the "feel good factor"; mental wellbeing; diversity and inclusion; corporate social responsibility, including attitude towards sustainability; and outreach to promote career opportunities in construction
to new entrants.
The entries were assessed by the judging panel. The top five firms were identified from a shortlist selected in the first judging round by a weighting system that rewarded firms for the benefits offered under the various entry headings and the strength of endorsement from staff gathered through responses to the survey. The weighting system was adjusted to take account of company demographics - for example, the size of the firm was taken into account when assessing the range of benefits offered, as was the sector in which the company worked. So, for example, a small regional contractor would not be penalised for not offering staff the opportunity to work abroad. The final top five were selected by amalgamating individual scores awarded to firms on this shortlist by each of our final round judges.
Beyond the top five, the firms selected for this year's guide have been listed in alphabetical order. The guide contains the top 50 companies from the entries received. About 200 companies registered to be considered for the guide.