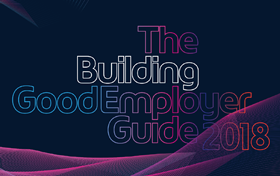 Readers of Building, registered users of building.co.uk and other industry firms were invited to take part in the selection process for the Good Employer Guide 2018 through a call for entries published in print, online and via email. The category was open to any policy that was either introduced between March 2017 and April 2018, or had seen particular results in that time period. Entries were made in any of five categories. There was no limit to the number of categories that could be entered by each company or the overall number of initiatives that could be entered. All entrants answered the following questions:
Number of full-time equivalent UK employees including/excluding support?
Maximum/minimum number of paid days holiday given to full time staff per year? (please exclude Bank Holidays)
What number of female non-administrative staff do you employ?
Percentage of staff from a non-white ethnic background
Average number of training hours per employee, per year
Are staff offered the chance to work abroad?
Are sabbaticals/career breaks offered?
What paid maternity/paternity leave is offered?
What percentage of new fathers have taken up their entitlement to shared parental leave in the last year?
Private healthcare provision
Existence of an entry-level recruitment programme (eg apprenticeships, graduate intake) and number of people starting the programme from the year 1 April 2017 to 31 May 2018 taking part.
Staff turnover in each of the last two years
Entrants then selected from the following categories:
Training initiative
Recruitment, outreach and inclusion
Flexible working and parental policies
Connection and communication
Wellbeing
Entrants were also asked to submit a 500-word statement and three staff testimonials of up to 250 words.
The top 10 firms were identified from a shortlist selected in the first judging round by a weighting system that rewarded firms for the benefits offered under the various entry headings and the strength of their specific workplace initiatives under one of the five stated categories. An overall winner from the top 10 – to be announced on 6 November at the Building Awards – was identified by the final round of judges who were on our awards panel.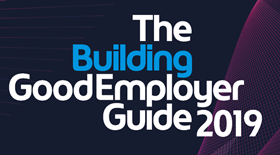 Are you a good employer?
The process to find the winner of next year's Good Employer Guide Award will begin in June 2019.
If you would like to be considered in next year's survey please register and we'll contact you when the process begins: www.building.co.uk/GEG19
Contact carolyn.leftly@building.co.uk if you require further information.