The companies in the wellbeing category include Assael Architecture and Graham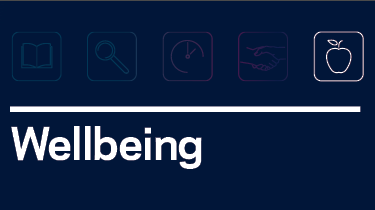 Building Award nominee: Assael Architecture - architect
A culture of wellbeing
Assael says the wellbeing of its staff is its main priority – it has an exceptional flexible working policy to foster a good work-life balance. This year it created a ground-breaking sector initiative, the Architects' Mental Wellbeing Forum, which meets quarterly to develop ways to improve mental wellbeing across the industry, and reduce the stigma around it. This is led by a senior architect who is a trained mental health first aider. On the physical health side, staff have private medical insurance, which includes discounted gym membership, bikes and physio sessions, while the company runs a cycle club, sports teams and yoga and ballet classes. The offices are also designed with wellbeing in mind – there is a completely open-plan layout and a comfortable "flexible space" filled with plants for staff to spend time away from desks.
What the staff say:
"Like many young architects, I had a brief but quite serious spell of poor mental health. Assael, however, were fantastic and supported me wholeheartedly during this. As I had found mindfulness very helpful, they paid for me to undertake the first part of the mindfulness practitioner course with the Mindfulness Association, and the mental health first aider course with Mental Health First Aid (MHFA) England.

"These have both been incredibly useful to me – I now have very good mental health and, thanks to Assael's support, I have emerged out of the experience even stronger."
Building Award nominee: Graham - contractor
CONNECT
In 2017, Graham achieved the Platinum Investors in People (IIP) and the IIP Health and Wellbeing award – the first UK company to achieve both awards at the same time. The company wants to become an industry leader in wellbeing and therefore launched its CONNECT personal development programme after employees highlighted that they wanted the contractor to help them lead healthier lives. The strategy focuses on physical, psychological and social wellbeing. It covers personal diagnostics and coaching, mindfulness training and a wellbeing programme. The company also provides a variety of health benefits, including subsidised gym membership and Bupa checks for staff over the age of 40, and has held events such as the Around the World in 80 Days step challenge.
What the staff say:
"Graham is the best employer I have worked for. The tone of the organisation is set at the top, where the most senior directors care about the people who work for them. The firm is constantly looking to see what more they can do for their employees to make working life more pleasurable and rewarding, with a recognition by both employer and employees that happy employees make more productive employees.

"Recent initiatives such as health and wellbeing are necessary, but are industry-firsts: in my opinion, Graham is a thought leader in the construction industry in its care for its staff."
BPTW Partnership - architect
New studio
The practice's new open-plan studio was designed in consultation with staff and the firm says it has led to improved communication between employees and reduced the possibility of staff feeling isolated. The company has a "stress at work" policy, supports a number of physical health initiatives and has increased its social budget.
What the staff say:
"Our new outlook and social strategy has ultimately enhanced the calibre of events and has most definitely enriched office morale. Being part of the social committee has allowed me to be involved in a wide range of these fantastic office events. In a short time, we have run a wide range of different socials."
Curtins - engineer
Wellbeing initiatives
Curtins runs a salary exchange scheme for childcare, increased annual leave, bike/car leasing, Medicash healthcare and a cycle-to-work scheme. It gives an additional day's annual leave for every staff member's birthday and operates four holiday lodges where workers can stay for free. It has introduced mental health awareness training for 2018.
What the staff say:
"I think [the holiday lodge employee draw] initiative is just fantastic; all lodges are free to use – Curtins just asks that staff make a donation of £40 to charity. It's a great opportunity to get away with friends and family to relax, especially when you think how much a holiday like that could cost!"
Hilson Moran - engineer
WELL office
The company says it provides innovative working environments where its staff can thrive and develop. Its Manchester space is compliant with the WELL Building Standard to Gold standard. It also runs a gym membership incentive, a healthcare cash plan, an employee assistance programme, flexible working and cycle-to-work schemes.
What the staff say:
"The move into our new office provided us with the opportunity to work with our team of specialists, including our WELL Accredited Professional [colleagues], to design a space perfect for our team. We wanted the space to be sustainable, innovative and reflective of our collaborative ways of working."
HKS Architects - architect
Wellbeing ethos
HKS has more than 100 WELL-accredited practitioners and created its new London studio in line with these principles. It provides a complimentary breakfast and organic fruit and vegetables every day. An employee assistance programme offers short-term treatment for issues such as depression, anxiety, or substance abuse.
What the staff say:
"Since we moved into the new office in December, it has positively impacted my wellbeing in a number of ways. The secure cycle storage and showers (with towels provided) make it easier to cycle to work. At work, my step count stays up because we are spread across a much larger space."
HTA Design - architect
A healthy outlook
HTA says there is a sense that its staff feel comfortable, safe and happy in their working environment. It has introduced a raft of physical and mental health measures including "daily shakedown", weekly yoga and monthly massages. It has brought in the Vitality Health private medical scheme for its senior team and provides free breakfasts.
What the staff say:
"HTA really does go out of its way to support its staff, not only on project-related stress but also the stresses outside of work. We have a great, caring support structure here, especially with HR, where you can raise concerns without fear of any backlash or prejudice."
LSI Architects - architect
Mind initiative
LSI has worked with charity Mind to completely redraft its HR policies and procedures, incorporating best practice and feedback and ensuring it is supporting its team to the utmost. It has also signed the "Time to Change" employers mental health pledge and introduced access to confidential counselling sessions with an external specialist.
What the staff say:
"For me, the greatest element of LSI's wellbeing initiative has been the training with MIND on mental health and depression among professionals. Before this, I had very little understanding of the issues, and didn't really take them too seriously in others. It was eye-opening and hugely beneficial."
Malcolm Hollis - consultant
Mental health training
The company voted to begin mental health training in 2016 to give managers the knowledge and skills to have conversations about mental health with team members. This was later extended to the whole company. Eleven volunteers have been trained as mental health champions and the firm has signed the "Time to Change" employers pledge.
What the staff say:
"I felt completely trapped and was fearful of speaking out due to the stigma surrounding mental health issues. When I did, the reaction was unbelievable. The support I received was incredible and, through the employee assistance programme, I was speaking with a professional within a matter of days."
Peter Brett Associates - engineer
Work with Mindapples
The firm says it is keen to support employees in staying healthy, managing stress and maintaining wellbeing and performance. It runs face-to-face training on identifying and managing stress. It works with mental health organisation Mindapples to run staff seminars and is seeking ways to adapt interviews for people on the autistic spectrum.
What the staff say:
"When Mindapples came in, it was a great opportunity to take time to think about how we work and how we deal with stress in the work environment. We learned through a variety of exercises the kind of stress we go through as individuals and how we have, over time, learned to deal with it."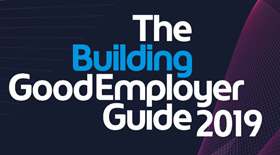 Are you a good employer?
The process to find the winner of next year's Good Employer Guide Award will begin in June 2019.
If you would like to be considered in next year's survey please register and we'll contact you when the process begins: www.building.co.uk/GEG19
Contact carolyn.leftly@building.co.uk if you require further information.