This year's shortlisted schemes for Building magazine's Project of the Year are redefining typologies, from a new model for high-rise living to truly collaborative laboratories and a hospital building that has transformed emergency care. Ike Ijeh looks at the contenders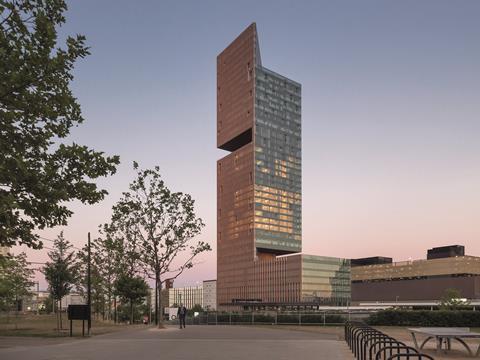 Manhattan Loft Gardens, London
Architect: SOM
Client: Manhattan Loft Corporation
Contractor: Bouygues UK / ISG
Submitted by: SOM
With hundreds of skyscrapers around the world under its belt over the past 50 years, the US megapractice SOM is used to designing towers. And after almost single-handedly making the warehouse loft conversion fashionable two decades ago and completing a heroic revitalisation of St Pancras, the Manhattan Loft Corporation has made its name reinterpreting modern urban living. London is very used to luxury high-rise residential towers. But the three have never quite come together like this before. The 42-storey residential tower on east London's Queen Elizabeth Olympic Park aims to create a vertical community inspired by a visionary new model for high-rise living. Its unprecedented reinterpretation of the London square as a trio of dramatic roof gardens cut into the building envelope and surrounded by 248 flats, which range from double-height industrial lofts to boutique studios, sets an ambitious benchmark for what high-rise urban residential can be.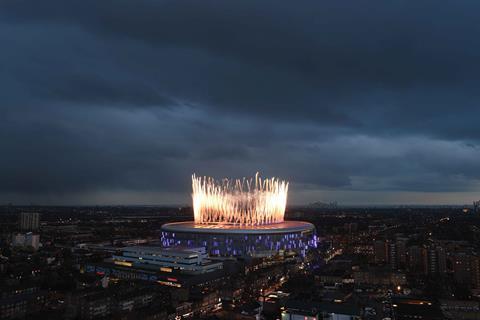 Tottenham Hotspur Stadium, London
Architect: Populous
Client: Tottenham Hotspur Football Club
Contractor: Mace
Submitted by: Populous
London's biggest Premiership football stadium has not only transformed its local area but has utterly redefined popular perception about what a modern football ground should be. The stadium is part of a wider urban regeneration scheme that will deliver new housing, a school, a gym and a supermarket, and which has already seen the restoration of retained listed buildings along its adjacent high road. As such, it instantly broadened the scale of urban impact that a conventional stadium would have in its local area. An extraordinary perforated and sculpted panelised steel facade wraps the building in a shimmering metallic veil, sporadically peeling upwards to reveal the vast, 262-tonne, 49m structural "trees" that support the stands and have foundations embedded 30m into the ground. Additionally, not only does the stadium offer a spectator experience that offers uninterrupted sightlines and an array of refreshment amenities, it also incorporates advanced shared facilities that serve its role as the UK home of NFL American football. These include sophisticated technological innovations such as a pioneering retractable pitch design and separate custom-built locker rooms.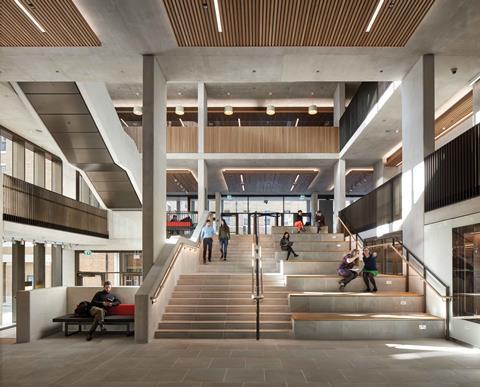 UCL Student Centre, London
Architect: Nicholas Hare Architects
Client: UCL Estates
Contractor: Mace
Submitted by: Nicholas Hare Architects
Universities are changing, with this radical new facility at the forefront of the transformation. Gone are the days when student study and social facilities were squeezed between teaching and administrative spaces – a new generation of buildings in university campuses such as LSE, Sheffield and now UCL provide dedicated student facilities within a new typology of student-centred building. UCL's student centre builds on the concept of mixed-mode study by providing multiple types of study environment ranging from traditional quiet rooms to those that reflect the more contemporary fashion for study spaces interspersed within social and circulation space. But this building is about much more than physical configuration – by harnessing sensors and digital technology to provide students and managers with live app information about building occupancy, the centre is revolutionising how data information can improve landlords' understanding of usage and users.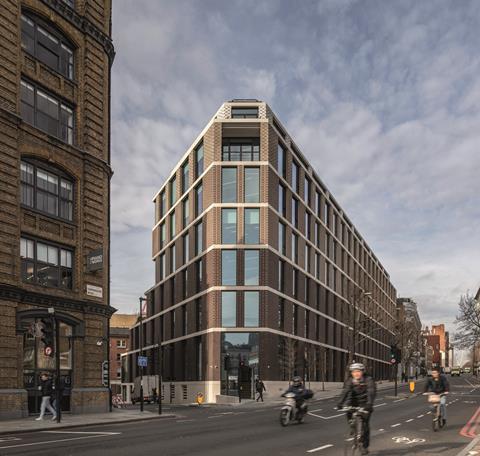 The Ray, London
Architect: AHMM
Client: Viridis Properties 5
Contractor: McLaren
Submitted by: AHMM / McLaren
The London office block has undergone many permutations over the decades and a number of the most recent have come courtesy of AHMM. Its White Collar Factory stripped the office back to bare essentials to create a simplified, flexible, blank-canvas office machine into which any number of workplace environments could be programmed. But in the Ray, it carves a more sympathetic response to context in an effort to seamlessly embed itself into Clerkenwell's brick warehouse architecture. The building expresses itself as a clean-cut, streamlined and contemporary version of its local typology, with a rich and buoyant palette of different brick types inside and out. Local residential templates are reflected in the rear of the building, which is moulded into a stepped ziggurat of planted office terraces.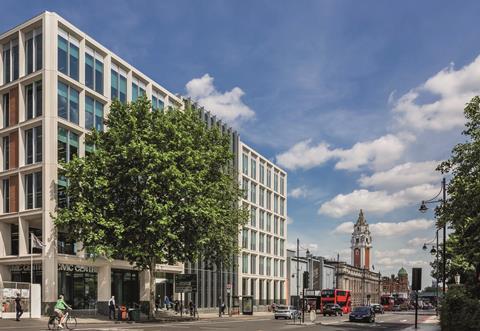 Lambeth Civic Quarter, London
Architect: Cartwright Pickard
Client: Lambeth London Borough Council / Muse Developments
Contractor: Morgan Sindall
Submitted by: Cartwright Pickard /Chapman BDSP
Architect Cartwright Pickard has followed up its recent refurbishment of Lambeth Town Hall with a bigger scheme that redevelops the entire island site on which the town hall sits. In an extraordinarily ambitious mixed-use scheme, as well as the refurbished grade II-listed town hall, the new Lambeth Civic Centre behind it (pictured) provides 11,000m² of offices, while a refurbished former art deco department store includes 26 homes and a new-build 14-storey tower provides 120 more homes – of which 40% are affordable. The masterplan creates new public routes through the site and enlivens public realm with ground-floor restaurant and retail units. As local authorities again become involved in provision of public housing, this project is a powerful reminder of how the public sector can play an active role in urban renewal.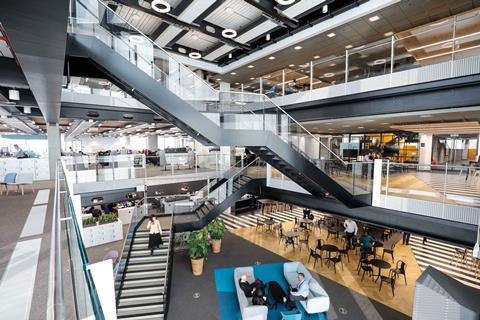 12 Endeavour Square, London
Architect :Rogers Stirk Harbour + Partners
Client: London Continental Railways for the Financial Conduct Authority
Contractor: Lendlease
Submitted by: Lendlease
Of all the work taking place in east London's Queen Elizabeth Olympic Park, the International Quarter London has arguably seen the biggest tranche of post-Games construction – aiming to place almost 400,000m² of office space on the eastern strip of the Olympic Park facing Westfield Stratford City. Many of its buildings are clustered around the new Endeavour Square; 12 Endeavour Square is home to the Financial Conduct Authority. Its new 20-storey headquarters was delivered on time and on budget, and it sets a benchmark for sustainability and wellbeing within a collaborative office context. A series of vertically stacked central atriums promote openness, transparency and connectivity by providing individual staircase links between clusters of three floors. Lower concrete live loads were used in construction to reduce embodied carbon for the substructure and superstructure, while a two-stage design-and-build shell and core contract allowed for the joint procurement of category A and B fit-out. This in turn led to cost and programme efficiencies that helped net a £2.6m preliminary cost saving across the entire project.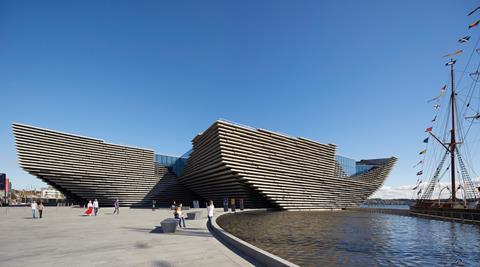 V&A Dundee
Architect: Kengo Kuma & Associates
Client: Dundee City Council
Contractor: Bam
Submitted by: Bam / Arup / Turner & Townsend
Kengo Kuma's V&A Dundee is the celebrated Japanese architect's first UK building – a tour-de-force architectural composition ambitiously primed to galvanise the wider regeneration of the once-moribund Dundee seafront. Its inclined surfaces are hung with 2,429 horizontal ribs of precast concrete that are poetically inspired by the craggy cliff-edges of the north-east Scottish coast. Upturned pyramidal volumes cluster together to form a wistful gateway towards the sea. Radical construction techniques were used to create the striking form – 11,343m² of formwork and 1,000 tonnes of falsework were used to create the external walls. Each bespoke concrete rib was digitally scanned and linked to the contractor's BIM project model in order to build an on-screen heat map that regulated required tolerances. The V&A represents a masterful union of architecture and engineering.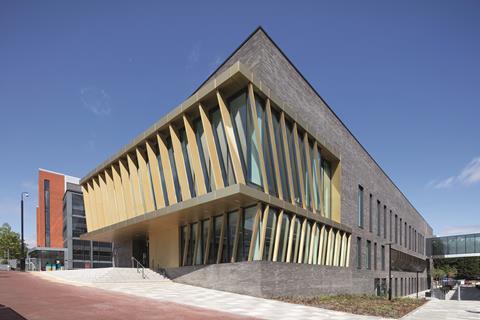 Collaborative Teaching Laboratory, Birmingham
Architect: Sheppard Robson
Client: University of Birmingham
Contractor: Morgan Sindall
Submitted by: Morgan Sindall
Laboratories, by their nature, are complex buildings. But this innovative new centre aims to simplify what can be an unwieldy template by creating a facility that consolidates the accommodation into just three gigantic super-laboratories, which break down the silo structure often associated with scientific research. It does this by providing shared facilities for a whole variety of research disciplines, in marked contrast to the traditional approach of providing separate laboratories and equipment for individual scientific sectors. The result is a streamlined trio of labs providing wet, dry and electronic research facilities for a whole range of sciences, with support infrastructure, such as services and storage, similarly combined. The theme of collaboration also extends into circulation areas, which provide a vibrant mix of social and study spaces.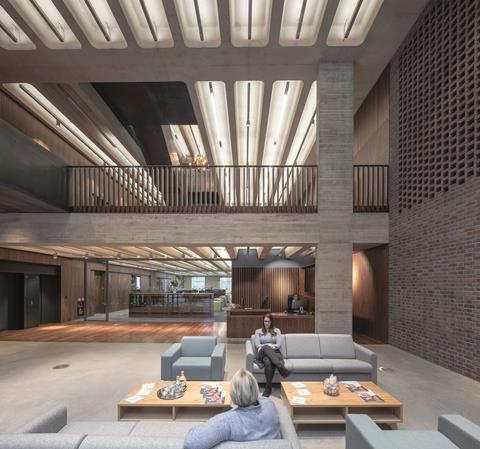 Royal College of Pathologists, London
Architect: Bennetts Associates
Client: Royal College of Pathologists
Contractor: Gilbert Ash
Submitted by: Bennetts Associates
Bennetts Associates' pioneering building on the eastern edge of the City of London seeks to redefine what a royal college is. While that is traditionally considered to be a historic building in an affluent London enclave, this college is an assuredly contemporary building in an edgy up-and-coming Aldgate neighbourhood. But it is not merely location that marks this project as a radical trendsetter. It offers a diverse range of uses – a 200-seat lecture hall, offices, meeting rooms and even a flat for visiting dignitaries – and combines the ceremonial and administrative in a sleek architectural palette of smooth expanses of brick, concrete and mild sheet steel. Cool, subtle, streamlined and modernist, the project is a powerful contemporary reinterpretation.
Wexham Park Hospital Emergency Assessment Centre, Slough
Architect: BDP
Client: Frimley Health NHS Foundation Trust
Contractor: Kier
Submitted by: Kier
The remarkable list of accomplishments garnered by this modest healthcare building reads like the ultimate completion wish-list for a medical facility. Not only did this building come in a staggering £1.5m under budget, but it was completed a month early, has reduced the average length of patient stay by a full day, and has resulted in a 15% increase in the use of same-day emergency care. In the new centre, critical ambulance handover times have vastly improved and the number of medical discharges per week has doubled. These achievements required some key technical innovations including the use of prefabricated MEP service modules to fast-track construction and reduce on-site labour, the use of BIM and virtual reality modelling and a design that optimises departmental proximities in order to reduce staff numbers and patient travel distances.