With energy bills going through the roof, attention has turned again to retrofitting homes. But while retrofit can be disruptive and expensive, the Energiesprong external wall insulation system offers quick installation and an attractive funding model
There was near universal delight when Rishi Sunak announced his £15bn support package to help households struggling with sky-high energy costs last month. But the expectation is that energy costs are unlikely to drop in the short term, which means that the chancellor will probably have to fund another tranche of support next year.
While this support is welcome for those who are struggling, these substantial sums do nothing to tackle high prices in the long term – or help the country to meet its net zero targets.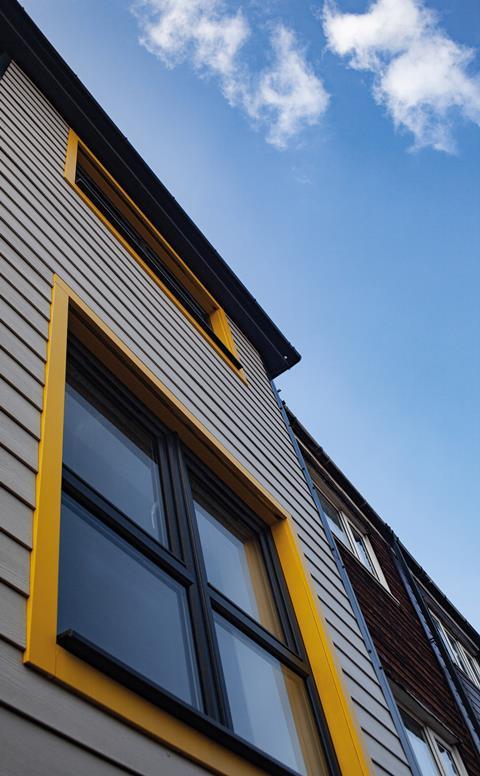 Unfortunately, there is no quick answer to retrofitting the UK's 28 million homes to reduce energy use permanently. Retrofit is disruptive, usually requiring people to move out of their homes. It is also extremely expensive, with the Building Back Better Commission estimating that it is just not financially viable to retrofit homes rated EPC C or worse that are worth less than £162,000. And the skills crisis means there is nowhere near enough industry capacity for such a massive undertaking.
>>>Also read: Are we seeing the start of a housing development slowdown?
>>>Also read: We must put people and their homes at the heart of the planning process
On a more positive note, there are those who have been working on potential solutions for many years. One such solution is Energiesprong, a whole-house overcladding system that can be fitted in a day with minimal disruption to residents and is packaged with a funding model to make it affordable for social housing providers.
The system was first used on a pilot scheme in Nottingham in 2017 and has since been trialled in other places including London, Essex and Exeter. These pilots demonstrated that the concept could work in the UK and established the beginnings of a supply chain.
Now Energiesprong UK is ramping up by bringing in other supply chain partners and social housing providers with the aim of unlocking up to £10bn of market potential. Building took a look at the system to find out whether it is an answer to the UK's retrofit challenge.
Funding model
Emily Braham, head of strategy and operations at Energiesprong UK, describes it as "movement". Energiesprong, which is Dutch for "energy leap", originated in the Netherlands and is now being promoted across Europe.
Energiesprong is not a proprietary system; rather it is a specific approach to retrofit. "It's about: how do we get the homes we need for the future, and how do we do that rapidly?" Braham says.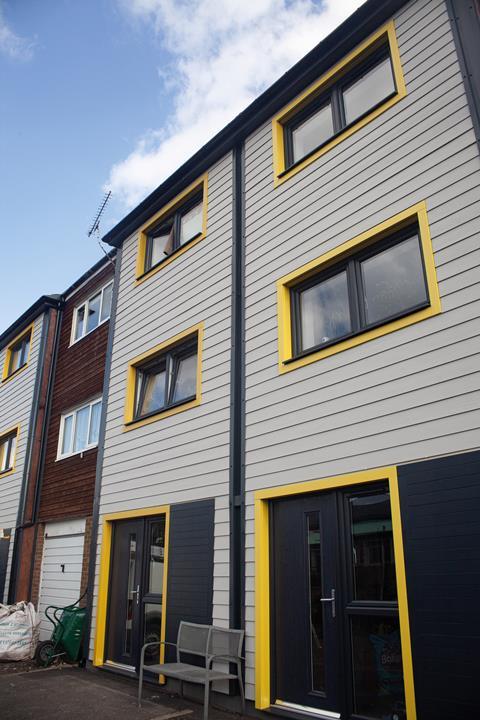 The homes we need are low energy, warm and desirable, with that last factor taking account of the disruption caused by the works, which must be done in 15 days or less to make the concept attractive to occupiers. The work is done quickly by overcladding the home with insulated wall panels as well as roof panels too if the existing roof cannot be upgraded easily.
The panels include new, high-performance windows and doors. Manufacturing the panels offsite not only means each home can be retrofitted quickly but also creates the capacity to retrofit large numbers of homes.
The target heating energy demand of retrofitted homes is 40kW/m²/yr with flexibility to go up to 50kW/m²/yr if circumstances make the lower figure hard to achieve. The higher figure meets LETI's best practice target range for retrofit.Energiesprong can better this – for example, there is a Passivhaus option available, although this comes at increased cost.
A key element of Energiesprong is the funding model. The first retrofits cost £85,000, with this reducing to £65,000 on current projects, and Braham says the ambition is to bring this down to £50,000.
A social landlord could expect to spend between £30,000 and £40,000 maintaining property over 30 years, including replacements. The ideal candidate for retrofitting is a home where major work is needed, such as a new roof or windows. The Energiesprong system provider guarantees the work for 30 years so the additional cost of the energy efficiency upgrade is £15,000.
Residents receive guaranteed minimum levels of comfort and continue paying for heat, hot water and light at the rate prior to the work being done. The difference between this and the reduced cost of energy to run the home pays off the loan for the extra over cost.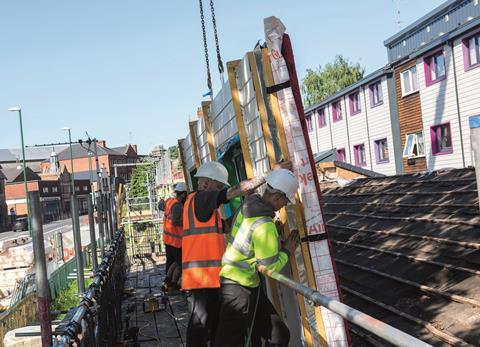 There is also the option to pass a proportion of the savings to the tenant in the form of reduced bills. The ambition is to get bills down to £500 a year, although that is being challenged by recent energy price rises.
The benefit of the comfort plan approach is that social landlords are not reliant on grants to improve their housing stock. Homes are monitored so, if energy use increases unexpectedly, landlords can investigate and take remedial action. This approach means that if energy use can be cut even more, then the loan will be repaid more quickly. Energiesprong retrofits already include photovoltaic panels and upgraded heating systems. By adding battery and thermal storage, energy use can be cut further to the point homes become net zero.
The idea is that heat pumps and energy storage are packaged up in a prefabricated pod that is quickly installed and connected to the home.
Pilot project
The first pilot project, a terrace of 10 crosswall properties owned by Nottingham City Council and operated by Nottingham City Homes, was completed in 2017. The panels were made and installed by Melius Homes, which has since set up a factory in Nottingham to continue retrofitting Nottingham City Homes properties.
The firm has just completed retrofitting 39 homes, a combination of crosswall houses and bungalows, in the Sneinton area of the city. The crosswall properties feature a cold undercroft garage space at ground-floor level, and these have been converted into habitable accommodation as a sweetener for having the work done. Melius is now starting work on a 100-home scheme in St Peter's Street.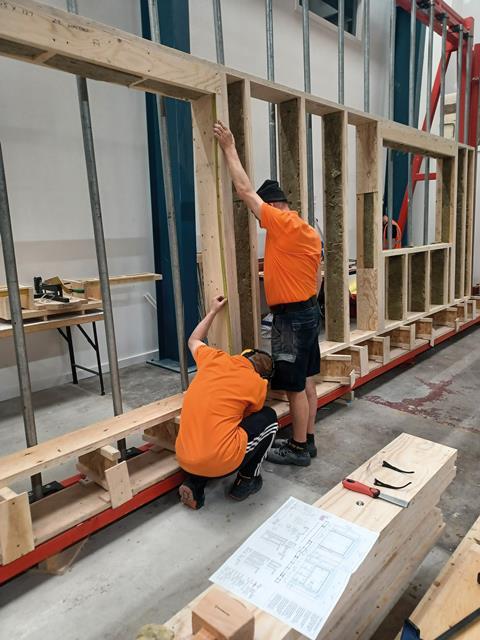 The Melius system is based around single-storey panels that are fixed together on site. The first job is to measure up each house. "The survey is the most critical thing we have to do, as not every door or wall is in the same place," explains Shaun Thomas, production manager for Melius Homes.
Each panel features a 220mm-wide structural frame made from Kerto, a laminated timber product from Finland. This is assembled on a jig and includes cut-outs for windows and doors. The panels are infilled with rock or glass wool insulation, and a breather membrane is fixed on either side of the panel followed by a 9mm OSB (oriented strand board) sheathing board. The cladding goes on next, a cement fibre product configured as lapped boards, and this is followed by windows and doors.
A shallow trench is excavated at the front and back of each home and partially filled with concrete as a base for the panels. The walls are drilled and fixings are resin anchored in place ready to accept the panels.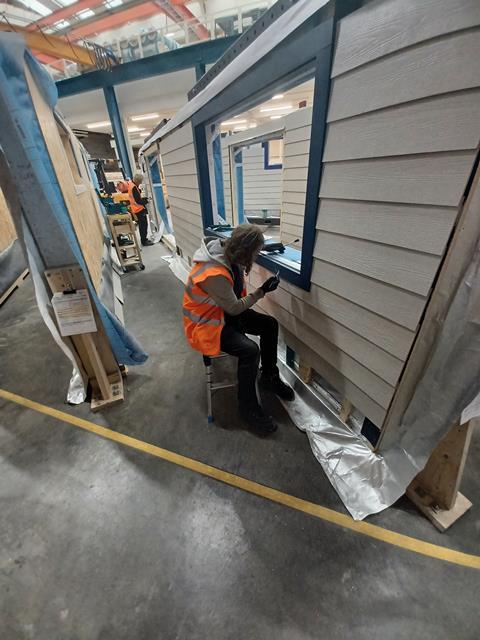 Cavity barriers are also installed at this stage – there is a 50mm gap between the existing wall and new panel needing the fire protection. The panels are craned in over a day and flashing put over the gap between neighbouring properties.
This is particularly critical for homes where the neighbour does not want their home upgraded, a result of the Right to Buy policy. "Some of this is designed to accommodate the fact that you can't guarantee all the properties will be included as some of them are privately owned," explains Braham.
"One of the biggest design challenges is how you finish off that junction between an insulated and an uninsulated property." She adds that many of these homes are privately rented so landlords are not interested in upgrades, even if the home needs work. She cites a recent example: "Even though their roof was leaking, and they were offered really cheap repairs, they didn't take that up."
Keeping residents happy
A critical part of the work is liaising with residents to ensure they are happy so the work can go smoothly. "The liaison part is really critical, as nothing can happen without the tenants being fully engaged and giving access," explains Elaine Barnabas, the technical project manager for Nottingham City Homes.
The process is explained to residents, including what is going to happen, and what is expected of them, to ensure there are no hitches. Movement patterns are established and whether any residents have specific health issues or concerns. Old bills are checked to establish energy use.
One of the biggest design challenges is how you finish off that junction between an insulated and an uninsulated property

Emily Braham, head of strategy and operations, Energiesprong UK
Residents can stay in their homes during the work, which includes internal work on the heating system. The only time residents must go out is the day the panels are installed. Melius Homes carries out an air pressure test on completion to ensure the homes are airtight.
With the concept having been proven by several pilot schemes, Energiesprong UK is poised to go big. In Nottingham, Melius Homes is in the process of optimising its production process to supply enough panels for more Nottingham City Homes and other retrofit projects. Thomas says the factory will be able to churn out a home's worth of panels a day once this has been done, and this could be doubled by working two shifts rather than one.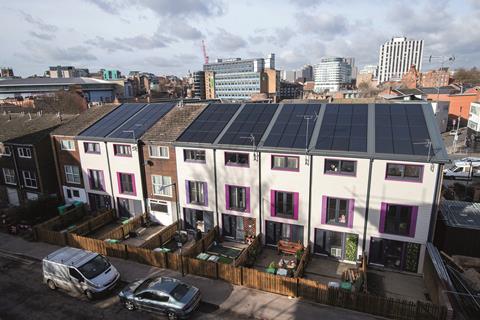 Energiesprong UK is also engaging with other registered social landlords and suppliers to take the approach nationwide. The GLA contracted Energiesprong UK and Turner & Townsend to establish the Retrofit Accelerator for Homes which has the objective of achieving 1500 deep retrofits in London. To achieve this, Energiesprong UK and Turner & Townsend set up the Innovation Partnership, a vehicle to deliver the retrofits. The Innovation Partnership has eight social landlord partners which include six London boroughs, Nottingham City Homes and Sanctuary Homes in the South-west.
The social landlords are paired with a "solution provider", the manufacturer and installer of the retrofit elements that best suits their specific circumstances. Three home archetypes have been identified – solid brick, crosswall properties and non-traditional which includes Wimpey No Fines and timber frame.
Some solutions are more suited to these archetypes than others – for example, crosswall properties are not suitable for systems that do not have enough structural integrity to span between the structural crosswalls.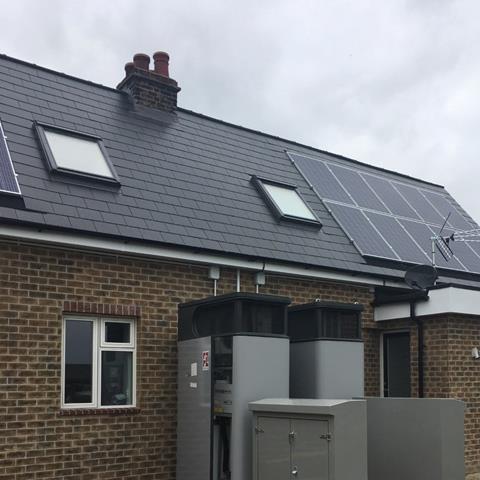 Melius Homes is already a solution provider. Potential suppliers include Innovare structural insulated panels (SIP) which are used for solid brick and crosswall homes. Another product is Ultrapanel, which is a kit of parts assembled quickly on site.
This includes steel and timber I-section rails which are fixed directly to the walls of the home at 600mm intervals, with insulation slabs fitted between. This solution is not reliant on a crane for installation so is ideal for situations where access is difficult.
Beattie Passive will supply a timber frame system that will bring homes up to the Enerphit standard. The high levels of insulation and airtightness demanded by this standard means that roof panels must be included rather than an existing roof structure being thermally upgraded. These levels of performance come at a price.
Energy modules suppliers include Monodraught, which is developing a unit that includes battery and heat storage. Bow Tie Construction, which is a solution provider offering cavity wall insulation, is developing the YESporch, which combines an air-source heat pump and mechanical ventilation with heat recovery (MHVR) ventilation system in an offsite constructed porch.
As the name "retrofit accelerator" suggests, the partnership is designed to kick-start a much bigger programme of work once the solutions and process have been optimised to deliver the best value and performance outcomes. The plan is to launch a retrofit framework after three years of the partnership with a potential value of £10bn, equivalent to 190,000 retrofitted homes.
Only then can Britain make a long-lasting, sustainable dent in our reliance on fossil fuels and on our soaring energy bills.
Is this the answer to the retrofit challenge?
Energiesprong wraps up the key challenges of retrofit – disruption, upfront cost, quality and industry capacity – in one neat package. The fact that it is not prescriptive opens up the market to a wide range of suppliers and means there are plenty of options to suit the diversity of different housing construction methods and systems.
Although residents do not benefit from reduced bills, they do enjoy enhanced comfort levels that are guaranteed whatever the temperatures is outside. And social landlords are shifting the burden of maintenance onto a third party for a period of 30 years and do not lose out financially by retrofitting their housing stock.
The big challenge for Energiesprong, and indeed any retrofit solution, is that it does not tackle the affordability issue for owner‑occupiers. This is most evident in the Nottingham pilot projects, where unimproved homes stand out like missing teeth.
As well as the cladding looking different, the facades of the Energiesprong homes project beyond the unimproved homes by some 350mm. Not only does this not look great, but it also compromises the thermal performance of the retrofitted homes.
The second challenge for Energiesprong, and any external wall insulation system, is that these are not generally suitable for older homes in conservation areas or on listed buildings. Internal insulation is the currently accepted answer for these types of properties, which is inevitably highly disruptive to install.
But with 80% of UK homes having been built after 1919, this still leaves plenty of scope for external retrofit solutions – given the scale of the challenge, it makes sense to focus on the quick wins first.
Ultimately an answer needs to be found to make retrofit affordable and appealing for private homeowners. The Energiesprong funding model is a good one and could be applied to privately owned housing if the government or financial institutions could bankroll the loans in tandem with energy providers which could manage the repayments.