June's contract awards data shows an increase and indicates that the recovery is sustainable, at least in the medium term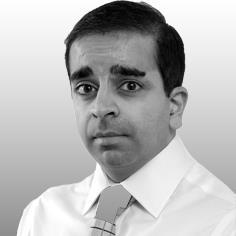 The Index was 133 in June, 8% higher than May and 12% higher than a year ago.
June's data provides more good news for the industry with further evidence that the recovery in construction is likely to be sustainable into the medium term. In the first quarter of the year we were slightly wary of the positive data when compared with a year earlier, given that poor weather in the first three months of last year depressed activity in Q1 2013.
However, June's data shows that contract awards rose once again. Unsurprisingly, housing is a key driver of the growth and the CPA/Barbour ABI Construction Private Housing Index registered 205 in June, double the level five years ago following the financial crisis.
However, it is not just housing driving the construction recovery. June saw an increase in contracts awarded across almost all sectors, including publicly-funded education and health, suggesting that the worst of the coalition's cuts to construction spending are now behind us.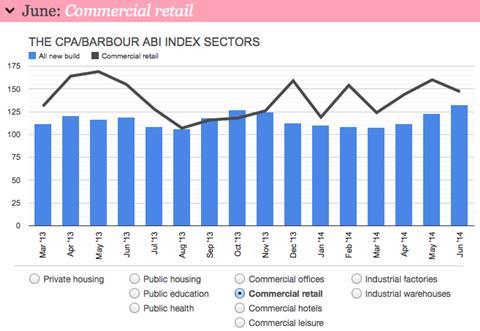 Retail sector index
A polarised market
The CPA/Barbour ABI of contract awards in the retail sector registered 147 in June, 8% lower than in May and 5% lower than a year earlier. This implies that, overall, retail construction activity is likely to fall over the next six to nine months. However, the retail sector remains a highly challenging, polarised market. Within London, demand remains high in prime areas such as the West End, where the existing stock remains in short supply.
In major cities outside London, demand has recently picked up significantly. However, in-town vacancy rates in the weakest locations remain at around 25%-30%, suggesting little new build until this excess floor space is used up. The CPA/Barbour ABI index suggests this is unlikely to be in 2014. Supermarket chains still have key expansion plans but the majority have now pulled back to focus on interior fit-out work on small urban retail units in cities where the margins are high. Shopping centre activity picked up in 2013 and 256,000m2 of new space was delivered compared with less than 30,000m2 in 2012.
However, looking forward, shopping centre activity is expected to fall to just 100,000m2 in 2014.
Noble Francis is economics director at the Construction Products Association