Comedian John Bishop has made a pretty penny out of HS2, a construction stalwart gallops into a new field, and my hack spies a jet-powered marvel – in more unsurprising news, architects struggle to be understood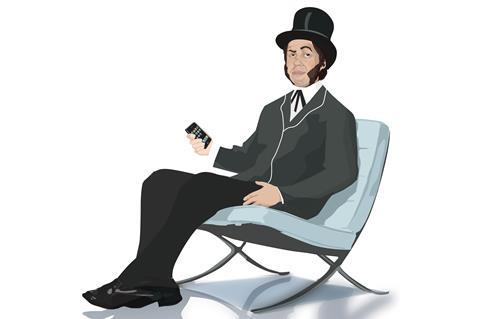 Talking horses
My spies in the equine world tell me a new owner from the consultancy world has been spotted at Brighton races. Richard Steer, chairman of Gleeds, has invested in one of ex-England footballer Mick Channon's nags, fittingly called Gleeds Girl, whose best result so far has been a third place at 20/1. Richard is keen to stress that he only owns a share in the two-year old mare, so he's not expecting an invite to the Royal Enclosure at Ascot any time soon. Then again, if called upon to join her Majesty, a fellow racehorse owner, he could always offer an update on the refurbishment of her London pad, which Gleeds is currently working on.
Peering upwards
One of my hacks was granted a tour of HS2's Euston station last week. Wandering around the scheme, the scale of the task became apparent, but getting a good view of the proceedings proved a tad tricky. The best vantage points were admirably walled up to quite a height, and my colleague – at 5'3" – had to stand on the tippiest of tiptoes to see anything. I've recommended the next time she goes on a site jaunt she takes a stool with her. HSE-approved, naturally.
Railway refund?
If HS2 is scrapped, I wonder if transport secretary Grant Shapps will ask Liverpudlian comedian John Bishop, who bought a house on the railway's route in Cheshire in 2011 for £2.25m and reportedly sold it to HS2 for £6.6m in April this year, for the money back?
Timely setting
A summit on London's infrastructure – perhaps it will address the reasons why every large project seems to be delivered late – is being held next week at Tottenham Hotspur's new ground, which was delivered on … oh, hang on, that was late as well, wasn't it?
Middle English in Middle England
Outgoing RIBA president Ben Derbyshire has said one of his biggest concerns about architecture is its "impenetrable language". Perhaps Derbyshire, who was formally replaced by Alan Jones earlier this week, had in mind this year's Stirling prize shortlist. The blurb for one scheme, Mikhail Riches' Goldsmith Street in Norwich, reads a bit like medieval poetry. "Black glazed pantiles, mitred as they go from a roof covering to a wall covering," it enthuses, adding: "The brick is also contemporary, with characteristic intentional white efflorescence colouration." My inner eye is boggled.
Big names
I see that Richard Harrington, the former construction minister who resigned his brief in protest at the government's handling of Brexit earlier this year, has told his Watford constituents he won't be seeking re-election at the next general election, officially due in 2022 but which could now be imminent. Harrington was also one of several Tory MPs lining up to rebel against the government in the anti no-deal vote that was due to take place on Tuesday, just as Building went to press. It's been a revolving door policy for the construction brief this year … Harrington's successor, Andrew Stephenson, was promoted to international development minister after Boris Johnson became prime minister and replaced in July by Nadhim Zahawi. My local turf accountant has closed his book on the latest incumbent lasting until Christmas.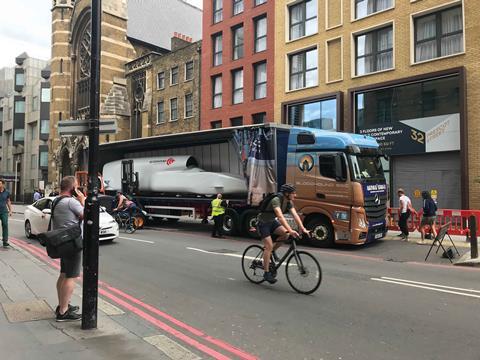 Motorhead moment
The Square Mile is infamous for its slow-moving traffic, what with building work and delivery trucks all over the place, but a hold-up last week was quite surprising. A truck carrying the Bloodhound LSR, one of the fastest cars in the world, had pulled over near Tower Bridge. One of my hacks couldn't resist snapping a photo of the jet-powered beast, which is aiming to break the 763mph land speed record next year. Never mind 763mph, if it managed 20mph going up Cheapside that would have been nothing short of miraculous.
Send any juicy industry gossip to Mr Joseph Aloysius Hansom, who founded Building in 1843, at hansom@building.co.uk