Great Portland Estates' James Pellat describes how the 42 participants are getting on after day 1 of their charity cycle ride from London to Manchester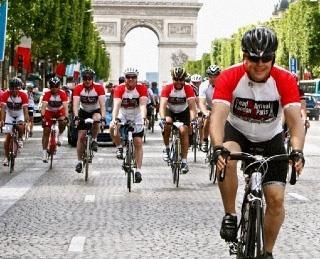 BCO Ride To Manchester Day 1
EC Harris HQ London to Daventry - 90.2 miles
Well today was a tough day, a lot harder than any of us imagined when we pitched up to EC Harris HQ this morning. Pretty much everyone described the same symptoms, not enough sleep the night before, all nervous, apprehensive but excited at the prospect of finally getting going with this ride.
All 42 riders turned up, which was a nice bonus. Credit must go to structural engineer Mark Tillett of Hayne Tillett Steel who stepped into the breach at 10.30 on Thursday evening, 30 minutes after being asked the question. Special thanks must also go to Mark Lacey and EC Harris for being such excellent hosts before we set off. Bowls of porridge so big that haven't been seen since Goldilocks went round to the three bears' house helped provide energy for the day.
Getting out of London was a nightmare, too many traffic lights made travelling in two groups difficult. Nerves were soon put to the test as we went up the steepest hill in London, Swains Lane in Highgate, we joked thinking this was the hardest hill we were going to climb. Fools, we were to be proved wrong much later in the day.
Riding in London you soon realise what a genius planning policy the Greenbelt is, the problem was that our organisers seemed to manage to find a route that completely missed it. What followed was 28 miles of grim urban setting from York Way to Watford. Things looked up as we reached Harry Potter World in Leavesden, the eagle eyed amongst us spotted Privet Drive and Honeydukes Sweet Shop in Hogsmeade. Fortunately this also signalled the start of the countryside.
Leaving Hemel Hempsted and the delights of the Magic Roundabout we started the steady climb to the top of Ivinghoe Beacon, a beautiful spot overlooking the Chilterns. Unfortunately this was the first crash of the day as Gerry O'Brien from AKT hit a diesel spill and came a cropper. Fortunately bike and rider are both well. The slow start meant we missed a food stop on the way so people arrived at lunch very hungry and thirsty.
Appraently I have burnt 3,540 calories today according to my Garmin, despite our best efforts of eating the worst kind of energy drinks and gels it is very hard to make up this amount of calories on the road. It becomes a battle to keep the legs turning especially when you hit climbs. The sun came out after lunchtime, which brought welcome relief to many riders with tired limbs. Despite the sunshine we have had nothing but wind in our faces all day, I would rather have rain than wind, it makes it so much harder.
As we reached Daventry the hills got higher and the countryside more steep, until the last climb of the day, the Cat 4 (hills are graded in the Tour de France, HC being the hardest then 1 to 4) climb up Newnham Hill. This was very hard with tired legs, I crawled up it helped by Craig Eadie of Dome and Carl Carrington of Mileu Consulting. It was very hard work indeed. We climbed over 4,500ft today, and felt every inch.
Exhausted we arrived in Daventry with the knowledge that tomorrow is going to be even steeper as we enter the Peak District. Spirits were raised with a quick check to our Just Giving page, we are 97% there, having raised over £19,500, so those last donations will be gratefully received.
More to follow tomorrow.