The cyclists on the charity ride to the BCO conference fend off cramps, warm weather and insects to break 100 miles on day 2
BCO Ride London to Manchester
Day 2 Daventry to Buxton - 108 miles
What a brilliant day, one of the best I have ever spent on a bike, great weather, company, riding and scenery. When I planned this ride I never thought it would be this good.
Before the ride a lot of participants were nervous about riding in a peleton basically because you ride six inches from the wheel in front from a stranger and are not sure what they are going to do. The upside is that you use less about 20 - 30% less energy than riding on your own, something important to bear in mind when you have such a long distance to ride and massive hills to climb at the end.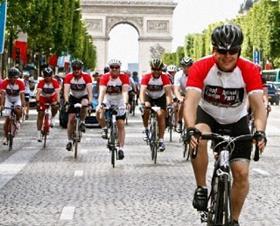 Two groups were sorted at the start of the day and the first 25 miles were a breeze, simply because we rode together as a bunch. For this I have to thank my able deputy Mark 'the Badger' Lacey of EC Harris. Mark sat up front all morning taking the wind but controlling the pace to an easy 13 mph. This made conversation easy and it has been great meeting new people and chatting about all things cycling and work related. It has been fascinating to find out people's motivations for doing the ride.
Some like Guy Bonser and Steve Bradley of Gleeds are doing it for fitness and fun, neither had ridden more than 50 miles before and so the effort to complete 108 miles in hot sunshine and climbing 6,500 feet is incredible. Others like the group organised by Overbury from the BBC project completed a similar ride last year in aid for Children in Need. It has been great to see a project team of consultants from different disciplines still wanting to ride together a year after their project has ended. The teamwork and camaraderie are probably why most of us get into this business and when it clicks it does feel really good.
Others are keen cyclists in training for rides later in the year, my fellow blogger Simon Rawlinson of EC Harris is being joined by Paul Mannion and Peter Smyth of Davis Langdon together with Mark Tillet in entering for the Etape du Tour later in the summer. Craig Eadie leaves on Sunday to compete in a Lands End to John O'Groats ride so this is last minute training for him. Good luck to them all.
The good riding conditions allowed more time to take in the scenery – the English countryside in sunny conditions after a lot of rain takes a lot of beating. Trees are now in full bloom, hedgerows were humming and judging by the number of insects I ate yesterday (not nice). We took in the playing fields of Rugby school, beautiful villages with sandstone cottages and spectacular scenery throughout. The miles counted down steadily, we made Staffordshire by lunch (via a few detours, how many Forestry Centres are there in Burton? At least two by our count).
I started to get nervous, I have never broken 100 miles on a bike before and with the equivalent of six laps of Box Hill to come I wasn't sure I could make it
The heat took its toll after lunch, a lot of drinks were required, a lot of sweet energy gels as well. Everyone stuck at it though and quiet determination kept us going. By about 70 miles, we reached a sign that said 'Welcome to the Derbyshire Dales' and you noticed the hills getting larger in size. By this point we had been going downhill for most of the way, having only climbed 3,000ft to this point.
At this point I started to get nervous, I have never broken 100 miles on a bike before and with the equivalent of six laps of Box Hill to come I wasn't sure I could make it. Cramps in my leg all night didn't help either and I was worried that I would seize up as soon as we hit a climb. I was determined to do it though and the purchase of larger rear cassette before I left was worth every penny, basically I dropped into my lowest gear and just ground it out.
The Peak District is really beautiful, we took in long climbs taking the time to take in the view. The climb into Ilan is a Cat 3 climb so an 'improvement' on yesterday, but the descents were just epic. Not being the lightest man in the group means I am always last up the hills, but I can descend like a demon, my top speed was 41.5 mph only having to brake at the last minute as we went over cattle grids.
Top climber and King of the Mountains is Sean Hatcher of ORMS, nicknamed Marco Panini after the Italian climber Marco Pantani he shoots up climbs like a mountain goat
Top climber and King of the Mountains is definitely Sean Hatcher of ORMS, now nicknamed Marco Panini after the Italian climber Marco Pantani he shoots up climbs like a sprightly mountain goat. Impressive stuff.
Each climb became a little harder, it started to get dark, we had been in the saddle for eight hours at this point and it was 7.30pm. However we soon saw signs for Buxton and that lifted spirits a little. The last climb into Buxton was tough, but it meant that the descent was all the sweeter. By this time I had clicked pass 100 miles on the Garmin and the endorphins kicked in, I found some extra energy, made the most of my bulk and shot to the front. I dreamed of leading everyone into the hotel when the strong riders shot past. It didn't matter, we all arrived together, elated and pleased that we had made it.
Back in the hotel we were delighted to discover that we had reached our fundraising target, this will make the visit to Francis House all the more happier tomorrow. Before that there is the Cat and Fiddle climb - the second highest pub in Britain - where there are a couple of races within the race. Firstly the Cost Consultant sweepstakes, EC Harris, Davis Langdon and Gleeds (as race leader I get to choose the handicap system so it may not go as easily as some of them may think). There is also the Great Portland Estates sweep, for a race between Sean 'Panini' Hatcher and Mark 'Sparticus' Tillet.
Final update tomorrow.