A reader considers legal issues around ground conditions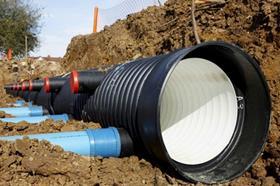 There are two key points to consider when discussing ground conditions ("Digging Deep",14 September).
Firstly, who takes the time and cost consequences of certain ground conditions (which can include finding Richard III under your car park)?
Secondly, what responsibility the employer and her team have for any information provided to the contractor before or after the tender.
Under a lump sum contract (like JCT), the contractor would bear the risk of all ground conditions. This does not apply to the re-measurement contracts.
For an example of getting it wrong, the Mowlem vs Phi Group dispute concluded in 2004 and resulted in the contractor losing a substantial sum when it made an incorrect assumption on ground conditions.
It has become common practice for the standard forms to be amended to provide for a clear allocation of the consequences of, say, unforeseen ground conditions arising, and for the contractor to be responsible for obtaining and verifying the ground conditions before starting work.
If a quick start on site is required then more comprehensive information should be provided to the contractor, bearing in mind that the employer will be responsible for the accuracy of that information.
Sarah Fox, Enjoy Legal Learning, via www.building.co.uk