US start-up Katerra's digitally-led, off-site housebuilding model holds the key to overhauling the UK's inefficient construction sector to increase productivity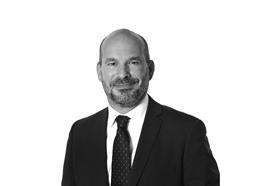 Last month's news about Katerra, a US-based construction start-up, raising £600m in equity is a taste of what's to come for development and construction companies around the world.
Much like a car company, Katerra produces homes in a fully integrated way from the design through to the construction and commissioning stage, potentially revolutionising the traditional fragmented, non-aligned and transactionally inefficient real estate development and construction process.
Unlike the new, bold and digitally-led Katerra production model, the traditional way we build homes in the UK is through an archaic and inefficient model. Housebuilders and main contractors rely on trade contractors to physically deliver, often spreading risk disproportionately, and placing emphasis on skills and technology improvement lower down the supply chain.
Carillion's recent collapse is proof of the traditional contracting model's severe limitations once contractors lose control over costs and project outcomes. A bit like the UK housing market, the current construction delivery model is broken. This should be a concern not only for other tier one contractors, but also developer clients who rely on them, as well as more integrated but still fundamentally fragmented housebuilders.
There is huge potential for vertically integrated, digital manufacturing-led models aligned to market demand to be a big disruptor
Although housebuilders "self-deliver" and do not use tier one contractors, their management of the trades below is subject to the same pressures, so clearly represents a delivery risk, and ultimately a brand and reputational risk. The travails of Bovis Homes, which had to deal with a high number of snagging complaints last year showed just what this can look like when it goes wrong in the housebuilder world.
Katerra could provide a framework for a new, modern and digitally robust model of delivery. The company, founded in 2015, uses ground-breaking technology to integrate the entire construction supply chain, from conceptual design to building assembly and then maintenance and operation of the built asset. Within this model, risk is not passed on to different sectors and companies, but centralised within a single, insular entity.
This allows Katerra to commit a constant stream of investment and profit into technology and skills, perpetually improving the model and its delivery methods. Additionally, by having an integrated approach to construction, the economic logic is less about profit and turnover but margin and quality of the end-product – an approach that has been absent from UK construction for decades.
The "constructech" firm's build method is a digitally-led, off-site panelised system of cross-laminated timber, which is then transported and assembled on site, causing minimal disruption and a reduced need for on-site labour. Off-site panelised systems are becoming increasingly popular because skill shortages have lessened the sector's capacity and the undersupply of housing demands a faster rate of delivery.
Katerra's approach is also tenure agnostic – it can deliver across all tenures including build to rent and specialised elderly care developments – and its system can be used across the entire US product spectrum, from multi-family to continuous care retirement community products.
The firm also has its own dedicated research and development labs. Its "Integrated Factory" model connects the Katerra factory to the job sites, streamlining the logistics process to make sure the required products and skills are on the job.
These factors remove supply chain inefficiencies that arise in a traditional construction process from factors such as a lack of co-ordination, information failure or poor quality assurance.
There is huge potential for vertically integrated, digital manufacturing-led models aligned to market demand to be a big disruptor in our industry. In order to challenge the Carillion type of delivery model, we need to think big and digitally about novel ways to create and manage the built environment. But as with any disruptor in any industry, investment must get the ball rolling and risk must be reframed as opportunity.
SoftBank's $865m (£615m) investment in Katerra marks a new age of digitalisation in construction that isn't just modernisation – it is transformation.
It is interesting to see Berkeley Group making a sector-leading move into the pre-manufactured homes space by investing in its own factory just to service its own pipeline, a UK equivalent of Katerra's model – will others follow?
Although many equate increased levels of offsite manufacturing as being solely about big, expensive and centralised factories, perhaps they should think again.
With the recent launch of Heathrow's logistics hubs initiative – whereby it will select four locations to be offsite construction and manufacturing hubs to support the airport's expansion plans – and government department building programmes moving towards adopting digitally enabled and more standardised product platforms, this will move the opportunity very clearly into the domain of regional SMEs, especially those that want to create small business collaborations and cluster around integration "hubs" or link to "flying factories" near or on sites. This is an opportunity at every level of our industry.
The dawn of a new digital era in construction is finally here. Construction as manufacturing thinking combined with supply chain integration of the kind we see Katerra achieve can transform the construction industry's stagnant productivity levels and redefine our delivery model at a crucial time for the industry. It is time to act.
Postscript
Mark Farmer is founding director and chief executive at consultant Cast and author of the industry report Modernise or Die