Construction vehicles are responsible for a disproportionate number of cycling accidents each year - many of them fatal. What can the industry do to prevent more deaths?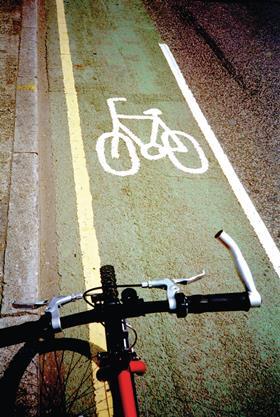 If you live in any large urban area in the UK, you'll be familiar with the depressingly regular stories of cyclists killed and seriously injured on the roads. Last month, it happened again in London when a young woman riding her bike down Camden High Street was hit by a lorry, leaving her with permanent injuries. According to witnesses alerted to the accident by what they described as a "shocking scream", she was travelling alongside the lorry when it turned left, crushing her under its wheels.
Statistics show that victims of this horrific scenario are often women hit by lorries turning left. What is perhaps less well known is that in London at least, the lorry is disproportionately likely to be a construction vehicle. The problem is so bad in the capital that the mayor has decided to levy £200 a day on any HGV not fitted with basic safety equipment and is considering more draconian measures.
As London mayor Boris Johnson's cycling commissioner Andrew Gilligan puts it: "The number of deaths caused by construction lorries is overwhelmingly disproportionate."
But is the industry really the prime culprit here and, if so, is it doing enough to put things right - or will politicians like Johnson need to step in to enforce changes?
Disproportionate death toll
According to a report commissioned by Transport for London and published earlier this year by the Transport Research Laboratory, of the 16 cyclist fatalities in the capital in 2011, nine involved a heavy goods vehicle (HGV), even though HGVs make up only around 3% of traffic. Of these nine, seven were construction vehicles, despite the fact construction makes up only a small proportion of freight traffic.
Gilligan, a well-known journalist and blogger -who was appointed in January by the mayor to oversee cycling policy amid a huge rise in the number of cyclists on London's roads - is in no doubt that the industry holds the key to stopping the killing. He complains that many construction vehicles are not fitted with side guards to protect cyclists, which cost just "a few hundred pounds".
I wouldn't say there's denial but among clients, there is a feeling of 'this isn't my problem'

Matt Mason, Cycle 2 Cannes
"Supermarket lorries have sides that go down to the road surface so you cannot get dragged under the wheels," Gilligan says. "These seven deaths [caused by construction lorries in 2011] involved construction vehicles not fitted with side bars. It's always the same … the mayor is deeply concerned about the disproportionate number of deaths caused by lorries and particularly construction lorries."
One of the reasons for this is that construction vehicles are exempt from European Union safety rules requiring side bars, in order to allow them to be able to travel over rough ground. This, of course, is largely unnecessary for the kind of work such trucks undertake in large city centres.
Written in the contract
Another reason construction lorries are killing cyclists seems to relate to the way in which contracts are worded. These make preventing accidents a key priority on site but do not extend this culture to off-site activities such as delivering materials and equipment. Contractors are also believed to make drivers hurry by putting pressure on them to deliver to site in particular time slots.
Peter Murray, the founder of Cycle 2 Cannes, the charity behind the annual cycle ride to the Mipim property fair, and one of the people behind a Construction Traffic Charter for the industry that aims to cut cycling deaths, believes amending contracts to alter this could be a vital step forward. He says: "Legislation takes a long time. Changing construction contracts could have an immediate impact."
Julian Daniel, founder and managing director of main contractor Blue Sky Building, admits that time windows in contracts may "increase pressure" on a driver and encourage risky driving and believes the industry hasn't yet woken up to the role it plays in killing cyclists.
He says: "I do cycle around London myself - I use Boris bikes a lot - and I think there are several factors such as road design which the industry can't control, but others it can."
Asked about the lorries delivering to his sites, he adds: "You would never know about all the vehicles on your site because quite a lot of it is down to third-party couriers and so on."
Both the authorities in London and central government are taking action. Cycling deaths and injuries are without doubt a national problem, with UK cycling deaths rising 10% to 122 in 2012, a five-year high. These occurred all over the country, on both rural and urban roads. However, among the big cities, the capital is particularly dangerous, given 14 of those killed in 2012 were in London. This is attributed to its booming construction sector and the sheer numbers suddenly on bikes - these now make up almost 70% of the traffic on Blackfriars Bridge in central London each morning. In September, the Department for Transport (DfT) and the London mayor launched measures to tackle HGV safety and support the "cycling revolution" in London, including setting up a police-led HGV task force and reviewing the existing industry exemption on vehicle side guards.
The industry itself has also been making moves although experts disagree on whether it is engaged enough. Gilligan claims construction has been "very helpful" while Transport for London (TfL) estimates that more than 200 construction firms are involved in its work to improve cycling safety.
But Cycle 2 Cannes chairman Matt Mason - also a director at developer Crosstree - maintains that parts of the industry remain aloof, despite the organisation's attempts to lobby clients as well as consultants, contractors and subcontractors. "I wouldn't say there's denial but among clients, there is a feeling like 'this isn't my problem'," Mason says. "They can't just ignore this and say it's the responsibility of suppliers."
The seven London cyclist deaths involved construction vehicles not fitted with side bars. it's always the same …

Andrew Gilligan, cycling commissioner
Some clients have made huge strides, such as the £15bn Crossrail project, which has so far trained more than 5,300 lorry drivers in cycle awareness and made additional safety equipment mandatory on its lorries and vans. Adding such equipment - which can range from side guards to electronic alerts and extra mirrors and video screens in the driver's cab - is the "simplest and easiest thing" the industry can do, Gilligan claims. While everyone interviewed for this article supported such efforts, Peter Murray believes that retrofitting lorries to make them cycle-safe may go too far. He says: "There's a danger that you start getting so many devices giving messages to the driver - beeping noises, half a dozen mirrors, videos - that you lose the impact because he's got so many things to pay attention to."
Faster, leaner, safer
But there's another thing that the industry could do which would save lives: improve the efficiency of site deliveries. Gary Sullivan is the chairman and co-owner of Wilson James, the construction logistics firm that owns and operates the London Construction Consolidation Centre. The centre - a huge shed-like building near City airport in London's Docklands - holds construction materials in bulk for large construction projects, and supplies them on a "just in time" basis to between six and 10 different contractors on site in one go. Vehicles, which are fitted with the latest safety equipment, leave sites loaded with materials for re-use and recycling, further increasing programme efficiency.
Sullivan reckons that extending these practices, already routinely used by large supermarkets and the car industry, could make the industry as a whole more efficient and take between a third and half of construction vehicles in London off the road. "There should be more of these centres," he says. "At the very least, there should be one north, one south, one east and one west."
Whatever the possible industry solutions, politicians are increasingly turning to the stick rather than the carrot as pressure on them mounts. As part of his joint announcement with the DfT in September, Johnson confirmed the introduction of the £200 per day charge on any HGV not fitted with basic safety equipment in an effort to target what he said was the relatively small number of problem vehicles causing many of the deaths. Gilligan says he is "absolutely certain" this charge will save lives and reveals that the mayor's office is also considering banning certain types of lorries at certain times. While he doesn't specify which times, rush-hour is the most likely period.
But officials are also clearly hoping that the industry can get its own house in order, if only to avoid the terrible impact that these crashes have on everyone involved. As TfL's head of freight and fleet, Ian Wainwright puts it: "Don't get to a point where one of your vehicles and your people are involved in one of these incidents - do something about it now."
How one firm is getting it right
You might expect the firm refurbishing an iconic cycling venue to make cycle safety a priority and that is exactly what FM Conway has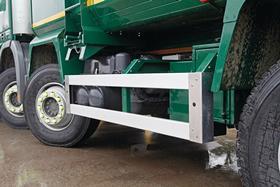 done. Over the summer, the Dartford-based infrastructure services provider completed a £400,000 contract to help revamp Herne Hill velodrome, the outdoor venue in south London built in the 1890s and used for the 1948 Olympics.
The firm has won praise from British Cycling by retrofitting its fleet of 144 vehicles to include side guards (pictured right), audio warnings and signs (middle picture), reversing and near-side blind-spot cameras (pictured left) and seven side sensors that detect nearby objects.
Drivers undertake the TfL-sponsored Safe Urban Driving course, which includes asking drivers to take to the saddle on London's roads. FM Conway has also partnered with training organisation Cycle Confident to use FM Conway's facilities to train drivers from other construction companies across the capital.
This story originally featured a poll asking:
Do you think the industry should be doing more to protect cyclists from being injured by construction lorries on the roads?
This poll is now closed.
See the result here.