With the RICS' overseas membership up to 35,000, chief executive Sean Tompkins isn't about to be blown off course by parochial critics back home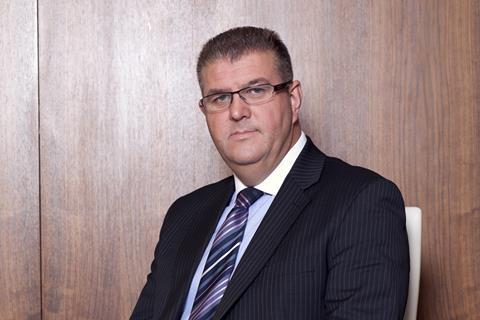 Sean Tompkins knows how to drop a name. The chief executive of the RICS is recently back from a prime minister-led trade mission to Brazil, which also featured bosses from firms including Foster + Partners, Laing O'Rourke and Mott MacDonald. Exactly the sort of thing you would expect the RICS - which is trying to establish the surveying professions across the world - to attend. But it almost got him in hot water at home.
"David Cameron was good enough to get me out of a personal hole. It was my daughter's birthday and I missed it," he admits ruefully. "So he wrote a personal excuse note - 'I'm very sorry your dad missed your birthday, it was all my fault, David Cameron. He was just promoting the British professions in Brazil.'"
In case you were wondering, the apology was accepted.
But two years into his role, it's clear Tompkins (who says he hates flying) is still clocking up air miles promoting surveying around the world. He says there is evidence the strategy is paying off, with RICS standards taking root in some of the world's most rapidly developing economies - including China and India - and RICS membership hitting 35,000 overseas for the first time.
But Tompkins is the first to admit that not all the organisation's 75,000 members in the UK are supportive of the RICS' international expansion plans. What's more, the RICS has been hit by a series of domestic controversies over the past year - from allegations of conflicts of interest in its dispute resolution service to outpourings of anger over membership fee rises - that have rocked confidence in body.
From his office at the RICS' international headquarters in London's Parliament Square, Tompkins confidently sets out the case for continued global growth and explains how the RICS is getting its house in order at home.
Man on a mission
In 10 to 20 years' time, the RICS will have as many members overseas as in the UK, Tompkins believes. The body's strategy for getting there is to set up across the world - focusing on the most rapidly developing economies - and establish surveying standards he says are "massively" in demand overseas. There are now 10,000 RICS members in the BRIC countries alone, he says.
The RICS is now set up in 27 countries and Tompkin's strategy is to generate more demand for the RICS' standards. Much of Tompkins' time is spent "working with employers, end-users or governments to get them to endorse or accept RICS standards", he says.
There are some notable successes, particularly in the property sector, where he says RICS standards are now accepted as "the top level" for property brokerages throughout Europe.
The RICS is in discussions with the Indian government on "how to train the 500,000 construction and property professionals they believe they are short of to deliver their next five to 10 year [infrastructure] plan". In China, Tompkins recently met the head of the professional services regulator to discuss how to incorporate RICS' measurement and embodied carbon standards in the country's construction market. He says China wants to create "something not too dissimilar to the RICS" to cover "the whole life-cycle of property".
We've almost got to a point where we're taking professions for granted in the UK. That's not happening anywhere else
He dismisses his "parochial" critics, saying Brits have a problem with selling themselves abroad. "We've almost got to a point where we're taking professions for granted [in the UK]," the boss of the 143-year-old body says. "I can promise you that's not what's happening anywhere else. They are massively in demand, highly valued, nurtured, supported and invested in."
Indeed, he says the expansion drive is as much about promoting the surveying profession at home as abroad, and that the economic imperative for doing so is clear. "Our economic future in the UK will be based on trading knowledge around the world for capital," he says.
He says the RICS is politically neutral, but he backs Cameron's international trade push. "I'd like the leader of my country to be going out and linking me up with the rest of the world, and I'm hoping chartered surveyors would like the leader of their profession to be doing the same."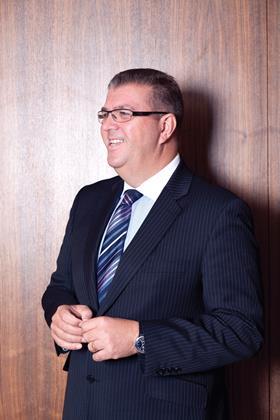 The home front
Back in the UK, Tompkins accepts that it is a tough market for QSs. He says the RICS can help by driving best practice in the areas posing the biggest challenges for firms - particularly around technology, BIM and developing multidisciplinary skills, such as adding project and programme management skills to cost consultancy.
One way of doing this is to be at the heart of government policy, Tompkins says. He says the RICS was one of the main voices lobbying for a construction strategy and a construction adviser, and now these have been implemented, the RICS can make a greater impact on policy. He points to developments in cost benchmarking - the government is developing a database of costs across all building projects to drive savings - and embodied carbon as areas "where people are starting to think differently".
He gives robust responses when questioned on the corporate controversies that have hit the RICS in the past year. Last November Building reported that two senior members of its dispute resolution service, Wajid Khan and Carol Goodall, had left the RICS over an alleged conflict of interest involving an RICS' claim that they used internal information to set up a now-defunct website about dispute resolution specialists, First4ADR.com. Law firm Field Fisher Waterhouse was drafted in to investigate the service and finally gave it a clean bill of health in March.
Tompkins says the RICS has put in place new procurement and financial procedures since then and is confident the controversy is "behind" the RICS.
And he is unapologetic about fee increases. RICS members took to social networks to complain of average membership fee rises of 4.6% this year - at a time when the market is stagnant. Tompkins says the increases are justified as "the profession is not dying, in fact it is massively expanding because of its future [international] potential", and points to operational savings of £750,000 last year that have lightened the burden on members.
Call for help
Tompkins is a natural salesman - no surprise, given that he was head of marketing at global insurance giant Prudential before he joined the RICS - and he is convinced the RICS needs to be sold better at home and abroad.
But he is also concentrating on being a good listener, as well as a talker. Under his leadership the bosses of surveying firms have a say in his annual performance review for the first time. Asked whether they gave him good feedback this year, he replies with a laugh: "I'm still here."
He closes the interview with a plea to the wider profession to get more involved with the organisation: "If people don't think I'm doing a great job I'd rather they told me now than three years down the line. You need to help me - it is not a one-way street."