More and more construction employers are pledging to ensure that 5% of their workforce are supported through some form of apprenticeship, graduate or development programme. Jamie Harris investigates the impact the 5% Club is having on skills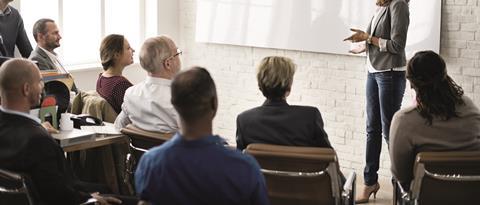 The construction industry is facing a skills shortage; it is being challenged with a demographic time bomb. All of this is not news. But four years ago, some organisations started joining together to help combat this skills gap by committing to provide their staff with structured training and development programmes.
The 5% Club, set up in 2013 by Leo Quinn, now chief executive of Balfour Beatty, asks its member organisations to ensure 5% of their UK workforce is learning through a formalised apprenticeship or graduate programme. The organisation has grown exponentially since then, and its near 250 member organisations have pledged to hit this 5% benchmark within five years of joining. So what progress has been made by some of the key members, how have they benefited, and what more do they plan to do in future?
Diversity of thought
Sally Scott, head of emerging talent and recruitment at Skanska, explains that the result of the pledge is a broader range of individuals from more diverse backgrounds. She says: "You're talking about an incredibly broad range of individuals, from graduates who've worked before, all the way across to apprentices who are in operative roles. In among all of that, there is a massive difference in behaviours, attitude to work, and work readiness across that population."
Paul Chandler, managing director of the construction business at fellow 5% Club member Wates, says that – speaking from personal experience – he believes the industry should embrace a variety of pathways into construction.
He says: "I started out as a student doing day release, straight from school at 18 years old: I had a day at college completing my RICS qualification, and four days at the 'coal face', working on site. For me, university isn't the only route into mainstream construction. There are far more ways in which we can encourage a wider group of young people into the industry."
Committing to a 5% target can have an impact on business operations through time spent off site, but ultimately, explains Karen Jones, group human resources director at 5% Club member Redrow, this investment of time is invaluable.
"Recruiting apprentices and graduates undoubtedly has a positive impact on the business, not only through tackling a very real industry skills shortage, but it's also a great way to tailor skills to the needs of our business, while bringing in fresh ideas and suggestions," she says.
Scott's view at Skanska is that the construction sector has suffered from what she describes as "group think". She explains: "There's a lot of very similar people working in the industry and therefore 'what we've always done is what we'll always do'. There's a real need to bring diversity of thought to make us much more productive."
In return for providing a mix of practical and technical experience for a new generation of talent in construction, Scott believes that these new entrants bring with them a different set of skills that are beneficial for other parts of the company.
"In the world of digitalisation, entry-level employees – in the traditional sense of school leavers – come with important skills that we now need that some older people in the workplace don't have," she says. "If we get our programmes right, there can be a lot of reverse mentoring or reverse apprenticeships taking place."
The broad aims of the 5% Club have received a filip from government schemes such as the apprenticeship levy. More recently, the announcement that a practically led T level qualification will be introduced for construction should lead to a further broadening of the pool of potential recruits the sector can help to develop.
Scott says: "It [the levy] gives us the opportunity to think much more broadly than individuals direct from education. We can also be thinking about upskilling people, perhaps from other industries or people who have taken time out.
"It could be 5% direct from education, but 10% when you take into consideration all those people who have transferable skills who want to go into an apprenticeship."
What is the 5% Club?
The 5% Club requires member organisations to publicly declare a target of 5% of the organisation's overall UK headcount to be on a formalised apprenticeship, sponsored student or graduate programme. Members are asked to aspire to reaching this target within five years, and to report on their progress annually through a public document.
The non-profit body was founded four years ago by Balfour Beatty's Leo Quinn, then head of Qinetiq Group. Founding members include Atkins and Babcock International, while other notable members now include the Ministry of Defence, Morgan Sindall, Kier, Galliford Try, Serco and Network Rail.
The club says its key aim is to create momentum behind the recruitment of apprentices and graduates into the workforce. While founding members were predominantly from construction, the club has since expanded across UK industry more broadly.
Not just for the young
Wates's Chandler points out that this emphasis on training is not limited to the young: "While we talk about early careers a lot, we also have to think about the fact that people are working for longer. We have several people that are returnees to work. We need to think about reintroducing them into the organisation.
"I think part of it, for us, is looking at providing the appropriate learning environment and apprenticeship schemes for them irrespective of age. It's not an age-driven thing; it's about getting people into construction with the right environment and giving them the necessary education to hone their skills."
But, while the key players in the sector are developing training programmes for more technically and digitally minded individuals – of all ages – to enter the sector and develop within it, Chandler believes that the industry needs to go further to ensure it can retain the talent it desires. He says it is this mix of offering learning schemes to staff throughout the career path – as well as catering to other needs, such as flexible working environments – that attracts talent.
"Young people coming out of school and university today have different demands. They're far more mobile and they're more interested in a company's credentials in terms of sustainability, ethics and the working environment," he says.
"Young people seem to like the idea of working in the tech industry, for all the glamorous reasons associated with that. While it's important that we talk about bricks and concrete, we must also enlighten young people that technology drives and supports our industry. Apprenticeship and graduate programmes are there to help to attract and retain these people who want to upskill themselves. We've got a great story to tell, but we don't always sell it as well as we could."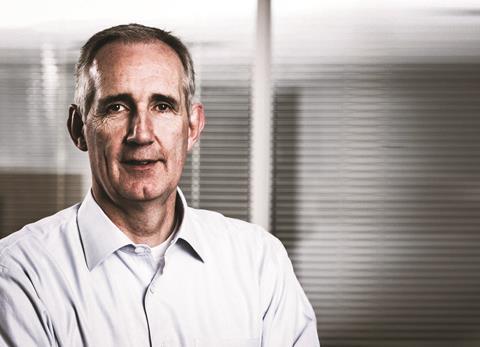 Leo Quinn, Balfour Beatty chief executive and founder of The 5% Club (pictured), said:
"With talent a critical factor for the UK in competing both at home and globally, the skills gap provides a crisis that all industries must unite to resolve.
"The infrastructure industry in particular has a myriad of mega-projects in the pipeline: HS2, New Nuclear and Highways England's strategic road network programme to name a few. Given the demands these opportunities will place on our national skills pool, the current situation is not sustainable.
"Joining The 5% Club shows the long-term commitment of members to investing in upskilling across the generations to fuel the future of the British economy.
"Traditional routes to entering the world of work no longer provide the only career solution and it is essential that industry recognises the importance that Apprenticeships and Graduate schemes contribute to providing innovative and new ways for people to upskill, join or re-join the workforce if we are to successfully bridge the skills gap we currently face."
Redrow's Jones says that the historic perception of construction must be broken down, allowing for individuals to see the array of opportunities that are available to them.
"Housebuilding and construction both struggle to attract young people into the industry due to the stereotypes that have accumulated over the years. There are so many fantastic and exciting opportunities to build a career in construction, and hopefully we can continue to raise the profile of schemes such as the apprenticeship levy and T level qualifications as a viable means of progression."
"The penny has started to drop," says Chandler. "I think government is finally waking up to the fact that construction is super-important to how prosperous we are as a country, and that we do need to get behind it. The 5% Club is an environment where you can share experiences and learn from your peers within the sector, but also create a voice to continue to push the industry forward."
Lady Cobham CBE, director general of the 5% Club, is hoping its members can continue to help address these challenges and make the most of the opportunities available over the next few years.
She says: "The skills agenda is more important now than ever before. Our members consist of large and small employers from a wide range of sectors who want to make a difference, fill the skills gap and support the UK's ability to compete in increasingly tough global markets."
For more information on the 5% Club go to www.5percentclub.org.uk

Jamie Harris is features editor for Building magazine.

Follow Jamie on Twitter @jamiehwriter