Creating 12 schools on a tight budget requires a strategic approach to standardised design and a collaborative use of BIM
Is it possible to design and deliver 12 schools for the Education Funding Agency worth over £100m, totalling 62,000m2 and spread across seven local authorities within two years?
This challenge was met by AHR using a collaborative and strategic approach to standardised designs and the BIM process. All 12 schools have been delivered on time and on budget.
Early planning and testing of designs guided our approach towards delivering high-quality, educationally‐led solutions for each school's specific educational and organisational needs.
As the design developed we were able to show the client the changes to all 12 schools, not only the two sample schools asked for
For the secondary schools, four standardised "block typologies" were developed. The two-storey environmental and structural solution maintained cstandardisation across the batch while allowing flexibility to suit the individual briefs for all six schools. The blocks plug into the spine of common facilities.
The primary schools are arranged over two storeys with the "key stages" for children of different ages ordered by floor. The Early Years Unit is single-storey allowing natural daylight via rooflights and freeing up the elevations for covered play overhangs and furniture, fixtures and equipment. It also allows for flexibility during design development. Halls are located centrally and have secure community access.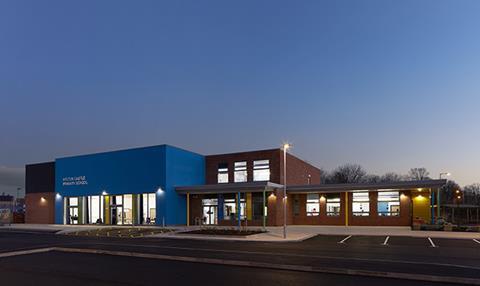 Alongside the approach to standardised design was the strategic thinking around the BIM process. We amended the resources, deliverables and fee profiles to suit, ensuring resources were provided at the appropriate stages of each project.
As the design developed we were able to show the client the changes to all 12 schools, not only the two sample schools asked for. Digital prototypes allowed us to interrogate the design and brief at a more sophisticated level, enabling space and block typologies to develop at speed.
This allowed for better decision-making by the client and design team and better tracking of big data. Accurate 3D models allowed the client to engage with the project, it also enabled better cost/risk management and an analysis system to compare the original brief against the emerging designs for all 12 schools. In addition, it allowed early testing of design performance against the facilities output specification, including ventilation and daylight levels, ensuring compliance.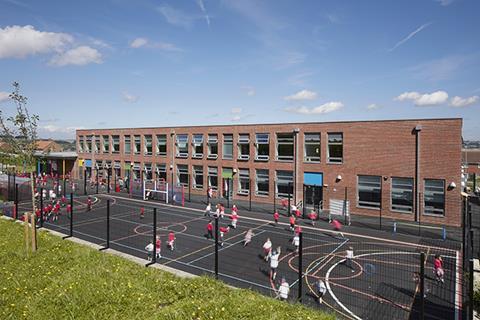 Time and money were saved through the regular use of clash detection processes. Co-ordinated federated models were all used as standard to minimise any issues on site and collaboration throughout resulted in cost and time reductions. Standardised solutions allowed knowledge to be passed from one project to another, with a smooth transition from the sample scheme to the rest of the batch. Better quality construction and time savings were realised through the manufacture and use of repeatable and modular structure, envelope and offsite modular M&E systems.
Anthony Langan, director at AHR and education sector lead