Firms have until 23 June to get their entries in
Two new categories have been announced for the Building Awards, with entries now open for the 2023 instalment of the event.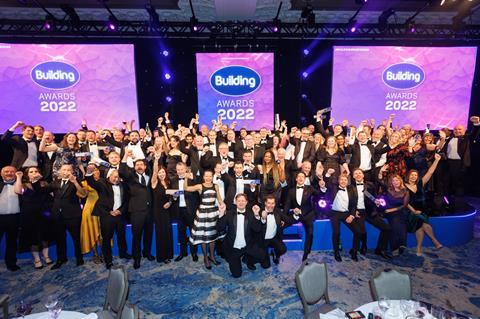 The 2023 Building Awards, which will take place at the Grosvenor House Hotel on 7 November, will be bigger than ever as we celebrate the magazine's 180th anniversary.
Entries are now open for the Manufacturer of the Year category, which recognises firms that have really gone the extra mile in their partnerships with the construction industry. Any organisation that supplies a product or software to the industry is eligible to enter.
>> 2022 Building Awards winners
>> In pictures: Building Awards 2022
There is also the new Building's Employer of the Year Award to highlight firms that promote a high-quality working environment for employees. The judges will be looking for evidence that employers are providing opportunities for career advancement including training and development initiatives.
Employers should also have policies that promote wellbeing and a healthy work life balance including flexible working, maternity and paternity leave and efforts to tackle a long-hours culture.
The deadline for all 21 categories is 23 June, and the full list is:
**NEW: Manufacturer of the Year**
**NEW: Building's Employer of the Year**
Architectural Practice of the Year, sponsored by MESH Construction Consultancy
Building Magazine Project of the Year, sponsored by Aluprof
Construction Consultant/Surveyor of the Year (fewer than 100 staff)
Construction Consultant/Surveyor of the Year (100 staff or over), sponsored by LABC
Specialist Contractor of the Year
Contractor of the Year (up to £500m)
Major Contractor of the year (over £500m), sponsored by Fenwick Elliott
Construction Client of the Year
Digital Excellence Award, sponsored by Hollis
Engineering Consultant of the Year
Housebuilder of the Year
Housing Project of the Year
International Project of the Year
Net Zero Award in partnership with UKGBC
Offsite Project of the Year
Retrofit Project of the Year, sponsored by AET Flexible Space
Small Project of the Year (up to £5m), sponsored by Clement Windows Group
CEO of the Year, sponsored by DGP Logistics
Delivering Social Value Award