Offsite construction can offer an answer to England's struggling school estate. But manufacturers are battling to banish dated perceptions of what modular means. Jordan Marshall reports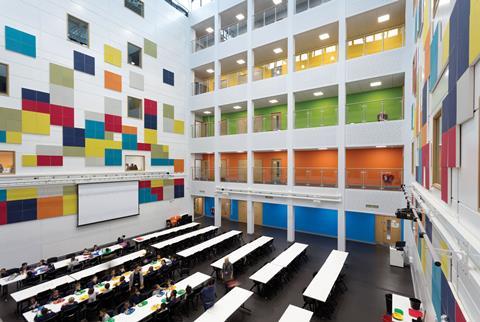 A temporary classroom with a bouncy floor; freezing in winter, sweltering in summer. This is the memory many people have of modular buildings from their schooldays, and it is a view the industry is still battling against.
"There is a gap between reality and perception and it's going to take to time to shift those deep-seated notions," says Nick Griffin, general manager at modular builder Portakabin. "When people hear the word 'modular' or the brand name Portakabin, there is set of associations that come with it that are completely out of line with what we are able to deliver."
Philip Watson, director at architecture practice HLM, agrees: "Perceptions in the collective psyche are that modular construction is quite poor-quality," adding that even some inside the industry have similar prejudices. "Architects, in the main, suck through their teeth if they have to design in modular, and that has to change. The whole construction industry has to become more forward-thinking."
"Architects suck through their teeth if they have to design in modular, and that has to change. the whole industry needs to be more forward-thinking"

Philip Watson, HLM
But even if you can get clients to favour modular, there is a question over whether they can actually get it. Mel Manku, consultant Arcadis' head of education, says: "The problem is there is not enough capacity and it's not just down to schools; there are other sectors that are also looking at how modular can solve their issues. Take housing, for example. If all the modular factories we have were used full-time to produce housing, we would still need seven more factories just to deliver the housing we need."
While the Education and Skills Funding Agency (ESFA) started its push for modular four years ago and the programme is in its fifth generation, just 70 schools have been built off site, according to Mike Green, acting director general at the Department for Education (see overleaf) – a tiny proportion in the context that the entire ESFA estate is 24,000 schools. So how can modular win the hearts and minds – and money – needed to make a significant difference to the school estate?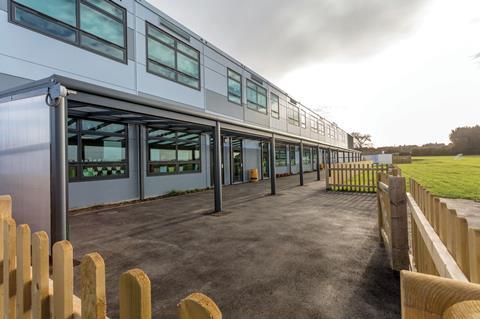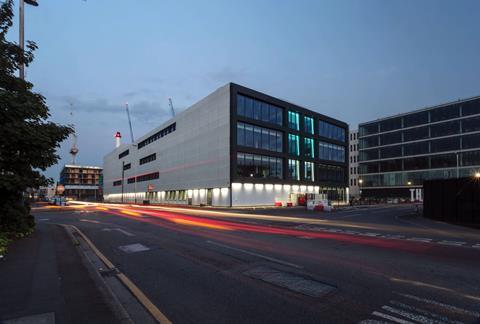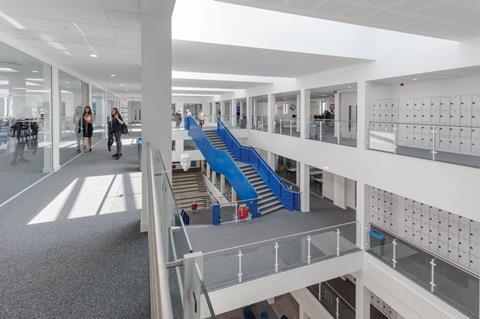 Support
Griffin says research and development is central to getting the industry up to where it needs to be, and the key to that will be government funding. "We still want to get better at what we can do in the future; it will go further. But this is an industry where there is not a lot of money lying around for R&D. We need a commitment from government."
Funding is just part of that commitment, he says. "There needs to be a commitment that this isn't just a political whim, that if we increase capacity the demand isn't suddenly just going to go away," Griffin explains.
Saving time on the build programme is a big incentive for investing in offsite. "Speed becomes a requirement," says Manku. "If you're looking at traditional procurement, then you're looking at additional time and additional money.
"What modular provides is speed of construction, but there are also other factors that should be taken into account. It's safer and it's easier to train people to produce modular buildings in factories than it would be to deliver traditionally."
The speed benefit
Simon Reid, managing director at Lungfish Architects, which specialises in modular, says speed is a major plus with offsite manufacturing for new schools. "It's 30% quicker to produce plans for a modular building than traditional products," he says. "That means that you can, first, produce more, but also spend more time on things that really benefit the end user – the students and the teachers – inside the classroom, as you reach design freeze on the building much earlier.
"One of the best things is we know every part clients are going to need. We can then pour them out onto the table and the client can essentially choose the design they want from the elements that we have in front of them."
Aside from saving time, saving money is the other big factor supporting the wider use of modular in education. Manku says: "It is slightly cheaper to build a modular building than it is to build a traditional one, but you don't really see many of the benefits from a client perspective. Where you do really begin to see those benefits is when you have scale."
The ESFA has started to use scale to maximise the benefits of offsite construction, awarding batches of schools to modular builders, with five contractors – Portakabin, Elliott, Caledonian, McAvoy and Initiative, a joint venture between Styles & Wood and Extraspace Solutions – landing places on the £300m secondary block framework. Arcadis' Manku says that is just as well, given there is a need for 381 secondary schools country-wide. While we may have reached a peak in the population of primary school-aged children – and in some areas such as London there is a reported surplus of primary places – the so-called "bulge years" are now passing through to secondary schools. Manku says: "Everyone has woken up to the fact that having built primary schools, we now need secondary schools."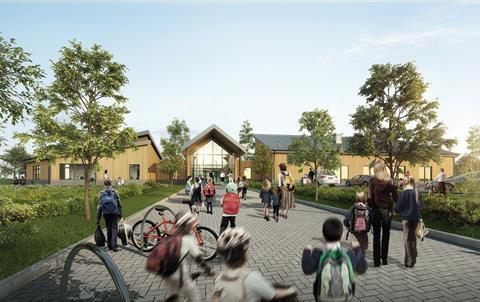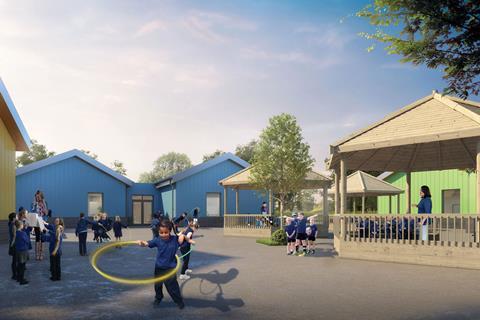 Scale is key
Lungfish Architects' Reid seconds the point that scale is the key to maximising the economic benefits of offsite construction for clients procuring new schools. He cites Bedford council, which has engaged Lungfish to develop modular solutions right across its estate of schools, as a client maximising the benefits of offsite construction. "Repeat clients and extended programmes are when the benefits can really be seen, both financially and in terms of timeliness," says Reid. "Programmes where you aren't just delivering one school, but two, three, four or five, that's where the clients, and all the other parts of the supply chain really reap the financial rewards."
Watson, whose practice HLM is partnered with Caledonian on the Modular C ESFA framework, agrees that scale is a factor when it comes to maximising financial gain, but says an early decision is just as significant. "One-off products can still be cheaper," Watson says. "The key is when the decision to go modular is made. Modular becomes more expensive when a client starts down the traditional design and procurement route, decides they need it done faster – say for the start of the new school year – and switches to modular delivery. That would cost more as you are working back on yourself. It needs to be a decision made from inception."
Portakabin's Griffin also bemoans late decision-making, urging clients to contact modular specialists even if they are still weighing up their options. "Early engagement is key when it comes to maximising benefits. We are often engaged that little bit too far down the track and then both the time and cost benefits have been compromised."
Another plus point that Griffin says is potentially underestimated is that hardly anyone can tell when a building was built off site. "People wouldn't know, and that's what surprises them," Griffin says. "The quality and variety of what we are able to deliver means people wouldn't know something wasn't built traditionally."
Working together
Griffin says there is huge potential for modular and traditional contractors to work together to add the touches that really separate one building from another. "It doesn't have to be all or nothing. For example, two wings of a school could be built offsite using modular, then the atrium that connects them could be built with sweeping staircases and curved walls on site using traditional methods."
Reid says that most people would be unable to pick a modular school building out of a line-up. "People never have to know its modular if that outdated perception of the product is a significant issue. You can dress the building up any way you want to," he says. "If you can't tell it's modular, and it's cheaper and quicker, why on earth wouldn't it be the best solution?"
Manku sums up one answer to that simply: "It's not being embraced by central government to the scale it should be and needs to be – and I don't feel other clients, like local authorities, are informed enough or confident enough to move forward with a modular solution at scale. It should be the solution, but it's currently not."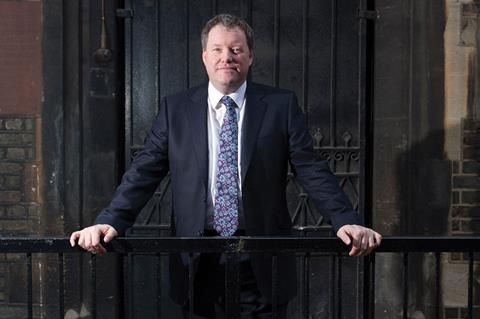 Mike Green on modular
The man who has been in charge of building new schools for the government, Mike Green, has made his position on offsite construction clear. He is all for it but thinks there is still a long way to go.
Green, the acting director general and chief operating officer of the Department for Education, said at a breakfast hosted by contractor Mace in July: "We started thinking about our offsite journey four years ago, and we now have 70 schools that were built off site. We are in our fifth generation."
Green, who was director of capital at the ESFA in 2012-18, cited the replacement for the Grenfell Tower school, which took just nine weeks from inception to build. While acknowledging the rulebook "was torn up" in that case, he said it showed the potential of offsite and modular to provide school places. Mace and Portakabin built the new facility.
The next step is establishing a consistent pipeline of schools and sites, he said. "We have 24,000 schools. At 60-year design life, which is about as long as they typically last, we have got to build 400 schools a year. You guys [industry] need to be putting us under pressure and saying: 'Come on, Green, what are you doing to help? You have a pipeline of 400 schools and you spend £5bn a year on capital funding for schools, so what are you doing to help us with this?' We need to think about where they are going to go and we need to invest."