Firms in the sector report construction work is drying up as government slackens the pace of delivery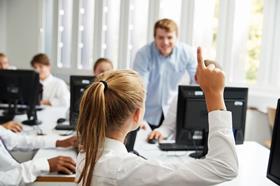 Fears are growing among contractors and consultants that school building will slow down even further this year after it fell £1bn, according to government accounts.
As schools reopened this week after the holidays, firms told Building work is beginning to dry up, prompting Tim Byles, former boss of the government's school-building quango, to say: "Both public and private sector players have expressed concerns to me about the pace of delivery of new schools."
Government spending on school building fell by £1bn last year to just £4bn, well below the £4.6bn a year implied by a £23bn allocation in 2015 to pay for school building and refurbishment up to 2021.
Contractors and consultants report progress has been slow on both the free schools building programme and the second phase of the Priority School Building Programme (PSBP2), which is designed to repair and replace those in the worst state.
Philip Watson, director at architect HLM, said: "Our experience is that investment is not flowing as predicted. Every time a new framework is set up, it takes six months longer than expected, then takes six months to bed down, and then the work doesn't come at the anticipated rate."
Steve Beechey, managing director of government affairs at contractor Wates, added: "The priority schools work is coming through at a lower level than the market is used to. In the PSBP, the industry was doing hundreds of schools a year sometimes, but PSBP2 is more of a slow burn. There's a lull."
But a source at the Department for Education (DfE) said the drop in capital spend last year was due to the winding-down of the first phase of the PSBP, which has now built 237 of the promised 260 schools.
The source said any variation reflected the natural ebb and flow of programme spend. "If you look across spending reviews," he added, "we got £17bn in the last one and £23bn in this one. In the bigger picture, spending is up."
But Byles said different public sector bodies needed to work better in order to speed up school building work. "There's a massive need for more co-ordinated investment."
A DfE spokesperson said it remained committed to the £23bn investment between 2016 and 2021: "The funding is delivering thousands of new school places, rebuilding and replacing buildings in the worst condition, and delivering thousands of projects across the school estate."