Architect reports pre-tax profit of just under £1m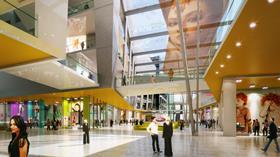 Architect Aedas has returned to profit in 2012 after it made a loss of just under £1m the previous year.
In accounts filed at Companies House, Aedas Group Limited - which owns the majority of Aedas' UK businesses - reported a pre-tax profit of £958,994 for the year to 31 December 2012, up from a pre-tax loss of £952,192 the previous year.
The group also reported a 23% fall in revenue to £38m, down from £49m the previous year.
Malcolm Ellis, director of Aedas Group, said the group's performance was "satisfactory".
He added that the architecture business had "struggled in the face of ongoing difficult market conditions".
"However, the directors remain focussed on developing new business opportunities in domestic and international markets by entering into strategic partnerships with overseas organisations that share the Aedas brand," he added.
Ellis said the group's assets, valued at £10.5m, would enable the group to "respond to opportunities" that arose.
He said the firm was now seeing the benefit of investing in developing its capacity in the field of sustainability throughout 2012.
The company received a considerable boost from increased international work, with work in Europe, the Middle East and the rest of the world accounting for 13% of the group's revenue in 2012. It received no revenue from those regions in 2011.
That helped to mitigate a 23% decline in revenue from UK work which fell to £28m from £37m over the period.
But Aedas' international arm Aedas Group International (AGI), which Aedas Group has a 50% share in, saw its revenue halve over the year.
AGI reported revenue of £12.1m in 2012, down from £25m the previous year.
AGI also reported a 32% fall in its pre-tax loss for the year, which was £581,004, down from £857,539 the previous year.
Martin Wright, director of AGI described the company's performances as "satisfactory" in the current market conditions.