Firm reports operating profit of £1.7m in the first half of 2013-14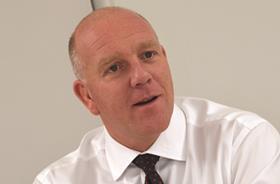 Consultant engineer WYG has reported a significant rise in profitability in the first half of its 2013-14 financial year, although its profit was hit by finance charges.
In a statement to the City, the firm reported an operating profit before separately disclosed items of £1.7m for the six months to 30 September, up from just £66,000 over the same period of 2012.
The firm also reported a slight increase in revenue to £63.9m, up from £61.8m over the period.
However, the firm also incurred £2.2m of separately disclosed finance charges over the period - mostly comprised of share option costs – which, when added back in, pushed WYG to an operating loss of £447,000, deeper than its £254,000 loss, including similar charges, over the same period last year.
Chief executive Paul Hamer said the results showed the firm was "building on the stability attained last year" and the strategy for bringing the firm back to delivering profit was "beginning to deliver the desired results".
He added: "To build on the momentum achieved thus far, we are looking at a range of opportunities to invest organically and through selective, small acquisitions both in the UK and internationally, made possible by the group's improving profit and cash position.
"Based on this improving position, we are confident of delivering full year results in line with recently upwardly revised market expectations, as we have clear momentum in securing new contract wins and are a diversified group with strong market positions in the geographies and sectors in which we operate."
The firm's UK arm reported a slight dip in revenue to £35.4m from £37.6m.
But it reported an increase in operating profit to £300,000, up from an £800,000 operating loss over the period last year.
WYG reported that increases in housebuilding had offset the downturn of work in the retail sector.
In the infrastructure sector, WYG is currently working for the Defence Infrastructure Organisation on its £1.6bn programme of moving and redeveloping army bases; it is also working for EDF on transport planning for its new nuclear power plant at Hinkley Point and for the Nuclear Decommissioning authority across a range of sites.
It reported its UK order book had grown by nearly £10m to £39.2m over the period.
WYG's Europe Africa and Asia division reported a rise in revenue to £19.8m, up from £17m over the period and an increase in operating profit to £1.2m, up from £600,000 over the period.
It's Middle East and North Africa division reported an increase in revenue to £8.8m from £7.2m over the period but a drop in operating profit to £200,000 from £300,000.