New Ground Cohousing is a 'tour de force' designed in conjunction with its inhabitants

Sponsored by Clement
Winner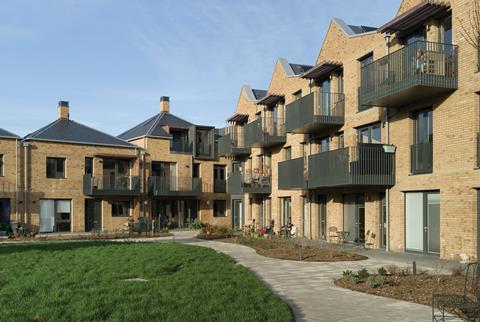 New Ground Cohousing
Entered by Pollard Thomas Edwards
Dubbed a "tour de force" by the judges, this housing project was designed in conjunction with its inhabitants, the Older Women's Cohousing Community. A self-managing community, the group brings together independent-minded women in this mini-neighbourhood in Barnet, north London, allowing them to plan their future together. Using a central garden as a focal point, the layout is designed so the majority of homes overlook the central area, creating a sociable outdoor space. The judges said: "It looks like a great place to be, which is why it deserves to win."
RUNNERS UP
Ashton Old Baths
Entered by MCAU
This grade II*-listed site was developed into a creative hub by restoring its original exterior and former main pool room, while adding modern office space using an independent free-standing structure. The result is a new building within an old one.
Barretts Grove
Entered by Webb Yates Engineers
A six-home residential building on a north London street, this project combines the desire of local residents and the design team to use brick and timber, respectively. The result is an intriguing spectacle where the external wall material became the roofing and the superstructure became the internal finish.
Boilerhouse
Entered by Cartwright Pickard
University of London Royal Holloway's Boilerhouse building comprises a cafe, pavilions and event space inserted within the courtyard of the original complex. The building has a striking, sharp sloping roof pointing towards the two central original chimneys, marrying historic characteristics with a modern look.
Eleven Spitalfields Gallery
Entered by Chris Dyson Architects
At Eleven Spitalfields Gallery, home to residential space, an architect's studio and a gallery, digging down was the chosen solution to provide an additional level of space. The project has resulted in a busy new home-based business, one of many in the area helping Spitafields return to its original vibrancy.
The Garden Museum
Entered by Rooff
Housed in a grade II*-listed former church alongside London's Lambeth Palace, this project saw the internal redesign and extension of the Garden Museum. Three new pavilions were created to provide learning and community spaces, all opening into a peaceful cloister garden, while the interior retained the original arches and stonework.
German Embassy
Entered by Coniston
A refurbishment of this grade I-listed Belgravia building required all internal features being taken delicate care of. As with other sites of this nature,bringing mechanical and electrical services into the 21st century while ensuring its historic grandeur remains was key to the success of the project.
Kellogg College Hub
Entered by Feilden Clegg Bradley Studios
For Kellogg College, University of Oxford, its segregated layout, while a popular characteristic, often cuts into its college identity. The hub was designed as a social and academic focal point. Integrating a planted roof was a deliberate choice to keep it free from architectural hardware so that the building blends into the garden landscape.
Maggie's Centre
Entered by Foster + Partners
With its light timber lattice beams visually dissolving the architecture into the surrounding gardens, the Manchester Maggie's Centre is a welcoming, homely space for cancer patients that provides a place of refuge and diversion.
Sunbeams Music Centre
Entered by MawsonKerr Architects
Set in the Cumbria countryside, this project was for the Sunbeams Music Trust, a charity which uses music to help people with disabilities. Specialist acoustic grommets were used to allow inclined walls to be acoustically separate and structurally supported, and the main hall used oak clad walls for optimum acoustic performance.