Some 3.3 million secondary school places will be needed by 2024 - a 20% increase on today - and local authorities are legally bound to provide them. But with more and more schools outside their control, and the building of new schools not within their powers, how will the demand be met?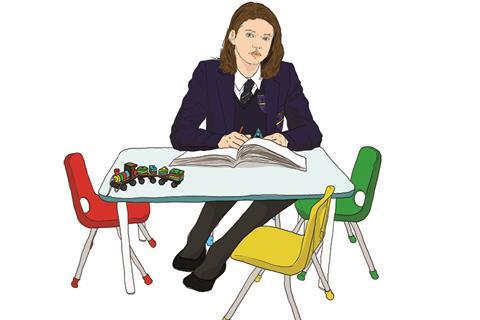 It's fair to say new education secretary Justine Greening has inherited a pretty full in-tray, what with the department's flagship education for all bill due to be published shortly, an embarrassing pre-Brexit vote climb-down on forced academisation to navigate, teachers striking over pay and conditions, and the potential re-introduction of grammar schools. But somewhere near the top of all that will also be the looming school places crisis caused by the UK's rising population. According to the government's best estimates, a total of 600,000 new school places will have to be provided between 2015 and the end of the parliament in a school estate much of which is already in poor condition and suffering from huge maintenance backlogs.
In some sense this is not a new crisis - the government has been providing around £1bn each year through its so-called "basic need" funding pot, which has been used to meet the demand for primary school places since 2010, with over 400,000 places required under the previous coalition government. The Department for Education was unavailable for comment, but stories of children being taught in former offices, town halls and even a second-hand bus have abounded since then - though most commentators believe that, by hook or by crook, and albeit with rising class sizes and with no small inconvenience to many parents, this demand has just about been met.
From this year, however, the problem enters a new and more intense phase. Those primary school children are this year starting to graduate to secondary schools, and will do in growing numbers over the next five years. While another 300,000 primary school places are needed by 2024, there will also be 550,000 secondary school places needed in the same time period. This equates to a staggering increase of a fifth in the secondary school population in just eight short years.
Worryingly, most indications are that meeting the demand for secondary school places will be an order of magnitude harder than that for primary schools. All this while construction costs are rising and public spend is under pressure. So, how hard is it going to be, and are the right structures in place to allow the construction industry to do its bit?
A question of control
There are many reasons - beyond just the usual technical ones of controlling a huge construction programme - why meeting the demand for secondary school places is going to be particularly difficult. At the heart of it is the impact of the number of schools not controlled by local authorities. Local authorities have for a long time held a statutory responsibility to provide adequate numbers of school places in their areas. But with the growth of academies and free schools, there are now more and more schools outside of their control. Because these new types of schools have been consciously set up as independent, they cannot be directed or required to expand by their local council, and academies can choose where to set up in the first place. They can't even be directed to expand by central government.
This matters because, contrary to what one might expect, the vast majority of new school places (87% between 2011-14) have so far been provided by expanding existing schools, not by building new ones. This has been possible to navigate in the primary sector, because 80% are under local authority control and can be directed to grow. But far fewer secondary schools are locally controlled, with 60% of them now academies.
This means local authorities facing big increases in demand can't hope to meet all that by expanding only their rump of remaining locally-controlled schools, and if they want a new school to open, well, they have to hope academy providers apply to do the job. In 2011, former education secretary Michael Gove legislated to require all new schools to be academies or free schools outside of local control. So while some accuse the media of having power without responsibility, local authorities face a worse fate - responsibility (for providing school places) without power. This leaves them reliant on local academies and free schools to expand - something many will only agree to do if it is made worth their while. As one former senior Department for Education official involved in school building says: "It's a mess. And at the heart of it is the issue of academisation."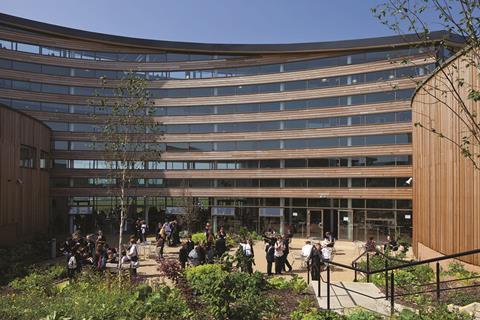 Add into the mix free schools, University Technical Colleges (UTC), studio schools, and now the possibility of grammar schools, and you have a system which is immensely complex to navigate for parents, councils and the construction industry. Construction clients for "basic need" work can be the local council, the school itself, an academy trust, a UTC or school building quango the Education Funding Agency (EFA), and procurement can be done directly, through a host of different local frameworks, or via the EFA itself.
The mixed economy system also means that, with the department negotiating directly with academy and free school promoters, what new schools there are haven't always been put in the right place to meet demand. A number of free schools and UTCs, for example, have already been forced to close because there weren't enough pupils to make them viable. Caroline Buckingham, board director at school architect HLM, says: "The system needs to be far simpler and led from the top. The Department for Education should be responsible for meeting the need for places. There's no one person saying how this can be done most efficiently and taking out a lot of the frustration."
However, the Department for Education (DfE), which could play a co-ordinating role, and which the former department official says had considered taking on statutory responsibility earlier this year, has rejected the idea. This means it can avoid being left on the hook politically if school places don't materialise. The DfE was unavailable for comment.
It's impossible to get any certainty around the short or long-term pipeline. What happens if academies say no to expansion?

Steve Beechey, Wates
Meanwhile, with no statutory powers, several sources said councils have ended up in many cases having to induce academies and free schools to expand by promising extra funding for additional facilities such as sports halls and science labs - thereby incurring additional costs. While many local authorities have had poor relationships with academies in their areas, they are increasingly having to make friends with them in order to address the pupil place issue. Peter Owen, Midlands director and education lead at contractor Willmott Dixon, says: "They're not on the same page at the moment, but it's going to take getting them on the same page to get this resolved."
Steve Beechey, group strategy director at contractor Wates, which is currently undertaking about £200m of work for the EFA, believes this issue is behind a failure of the expected amount of school expansion work to come forward. "We're concerned there doesn't seem to be the right amount of work coming through, and it's impossible to get any certainty around the short or long-term pipeline. This mixed economy issue paints a confusing picture and it's a real problem. What happens if academies say no to expansion?"
Of course the mixed economy issue is not the only worry. Some are concerned that the greater scale and complexity of secondary school projects - while potentially providing some advantages in terms of less restricted sites and economies of scale - will make delivery of secondary school schemes intrinsically harder. Much more space in secondary schools is devoted to specialist areas - science labs or sporting facilities - which are more expensive to provide than general classroom space. HLM's Buckingham says: "With primaries you can expand just by adding additional classrooms, but with secondaries you'll have to completely redo them."
Doing the maths
Impacting on this issue is the inevitable one of cost - the second really big snag with meeting the need for school spaces. The basic need funding for primary schools fell by most accounts short of what has actually been required - meaning local authorities have been left having to top up central government funds to get schemes under way. While the government - which has provided between £800m and £1.4bn a year since 2010 and has allocated £1.2bn on average for the next three years - claims the funding should be adequate, it bases its allocations on the EFA's construction cost benchmarks. However, these cost benchmarks are based on large frameworks for the procurement of big multi-school construction programmes. Local authorities and schools, procuring one-off small jobs, often on constricted sites alongside live school environments to very tight deadlines have, unsurprisingly, not hit these benchmarks - although councils say they are getting closer. More money is needed to make up the gap.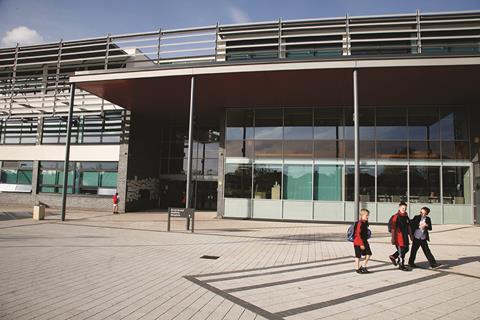 In addition, the government does not fund the cost of acquiring land on which to house the new school places - the assumption being the space will come from the school's existing estate. Despite success in Rio and the UK's own Olympic legacy promises, therefore, the programme is effectively predicated on reducing existing schools' outdoor space. Willmott Dixon's Owen says that one of the conclusions of a recent roundtable run by the contractor on the subject was that schools must "challenge traditional assumptions on design, with outside space being the key example because of the challenging environment". Buckingham admits: "Despite the massive health and well-being agenda, it's going to be really challenging to do sports provision."
This financial squeeze could, however, be about to get even worse, according to Peter Colenutt, head of strategic development at Hampshire council, and chair of EBDOG, the Educational Building and Development Officers Group. His body has just submitted a paper to the National Audit Office arguing that "the dilution of capital funding across multiple interest groups, particularly small academy chains, will not offer best value and will limit the ability to deliver major infrastructure projects".
The paper finds that real construction costs are currently about 16% higher than the EFA rates on which the DfE bases its funding. Furthermore, the initial evidence is that the disparity will be more severe for secondary projects. Colenutt says this is because of the additional infrastructure needs of secondary classrooms, and that his "initial feeling" is that funding will be 20-30% short of what is required - though he is currently undertaking further benchmarking to corroborate this which will be complete early next year. "Our big worry is that the cost we'll be allocated will not be adequate to do the job. We need to deliver buildings to reasonable quality or we create a big maintenance liability from day one."
Our big worry is that the cost we'll be allocated will not be adequate to do the job

Peter Colenutt, Ebdog
This challenging financial environment could, as has happened recently with the EFA's Priority School Building Programme (which builds new schools to replace dilapidated ones, rather than to provide extra places), make contractors reluctant to take part given lack of market capacity and better returns to be had elsewhere - particularly if construction prices more generally continue to rise. "The hunger in the market for doing anything for any cost or risk has gone, and some contractors have moved away from the EFA schemes to other markets they can make more money in. It varies regionally but capacity in London is on the edge," says Owen.
Of course it's not all bad news everywhere. Some, such as Marcus Fagent, head of education at consultant Arcadis, say local authorities and academies are already starting to repair their relationships in order to deliver expansion programmes. "They're finding a way to make it work. There's a more pragmatic world developing. There are tensions, but there is usually a deal that can be done." Colenutt agrees, saying that while the mixed economy "complicates the game", he adds that "we will still engage with [academies] where appropriate."
Meanwhile, organisations such as Cornerstone, set up by Tim Byles, the former boss of EFA predecessor Partnerships for Schools, are attempting to provide practical routes for local authorities to use their land holdings to solve their school expansion and local housing needs at the same time. The organisation's Social Infrastructure Development Framework now has, Byles says, nearly £1bn of work in its pipeline. "In the mixed economy it's less clear how things can be delivered and sometimes that creates indigestion in the system - therefore the biggest enemy is the pace things are needed in and that's where we can help," he says.
Overall, though, Buckingham says there is a feeling the complexity of the system and funding constraints are making delivery much more difficult than it needs to be. "We should remember that the money is there ready to be spent to meet demand," she says. "But still it's not an easy sector to be in, it requires passion. My concern is you always need a little bit of joy in work and if that is squeezed out, then you'll lose the people with the expertise, energy and enthusiasm to other sectors."
If that happened, it would risk not only the health of the industry but the education of the nation's children. The government needs to work out how that can be avoided.