Our round-up of the latest solutions includes curtain walling for guide dogs, a flagship regeneration project in suburban Surrey and a cover-up at the Scottish Crime Campus…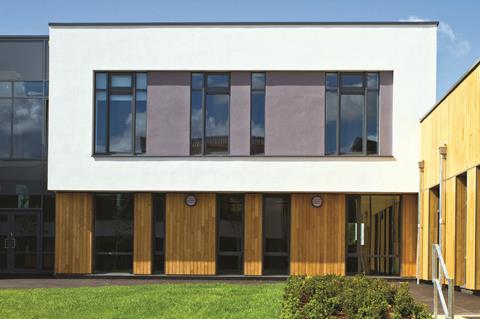 Aluminium curtain walling system
Technal has provided aluminium window, door and curtain walling systems for the new National Breeding Centre for Guide Dogs at Bishops Tachbrook near Leamington Spa, Warwickshire. The centre consists of nine buildings, each with different curtain walling or window specifications, resulting in a range of sizes, configurations and glazed units, including low E, solar control, laminated and toughened glass. Technal's Geode-MX Visible Grid curtain walling system was used to deliver natural light to offices and areas accommodating the dogs.
Technal www.technal.co.uk
PVCu cladding
PVCu cladding from Swish Building Products has been used to replace timber cladding in a residential refurbishment carried out by Newham council in east London. The Open V cladding was chosen in addition to 50mm wall insulation to improve the thermal insulation of the sixties prefabricated houses. A breathable vertical membrane was fitted behind the cladding to deter moisture build-up while ventilation grills were installed at roof and ground level to ensure a continuous and clear air path through the cavity.
Swish Building Products www.swishbp.co.uk
Insulated panels
Insulated panels from Kingspan Benchmark have been used in the £2.3m refurbishment of Balaam House, a sixties tower block in Sutton, Surrey. Architect Lewan Somachandra from Baily Garner chose Benchmark's Evolution Axis because the range of detailing options allowed for a "distinctive design, which will act as a beacon for regeneration in the area". The panels are able to achieve U-values as low as 0.13W/m2K and their insulation cores are rated A+ in the Green Guide to Specification. The company says the panels contain no CFCs or HCFCs. The panels are insurer-approved by the Loss Prevention Certification Board, and both internal and external panel faces have a class O fire rating in accordance with the Building Regulations.
Kingspan Benchmark www.kingspanbenchmark.com
Curtain walling and louvres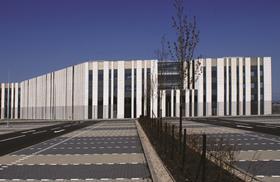 Architectural aluminium systems manufacturer Metal Technology has supplied curtain walling and louvres on the new Scottish Crime Campus at Gartcosh, Glasgow. Working with fabricator CMS Enviro Systems, Metal Technology designed a bespoke louvre blade to achieve the architectural team's desired aesthetic. This new blade, fulfilling the differing demands of weathering and ventilation, was approved, extruded and supplied to site in line with the timescales on the project.
Metal Technology www.metaltechnology.com
Cladding panels
Carea has added several finishes and colours to its Aquila range of composite mineral cladding panels. The company says that the panels are suitable for new-build and refurbishment applications. The system is available with an insulated backing in a range of thicknesses from 40mm to 120mm. The outer cladding panel is either 3mm or 5mm thick to suit different building upgrade requirements. The panels come in a choice of four different finishes: Carvi, Dune, Pixel and Smooth. They are also available in four new grey colour shades, adding to the existing 36 colours of the Aquila range. The panels come in the following sizes: 600 x 1,200mm, 600 x 600mm, 600 x 300mm or 350 x 600mm.
Carea www.carea.uk.com
Cladding support systems
Nvelope Rainscreen Systems has launched a range of vertical and horizontal cladding support systems. The company says the system allows facades to be installed with no visible fixing. Called NV Vertical and NH Horizontal brackets, the system is suitable for fixing different types of panel including high-pressure laminate (HPL), timber, weatherboard and fibre cement. The brackets are available in a range of depths ranging from 40mm to 300mm for the vertical range and 70mm to 300mm for the horizontal range. The Nvelope T and L profiles are secured using support brackets, which are connected through a series of fixed and flexible points - an arrangement that enables absorption of wind loading while also allowing for expansion and contraction in the structure.
Nvelope www.nvelope.com
Casement windows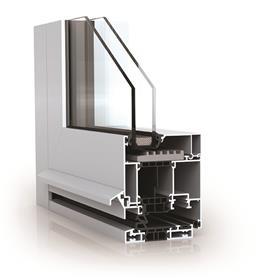 Aluminium facade company Wincona has launched a new range of casement windows. Wicline Evo uses a single system with common components to achieve a range of opening and design configurations. The company says the system allows specifiers to realise complex window designs. There are options for enhanced security, bullet and burglar resistance, thermal and weather performance, acoustic protection, open-in and open-out systems, and a range of window fittings.
Wincona www.wicona.co.uk
Movers and Makers
Building envelope company Lakesmere has announced plans for a corporate reorganisation. The new structure sees the creation of a new parent company, Lakesmere Group Ltd, and five subsidiary companies; Lakesmere Ltd, McMullen Facades Ltd, Lakesmere Arabia LLC, Lakesmere Oman LLC and Lakesmere UAE LLC.
Knauf Insulation has launched a library of BIM objects for its product range. The objects are free to download from the Knauf Insulation website, offering specifiers access to key insulation components that can be incorporated into BIM designs. Knauf Insulation says the library contains more than 200 objects, each containing detailed information including thermal conductivity and resistance, product size and form, third-party data and BBA certifications and sustainability information.
UK steel glazing company Wrightstyle has become a network partner for building envelope company Schueco. Wrightstyle staff have all been approved by Schueco's SABRE (Schueco Approved Blast/Bullet Resistance Expert) training scheme, allowing the Devizes-based firm to offer a comprehensive range of both steel and aluminium enhanced systems to mitigate against fire, or ballistic and explosive attack.
Eurobrick has received approval for its P-Clad system to be installed on buildings over 18m high, having passed fire safety testing carried out by BRE. The company says that P-Clad was originally developed for new-build projects but can also be used for renovations. The system comprises a composite backer panel made up of cement particle (CP) board with Eurobrick's ribbed skin bonded to it. The horizontal ribs allow for easy brick alignment. Hunter Douglas is to transfer all sales and production at its Hednesford office to the Hunter Douglas Faber site in Northampton, creating a bigger and stronger Hunter Douglas Architectural Projects division in the UK. Hunter Douglas N.V. is a manufacturer of window coverings and architectural products. The new operations base will focus all Hunter Douglas Architectural Projects activity in the UK at a single site, developing a design, manufacturing, sales and customer service facility.