The commercial director leading the government's 40-hospital construction programme explains what she's looking for from suppliers
For some time the Department for Education has been seen as one of the more forward-looking construction clients. With large-scale programmes, long-term spending plans and a clear objective to push for innovations, such as modern methods of construction and net zero solutions, the DfE has been a driving force in the sector's development. But construction has needed more public sector clients to be this proactive.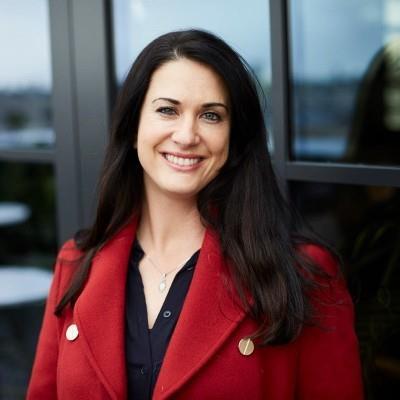 Now the New Hospital Programme (NHP) is doing just that. The government's commitment in October last year to building 40 new hospitals by 2030 - some of which will be rebuilds of existing hopsital - has created a very attractive if challenging pipeline of work.
So how can a programme on this scale be delivered in the tight timeframe? Enter Emma-Jane Houghton. The programme's commercial director has revealed details of the new framework alliance the programme will be using as its commercial delivery vehicle.
Houghton spoke to Building about the new model, what she is looking for from the industry and what the next steps are for firms that want the work.
You had your initial launch event for engaging with the market in June - what was the reaction of the industry when you released the details of the programme?
Emma-Jane Houghton: There was so much energy in the room with all the contractors and everybody asking a million questions, so it's been a fantastic launch. Clearly the messaging that was landed has excited the market and we've been able to point them to the public information notice, but this is much more detailed.
I was able to go through the technical detail of the commercial model, how the alliance will go to market, how MMC, net zero and all those things are going to be really important for the programme, and talk about the dates, contractors and all the different suppliers can get involved.
What are some of those key dates coming up for firms wanting to get involved?
EJH: Well we do already have a live procurement out there - we can say the programme is already in procurement, because I have my commercial partner opportunity out there in the market. There's an expression of interest and invitation to tender (ITT) for that role launching in the next couple of weeks.
For contractors, we have officially launched in tandem with Build UK, as we are working on a really intensive programme of proper market engagement to bring them into the programme really early. This is because we recognise the scale and complexity and the challenges require us talking to the market to develop these core creative solutions.
It is a deviation from many public procurement routes to have the market engaged this early. Has that been a focus?
EJH: That's my personal commitment to the commercial director. But I want to do that really early on so that we are genuinely engaged with the market. And I'm sure that for your readership the would be music to their ears, because I think what they fear is that we go off and we come up with these mandates and come back and just expect them to deliver on that but instead they go "how does that work?". It means we're also able to talk about it in lots of technical details, all the challenges around MMC and net zero carbon.
We want the digital specialists, we want these new MMC providers, we've got to create massive new markets
So how would you describe the commercial model?
EJH: It is a generational alliance, that we are calling Gen A. The industry was pleased by that. They said: "Ooh alliance model, not D&B [design and build] thank God for that. But what does that actually mean?" From a company perspective what that means is they have got a pipeline, they can invest now and think 'while there might not be a role tomorrow there probably is work for me if I get my act together in a couple of years time'.
What do you mean by the term alliance? Is it a framework?
EJH: It's a framework alliance. What you have to remember is that we've got 48 schemes, eight of which were already in flight, because I've inherited some projects that were already in delivery. And then we've got the 40 hospitals to build by 2030. Not all 40 will be ready at once, but some are ready now, and we need to get those up and going.
As we evolve over time, in that framework alliance we'll work with a broad range of suppliers that we bring in and the ambition around the attainment of programme benefits, and that ability to deliver forward thinking MMC increases, because we've understood more about it, we've invested in our suppliers. So to begin with the trusts will be the contracting authorities but we will have our framework alliance in place for them to use.
>> Also read: An invitation to the largest hospital building programme in a generation
So what is the timeline for having this framework alliance set up?
EJH: We don't have a date yet but we do have a commitment from CCS (Crown Commercial Services) who is our procurement partner for the programme, we have commitments and agreements that we will have our own dedicated framework alliance.
Does that mean that until the alliance is set up no main contractors will be appointed to these projects?
EJH: Certainly not from that route and there are no other real routes at the moment so it might be tricky
Is the alliance going to be for technical design and architects as well?
EJH: It is very much for a really broad range of suppliers and very new digital type suppliers. So we are very much now we went engagement from contractors, designers, MMC specialists, subcontractors. The scale of NHP provides a significant opportunity for companies of all sizes, across a broad range of sectors to make a long-term investment in their capability and skills base, creating jobs and driving growth. We are working to ensure SMEs have visibility and access to opportunities, and will put proactive measures in place so that we engage SME's and makes sure they provide feedback into our emerging package and procurement strategies.
One of our goals is to create a hospitals playbook, a blueprint of how it's delivered
So how will the framework be set up and how will work be awarded?
EJH: That's still to be worked through. But what I can commit to is that while we will have works contracts for the immediate delivery of practical schemes, we will also service contracts on time and materials to give the alliance questions around engineering complexities and challenges, so that they are able to help us work out what the construction and design methodology ought to be. .
Will additional suppliers will be brought into the alliance over time?
EJH: That's the beauty of the alliance model. We're able to keep bringing different suppliers in. We want the digital specialists, we want these new MMC providers, we've got to create massive new markets. MMC, for example, is way too small at the moment to be fit to deliver the challenges that we've got, the scale that we've got. It needs removed automation. We need investment and we need to drive that inward investment. We won't do that without creating a commercial vehicle that opens participation to lots of broader suppliers, and that gives that confidence to the market.
Are you concerned about capacity in the offsite and MMC markets at the moment?
EJH: I don't mind admitting I am concerned about it. It's one of the biggest risks we've got. MMC is right at the heart of this, it is the future of the construction industry. The market can't invest with that pipeline. Latent manufracturing capability at the moment is quite low, confidence in some of these technologies, particularly as it links to componentisation and design standardisation is a bit ad hoc. I see it as our job to create that safe contracting environment, create that space and that infrastructure for it to happen by first and foremost making a commitment to digital BIM level 4, driving that design standardisation.
Does that mean in it won't necessarily be Company X building one hospital and Company Y building another, the aim will be to have Company X delivering all the bathroom components to multiple projects, while Company Y might supply all the MEP?
EJH: Exactly that. We talked about moving from a vertical supply chain to a horizontal one, which is more component driven. So that's not to say that in the first instance, a main contractor might not just deliver some of these schemes but we hope to turn that supply chain on its side.
What else have companies and potential suppliers asked about?
EJH: They asked whether we meant it when we said it was an alliance and I very much do. One of our goals is to create a hospitals playbook, so that we all go, this is what the future hospital looks like. This is a blueprint of how it's delivered. And then that is owned by the alliance.
They also asked about bidding costs and risk allocation - so we need to do some more work around that.
If you had one message for suppliers what would it be?
EJH: I would ask them to have faith that the NHP commercial philosophy is one of new innovative ways of working with a much broader range of suppliers and in a way which is investment for the long term. I feel that is evidenced via the Gen A approach.
I would also ask them to take confidence that my personal commercial philosophy. I want them to have personal confidence that I am here to drive a different commercial philosophy and a massive part of that is that they are up front in talking to us and that I will listen and that my commercial team is here to listen.
Who is Emma-Jane Houghton?
Houghton finds herself leading one of the country's biggest social infrastructure programmes, which makes her a powerful person to know. Described as "fiery, passionate and forthright" by some in the sector, Houghton is known as a specialist in commercial strategy.
Having completed her first degree in English and music in 2001, she went on to train to be a chartered quantity surveyor, working first at Mott Macdonald and then at Turner & Townsend.
She made a rapid rise through commercial advisory and construction delivery roles. Highlights include working for Heathrow Terminal 5, East London Line Extension, KPMG and Heathrow's expansion, where she was commercial delivery director responsbile for procurement, contracts and supplier management.
Since January 2021 she has been with Cabinet Office and is the commercial director for the New Hospital Programme, she also worked the development of the Construction Innovation Hub's Value Toollkit and holds a number of other roles on major construction schemes and programmes. She chairs the Crossrail 2 Expert Cost, Commercial and Risk Group (ERG) and the Institution of Civil Engineers' Civil Engineer of the Future Working Group 'Engineering Rebellion'.
She is a major in the engineering and logistics staff corps commissioned to provide impartial and confidential advice to the British Armed Forces.
Away from work she also enjoys equestrian sports and spends as much free time as possible at the farm where she keeps her horses.