The construction industry continued to support CRASH even through the worst years of the downturn. But now that the economy is picking up, the charity is more ambitious than ever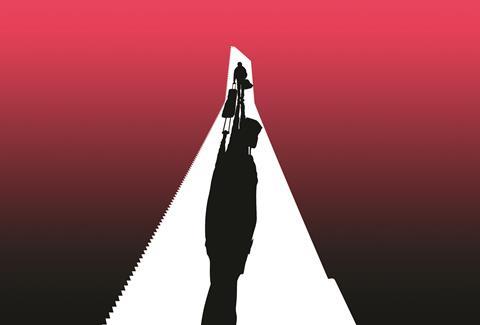 This recession hasn't been kind to construction companies, or for that matter charities. So you might think that an industry charity such as CRASH would have been brought to its knees by a double whammy effect. Not so.
CRASH is totally reliant on the goodwill and generosity of the construction industry to keep it going: it doesn't receive any government funding or any other form of grant. But despite the challenges, the charity is fit and well. Francesca Roberts, one of only four employees who work for the charity, says: "Construction companies' loyalty to CRASH through the lean years has been phenomenal".
Last year the industry donated nearly £250,000 in the form of pro-bono professional work and building materials to homelessness projects through CRASH. The charity's auditing work shows how these "gifts in kind" translate to help on the frontline: CRASH helped 62 homelessness projects and 32 projects were completed that provided accommodation and services. And CRASH gave cash grants totalling nearly £163,000 to 14 homelessness groups to improve buildings and facilities.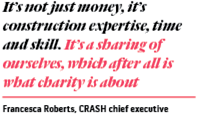 This impressive amount of work is all thanks to the support of CRASH's 30 "patrons", who have each signed up to a long-term commitment, typically three years but in many cases much longer, to help the charity. It is this long-term investment that is so vital to CRASH, and while it didn't disappear in 2008 it did decline. To make up the shortfall the charity has over the past few years done more one-off fundraising activities, but it now wants to start building up its base of patrons to pre-recession levels.
The problem CRASH has is that at a time when so many charities are clamouring for attention, homelessness isn't one that evokes the most sympathy from the general public. "Companies are increasingly asking employees to nominate charities and invariably they are charities that support cancer patients, children and animals - homelessness never comes near the top of the list," says Francesca Roberts, CRASH chief executive.
Part of the answer may lie in dispelling some myths about homelessness. While it can be assumed that people become homeless because they have a drug or alcohol problem or have fallen into criminality, in fact most cases are triggered by a breakdown in a relationship or person losing their job (see pages our feature "The worst is far from over"). The key is making the public aware of how many people slip into homelessness through no fault of their own.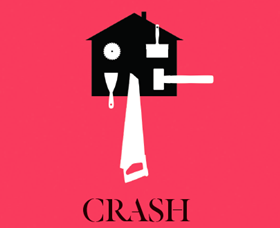 Another powerful argument in CRASH's favour is that it is a logical fit for construction companies. "This is a charity with a clear resonance with construction - it's about making the most of what your company is brilliant at doing every day of the year," says Roberts. "It's not just money, it's construction expertise, time and skill. It's a sharing of ourselves, which after all is what charity is about."
And on this front Roberts is hopeful - she says companies are getting smarter about letting their staff get involved and the help CRASH is receiving from its patrons is getting more sophisticated. For example, it's no longer about sending 30 volunteers to paint a room for a day.
Companies now send valued project managers, QSs and accountants to help put together a business plan for a project. And when a materials producer offers CRASH the facility to order materials up to a certain cash value, it also provides advice as to how best use its products. This is something that a corporate donor from another sector could not do. In short, it makes a construction company's corporate social responsibility policy so much more meaningful for its employees.
In 2014 CRASH expects to take on at least 50 new projects and to complete 30 that it is carrying over from last year. In addition to working on these individual projects, CRASH keeps patrons informed about the difference their contributions make. This means that every time a patron helps, the CRASH team adds that to a bespoke report for the company. CRASH is also launching a project committee this year so that all its patrons can share learning and ideas across projects.
This committee being formed just goes to show how the firms that have chosen to give something back also find that they gain from the experience, often in unexpected ways. This would seem to be another good reason for construction companies to support CRASH in 2014.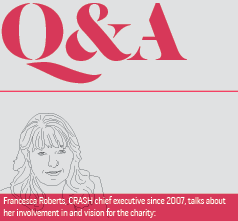 What attracted you to CRASH?
When I went for the job one of the reasons was the unusual way it was set up. It was so intricately interwoven with the construction industry and that remains true today.
When and how was CRASH founded?
Its origins go back to the nineties when the problem of homelessness became very visible on London's streets. Tony Denison worked in construction and his wife was a ballet critic, and he would find himself stepping over homeless people on his way to the ballet with his wife. He found it appalling that people should be sleeping rough when there was a construction industry that could do something about it.
How has CRASH developed from those early days?
In the nineties the focus was on providing cold weather night shelters on short-term leases and the work was limited to London. We still improve night shelters but we also work on hostels, day centres and move-on accommodation. We also have projects located all over the country from Inverness to Newquay.
How is CRASH different to other charities?
Typically charities have to spend a great deal of time and money on their fundraising activities. Thanks to the way Tony Denison set up the charity with patrons signing up to a long-term commitment, we can keep our overheads low and focus on helping homeless charities with their projects.
What are you most proud of?
CRASH was founded as the construction industry's charity, and it still is the industry's charity. We have deliberately kept our focus narrow, we don't manage or run homelessness shelters: we help to build and refurbish them. We deliver something no other charity delivers, that makes us unique and it's immensely gratifying.