BDP's priority at Bents Green school in Sheffield was to create a safe and supportive environment for autistic pupils. But it has also managed to preserve the site's 18th-century coach house. Ike Ijeh reports on a tricky balancing act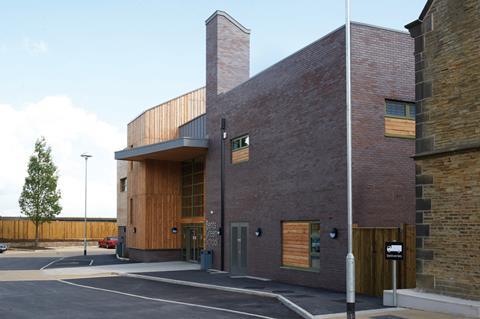 Bents Green is a £9m school in Sheffield that, partly because of its pupils' special educational needs (SEN) and partly because of the historic nature of the existing site, threw up a number of design challenges for architect BDP.
Completed as part of the Building Schools for the Future (BSF) programme, the school addresses the needs of children with complex communication and interaction difficulties, including autism spectrum disorders.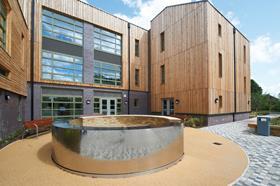 The school comprises three inter-connected parts: a new-build main block with classrooms, reception and administration areas; a refurbished sixties block with specialist and general teaching rooms; and a Georgian coach house dating from 1740, which has been restored and converted into permanent residential accommodation for the children, as well as respite care. Beyond the standard highly prescriptive design requirements for SEN schools, the insertion of specialised educational, residential and pastoral environments into the historic building in particular presented key design and technical challenges.
As BDP project architect Matthew Bradshaw points out, one of the most onerous of these was accessibility. "Maximising circulation was a critical part of the project," says Bradshaw. "We wanted to retain the historic character of the exterior but we had to ensure that the new areas satisfied accessibility requirements."
As is often the case with historic restoration, achieving this required a degree of compromise. So while the new lift does not serve the top of the former coach house's three storeys, a modern external staircase replaces one added in the thirties. Random, uneven floor levels also meant that the new timber flooring applied throughout could not be used in some areas and was replaced with tiled flooring.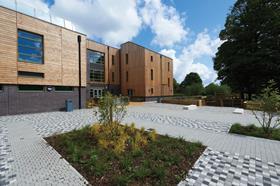 Creating legibility also emerged as a key requirement. The pupils catered for in the school respond to a tranquil, ordered and calm environment and colour emerged as an effective tool to deliver this and to subtly identify different areas, including the "home spaces" designed to encourage a sense of safety and reassurance. Generally, circulation space was also made more legible and accessible, with existing and often circuitous routes rationalised throughout.
There was also a requirement for many of the areas to be robust and hard-wearing. Children displaying autistic traits often become particularly anxious or agitated, and each floor of the historic block has been fitted with a secure "robust" room where pupils can be comforted and reassured. In order to prevent children unwittingly harming themselves here, wall corners are rounded, carpet floors are replaced with vinyl to prevent them being uprooted, doors can open in both directions to stop children barricading themselves inside and windows are fitted with fixed catchments.
In the same manner, en-suite bathrooms to the residential bedrooms on the upper two floors are fitted with control valves that are accessible from the communal corridor to prevent baths from being over-filled. And classrooms are often not rigidly rectangular spaces but feature a dog-leg recess where children can be taken for one-on-one sessions without feeling entirely separated from the remainder of the class.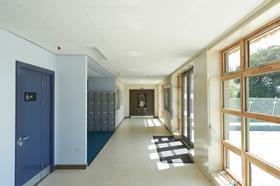 Noise was another important design issue. Many autistic children become agitated when exposed to low-level, intrusive, man-made background noise such as traffic. This meant that fans could not be used in the mechanical ventilation system, so extensive use has been made of natural methods.
Conversely, some autistic children find repetitive, rhythmic sounds, such as drumming, therapeutic but potentially almost hypnotically distracting. Therefore, a music room has been fitted with acoustic soundproofing to ensure that the noise does not interfere with teaching elsewhere.
Bradshaw summarises the design approach to Bents Green school as a "balancing act" where the challenge was to deliver a school that not only restored the character of its historic block but also created "an intimate, safe and supportive environment for its pupils and not an institutional one".
Vinci's story
Project manager Mark Johnson of Vinci says the key technical challenge of the project was "linking three different construction areas, as well as old and new, together." This was perhaps most evident within the floor levels. The coach house and sixities block each had varying independent levels which the new-build had to navigate between.
Consequently, a slim-deck composite floor slab system with integrated services was selected in the new-build segment in order to achieve the most efficient floor depth which, according to Johnson, enabled the scheme to "optimise floor levels across the development while maintaining adequate floor to ceiling heights in the new block."
Statutory guidance also stated that residential and respite areas could not be linked and had to be accessed independently. As both these areas were being placed within the historic former coach house, this meant that the elaborate Victorian stair that the linked the ground floor respite rooms to the first and second floor residential rooms had to be removed and replaced with a new external stair.
"The stair was cantilevered and very old so we couldn't be entirely sure of its structure," explains Johnson. "Therefore we propped it on temporary supports and then dismantled it by a remote-controlled robot operating on caterpillar tracks. This was by far the quickest and safest option; it prevented workmen being exposed to a potentially dangerous area and it took a week to complete."
Project team
Client/contractor: Vinci
Architect: BDP
Structural/services engineers: Mott MacDonald
M&E subcontractor: NG Bailey