Proponents of cross-laminated timber were up in arms when the government announced its plans to ban combustible materials from the external walls of high-rise buildings. But now the nascent industry is fighting back, reports Joey Gardiner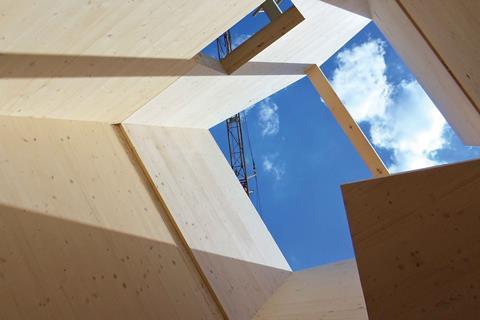 When the government last summer announced its plans to ban combustible materials from the walls of residential high-rise buildings, it prompted an immediate outcry from the growing band of developers, contractors, designers and manufacturers involved in using cross-laminated timber. Since its first use in the UK in 2004, the proponents of this form of engineered timber – known as CLT – have claimed it can hugely speed up construction, improve site safety and save money – at the same time as it is saving the world from climate change.
As uptake has grown in recent years, so the structural properties of CLT have come to the fore, allowing taller and taller timber structures, including a number of high-profile projects above six storeys – the height the combustibles ban kicks in. Fears were raised that the CLT was – effectively – being banned by the government as an accidental side-effect of the Grenfell tragedy. One of the leading proponents, Anthony Thistleton, founder of architect Waugh Thistleton, which designs virtually all its projects in timber, said that last summer's announcement could prompt a collapse of CLT use in the UK, taking the country from "a world leader to a backwater".
Indeed, when the final legislation came out and the ban was confirmed, the government's own impact assessment admitted that it was "likely to slow down the use of engineered timber […] in the medium to long term".
"This is absolutely not a ban on CLT. It just means we need to do something else for external walls. We might even be able to increase the level of prefabrication"

Anthony Thistleton, Waugh Thistleton
Four months on, though, and the nascent CLT industry is in fight-back mode, determined to make the point that reports of its death have been greatly exaggerated. But it is up against a degree of understandable post-Grenfell client nervousness about using what is undeniably a combustible material, and lobbying from other parts of the industry determined to highlight concerns. So what does the future hold for CLT?
What crisis?
According to Nic Crawley, an associate technical designer at CLT-friendly architect AHMM, there are now between 500 and 600 UK buildings constructed from this new technology, and of those, he guesses, only a "pretty small proportion" would have been affected by the government's combustibles ban. The ban – which specifies Class A1 or A2 fire performance from all materials in the "external structure" of a building – is limited both to buildings above 18m (around six storeys), and also to residential buildings only. While notable recent high-rise housing schemes such as Lendlease's 10-storey dRMM-designed Trafalgar House project at Elephant & Castle would not be permitted in the same form now, it is thought most CLT projects would be unaffected. Rupert Scott, membership manager at wood research centre Trada, says: "This doesn't affect you if you're non-resi or if you're under 18m. It's a minority of projects."
Most importantly, say CLT's proponents, even in affected high-rise buildings, the restrictions don't rule out using CLT – they just rule it out from the external wall. Coming up with hybrid designs whereby a structural CLT core and floors sit alongside external walls from another material, typically light-gauge steel, is, they say, not difficult.
In fact, Waugh Thistleton's Thistleton says a group of engineered wood-friendly architects, engineers, manufacturers and contractors has already got together to work up standard regs-compliant solutions.
"I think we have a body of evidence of the risks of CLT. Whatever its benefits, you can't promote productivity at the expense of safety"

Tony Jones, Concrete Centre
Thistleton now says his dire warnings of last summer were overdone – the product of speaking to Building just hours after having read – and been spooked by – the draft regulations. "I allowed myself to get worked up," he says. "But we need to be clear – this is absolutely not a ban on CLT. It just means we need to do something else for external walls. We might even be able to increase the level of prefabrication."
Jonas Lencer, director at dRMM, says his practice is already working to revise a part-designed CLT scheme caught by the regs, working alongside specialist contractor B&K Structures to "design out" CLT from the facade. "So far our analysis of the building, of the time in design and the construction programme, suggests that taking out structural timber from the facade will have very very little impact on the scheme."
Lencer even goes so far as to welcome the combustibles ban overall, as a long overdue tightening up of regulations. "We don't see this as a ban on CLT at all. It's an opportunity to innovate. Hybrid steel and CLT systems have been tested and existed for a long time in office buildings," he says. "There are still so many advantages to CLT."
"A material deemed to be dangerous for use in buildings over six storeys is hardly going to inspire confidence in those considering buying a fifth floor flat"

Thomas Lane, group technical editor, Building
Evidence
While everyone in the CLT community agrees the combustibles ban itself doesn't rule the technology out, not everyone is so sanguine about the new regs. There is considerable anger from some that the housing ministry (MHCLG) pressed ahead with the ban in the form it did despite being told by CLT's backers there was no evidence it would improve fire safety. They see it as particularly galling that a ban designed to stop a repeat of the cladding system fire at Grenfell has ended up covering the whole of the external wall construction, not just the cladding. Liam Dewar, director of one of the biggest CLT specialist contractors Eurban, says: "What has been done is contrary to the Hackitt report, and we should be very clear, it's directly against the industry too.
"After Grenfell, the public were rightly asking for a change. The big question is whether you should be addressing public opinion when you make regulation, or listening to the industry experts," he says.
Thistleton adds: "We're very clear that CLT doesn't pose any additional risk. But the government was not interested in evidence. It was a political move."
When asked about the potential impact on CLT of the ban, government sources admit the ban rules it out for tall buildings but insist any unintended consequences were less important than keeping people safe.
The anger from CLT's proponents stems from fears that despite the limited nature of the proscription, its uptake might nonetheless be damaged by its association with post-Grenfell fire safety regulation. Neither L&G Capital nor Lendlease, two of the mainstream developers to have most enthusiastically taken up CLT, gave Building any detailed answer as to whether they continued to use the material in future projects following the ban, though L&G said it so far didn't have high-rise buildings in its product range.
However, housing association Swan, which last year invested in an offsite housebuilding factory to build prefabricated CLT homes, said last week it would now have to find "a suitable modular solution" for its planned high-rise homes. Eurban's Dewar says: "There's a perception that this bans CLT from all buildings above six storeys. It's not reality, but there's a short-term risk related to this media perception." AHMM's Crawley adds: "The worry is if clients think it is banned, then they won't consider using it."
Potentially more serious than that, however, are developers' perceptions of how insurers and real-world home-buyers view the product. Notably, L&G's statement to Building said that "both customer & regulatory requirements" would be assessed to determine which materials to use. Euban's Dewar says the risk here is of a repeat of the decline of timber frame construction in the UK following the 1983 World In Action documentary highlighting problems in some homes.
"There is a short-term nervousness about proceeding with something they're not sure yet that people want to purchase," he says.
While he thinks this will pass quickly, he adds: "Because of the way these regs came out, the public perception is that all combustible material is dangerous. That's a real problem because suddenly you could be in World In Action territory."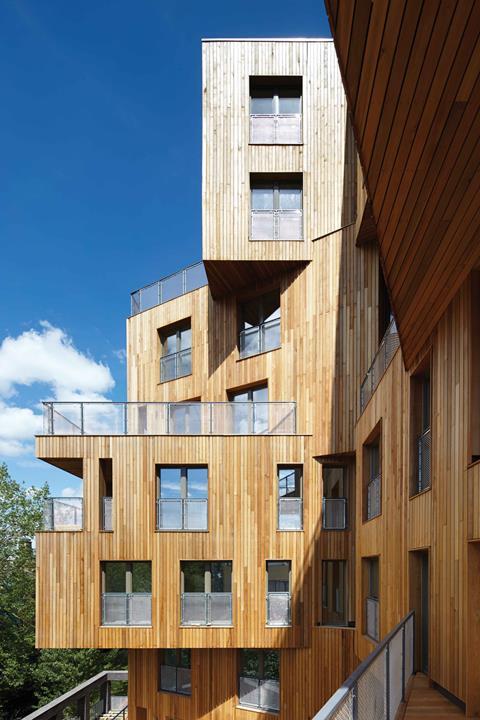 Opposition
CLT's supporters have more than simply public perception to fight – they are also up against lobbying from other parts of the industry who are seeking to highlight evidence of fire safety problems with CLT. Tony Jones, principal structural engineer at the Concrete Centre, says that far from the new regulations being too draconian, the combustibles ban should be extended to cover all structural elements of a building. "The issue I have is that the ban covers the cladding aspects of a structure. I think it should be extended to whole internal structure. It's bizarre you can build a 15-storey CLT building, just as long as its cladding is not CLT."
Jones says the regulation is particularly necessary because CLT allows the construction of taller buildings with automatically higher occupant risk. He cites the opposition of the International Association of Fire Chiefs to a proposed relaxation of US rules banning CLT, and a 2018 paper by Arup and Edinburgh University, as evidence of the risks the technology proposes – risks unsurprisingly rejected by its proponents. Proponents of engineered timber, while accepting that wood products are of course combustible, have previously pointed to long-standing research showing that heavy timber such as glulam beams, while initially burning, produce a thick and highly insulating char layer which limits fire spread and ultimately protects the beam and puts the fire out.
The recent Arup paper, however, suggests that timber layers in CLT panels can sometimes delaminate in a blaze, exposing fresh uncharred wood to the fire, thereby prolonging and intensifying it. The Concrete Centre's Jones says this is a "critical" new finding. "I think we have a body of evidence of the risks of CLT. Whatever its benefits, you can't promote productivity at the expense of safety," he says.
Thistleton responds: "More information is needed following these limited tests, and we need to look potentially at how we glue the boards, for example. But these were tests with exposed CLT – in all our flats our CLT is completely encapsulated. The buildings are safe.
"The fact is that because we're building with a combustible material, we have never taken fire for granted," he adds. "We work through fire risk in huge detail, in conjunction with fire authorities, doing complex calculations such as smoke modelling. We work very hard to ensure buildings are absolutely safe," he says.
Thistleton believes the Concrete Centre's concerns have more to do with the commercial threat posed by CLT. "I don't think it's any surprise they're highlighting this. If I came up with a car which ran on water, then the oil industry would be all over me," he says. In return, Jones insists that, while the suspicion of CLT enthusiasts is understandable, he is only repeating concerns raised by independent third parties, such as within the Arup paper.
Thistleton disagrees: "The reality is the evidence says we've got 12 years left to sort out climate change – we've got to start changing the way we do things. And we've got to keep pushing the message about the safety of CLT. It's not only quicker to put up; it's safer, healthier, lighter and locks away carbon."
Time will tell whether this message is heeded by clients in a post-Grenfell world.