The design director of Britain's biggest - and arguably most controversial - infrastructure project talks about her ambition to leave a legacy of quality structures and landscapes along the route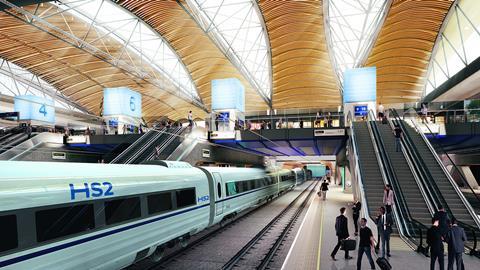 The last time that Kay Hughes and I met, we were politely waving each other on at a zebra crossing in south-west London – she a cyclist, I a pedestrian – before we recognised each other and stopped for a distanced chat. She had taken the afternoon off to clear her head and had ridden from her north London home to Horace Walpole's exuberantly gothic Strawberry Hill villa.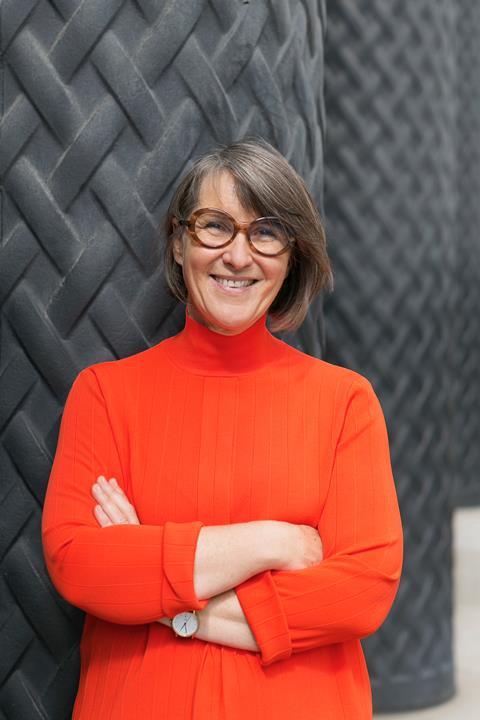 Source: Agnese Sanvito
It must have been a 30-mile round trip but for Hughes, who qualified as an architect in 1991 and worked for Denys Lasdun and Ted Cullinan before moving client-side 20 years ago, jumping on her bike is as much about learning as transport. A few months after the EU referendum she led a bunch of built-environment buddies on a cycling trip to the Netherlands to see what could be learnt from its urban extensions and infrastructure before the drawbridge went up.
In a letter home, published in Building's sister title Building Design, she wrote: "The headlines are: the UK should, in a time of limited resources, spend less time and money on regulating and administrating small issues and spend more on strategic planning, design-led delivery and leadership to achieve more effective outcomes." Five years later her argument is more pressing than ever.
Several of the women on that trip, including Hughes, went on to win a National Infrastructure Commission (NIC) ideas competition for the Oxford-Cambridge corridor with their VeloCity proposal for a network of villages linked by public transport and cycle routes. Two years after that, in October 2019, Hughes was appointed design director of HS2 Ltd, the company tasked with building a £100bn high-speed railway connecting London and the North, giving her the chance to implement some of the ideas that she garnered on that Dutch study trip.
A challenging start
Now 18 months into the job, she is speaking about her ambition for this complex piece of national infrastructure and her conviction that its success will rest on the quality of the structures and landscapes they leave behind as well as a smooth passenger experience.
It has been a challenging start. A year ago this month, the government gave HS2 formal notice to proceed. It was no accident that the decision coincided with the early weeks of the pandemic – the government needed a shovel-ready scheme to help keep the wheels on the economy – but it has not made bringing in new teams easy.
On top of major organisational upheaval, in February activists opposed to HS2 on environmental grounds scored their greatest coup yet, tunnelling under Euston Square Gardens and staying there for almost a month. So far the delays have added £400m to the bill, although HS2 Ltd says that this is covered by its contingency fund.
Nonetheless in the past year HS2 has won the equivalent of planning consent for three stations and started work on parts of the route including Wilkinson Eyre's Old Oak Common Station and Grimshaw's Colne Valley Viaduct on the western edge of London. Thousands more consents are expected this year.
The whole of the UK landscape is effectively man-made, and this is just the next step in re-engineering it back to landscape
High Speed 2 has been years in the making. Gordon Brown's government established HS2 Ltd in 2009 and the project was approved by the coalition in 2012. The "hybrid bill" for phase 1, covering the 176km between London and Birmingham, did not receive Royal Assent until 2017 and then the whole thing was subjected to the Oakervee review. This concluded that the project should go ahead and phase 2a, to Crewe, received Royal Assent in February. But phase 2b – taking the line to Manchester plus a spur to Leeds – has been paused amid ongoing wrangling about how the route will dovetail with Northern Powerhouse Rail.
Hughes' 24-strong multi-disciplinary team is working flat out on phase 1, providing the technical interface with contractors and pushing design considerations at every opportunity, while simultaneously working on strategy for phase 2 and setting objectives for the next wave of tenders.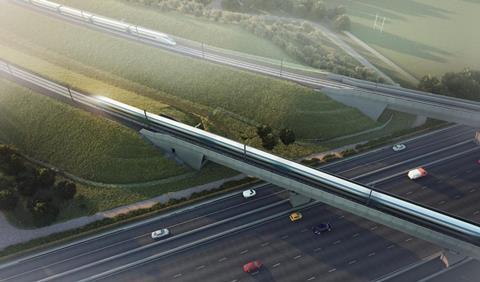 "This is a mega project of a scale not seen in the UK for …" she pauses, searching for a suitable comparator, "… probably ever." The original Victorian railway network was, she points out, a piecemeal agglomeration built by different companies. "If you think the Olympics was a £9bn project and scale that by 10, that's effectively where HS2 sits. The scale and geography of what is being designed and delivered is vast."
Life before HS2
The Olympic Games was her last big job. In between she set up her own consultancy; dispensed advice to Crossrail, the Royal Docks and the NIC; designed with her husband Richard Lavington, co-founder of architects Maccreanor Lavington, an extension for their 1960s modernist home; and began a masters in infrastructure investment and finance at UCL.
This is a critical area rarely covered in an architect's education, but Hughes – gentle, friendly, funny – is steely serious about good design making the leap to reality and has made it her mission to learn how to enable it. As she has noted, "there is a lot more opportunity to achieve architectural ambition on the client side" – but you have to understand the mechanisms behind funding and delivery.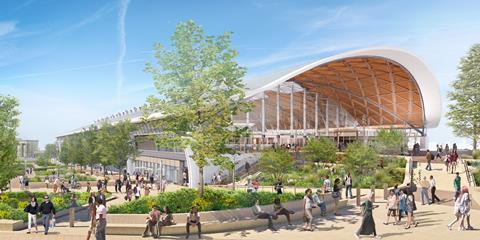 As principal design advisor for the Olympic Delivery Authority from 2006-12, she oversaw the development of the masterplan and delivery of venues and infrastructure across the park, from feasibility to completion. The naturalistic landscaping of scrappy brownfield acres, one of the key legacy goals and a big hit with the public, is her calling card for what she is hoping to achieve at HS2.
Her Olympic job followed four years at the Foreign Office, where she was client on such grands projets as Tony Fretton's Warsaw embassy and the rebuilding of the consulate in Istanbul after the 2003 al-Qaeda bombing. That was when the FCO had a £1bn estates portfolio and ambition to match.
By the time that Warsaw opened in 2009 the enthusiasm for demonstrating soft power through UK plc's brightest design talent had evaporated. But Hughes timed it right. It was, she says, "the job I always aspired to" and she describes being mentored by old hands. "It was one of the most lovely jobs I've had, with some fantastic projects to work on."
Her client-side career began back in 1998, the beginning of the era of lottery projects and PFI, when she left private practice and joined the major projects team at Sport England as a design advisor for schemes including the new Wembley stadium and the 2002 Manchester Games. It was a real eye-opener.
"We saw a lot of projects where architects had put a lot of work into a beautiful scheme but the business case wasn't there, so it failed," she remembers. That was where her interest in funding and strategy began to crystallise. "I worked really hard on approvals so we'd prove the business case first. It probably saved the architecture profession millions."
The other benefit was to her personal life. "As a female architect the conflict between having children and working is quite tough. Sport England was the first time I was thrown out of the office by a security guard at 6.30pm because I was there too late," she laughs. "It normalised my working hours but was also really insightful because I realised how expert architects are and how much knowledge they have covering such a wide sphere. That's often under-recognised. A lot of the people making decisions on funding don't have that breadth."
Championing good design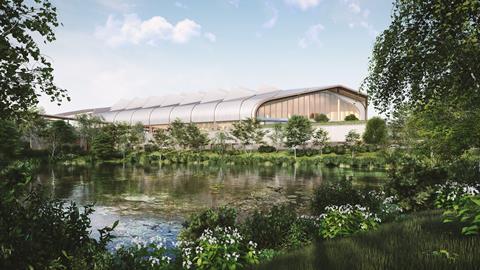 That is true in government too, she says, though she won't be drawn on recent remarks by HS2 minister Andrew Stephenson who sent Grimshaw back to the drawing board to design a slimmed-down Euston, triggering warnings from transport planners that fewer platforms would be a false economy. She will say only: "Euston is objectively a really amazing site in central London and it needs more careful thinking."
Stephenson's "painful short-termism" is a predictable part of a cycle that besets all infrastructure projects in the UK, said one source who spoke about the project on condition of anonymity, adding: "All the way through they have been under pressure to cut costs, but there's a sense that the main thrust has survived and is now being built."
HS2's design department was created rather late in the day after eyebrows were raised over the quality of early proposals from some of the construction consortia, the source suggested, adding: "The general impression is they started off, as is typical with these grand infrastructure projects, hoping to ignore design. But the process they set up is quite strong and the consortia have discovered there are benefits to good design, including communities not opposing what HS2 is doing in their area."
The source believes that Hughes' arrival has tipped the balance. "There are huge visionary expectations of how much of a game-changer this railway is going to be," they said. "But I'm sure there's a constant battle even within HS2, and at a certain point external politics takes over. There are a lot of people in the process saying the right thing and putting in a lot of effort on design quality and it would be a great shame if it was watered down."
Hughes' department has an ally in HS2's independent design panel which shaped the vision and assesses each proposal. It is chaired by Sadie Morgan, a national infrastructure commissioner and Stirling Prize laureate. She was one of the riders on Hughes' Dutch study tour and is one of the few designers to have infiltrated the corridors of power – receiving Building Design's Architecture Leader of the Year award two years ago in recognition.
Morgan was appointed to lead the panel in 2015 and recruited its 39 members, specialists in everything from bridge design to graphics. A process to "refresh" and diversify its membership was launched last month. It grew out of a meeting hosted by the transport secretary in 2014 with Morgan and almost 50 others around the table, including engineer Jane Wernick, designer Thomas Heatherwick and Stirling Prize-winning architects David Chipperfield, Alison Brooks and Jim Eyre.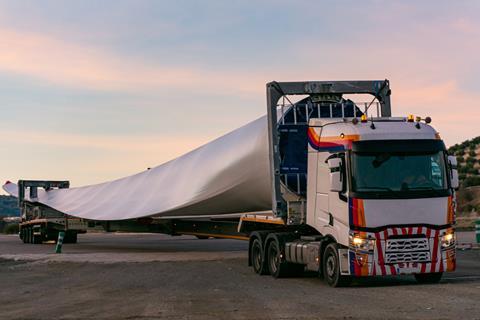 Morgan is supportive of HS2's work and the Euston rethink but recently called for a design champion to be appointed at board level. This is something the government has pledged for all major infrastructure projects this year, but the fact she had to say it suggests the case for design remains a live argument. "If we're going to spend £100bn, it's very important that it lasts 150 years," is Morgan's take.
Hughes welcomes her "rattling cages" but denies that design was an afterthought, saying the vision was set "really early on" and supported by the Department for Transport from the start, although questions around route and legislation necessarily dominated the first six years.
She concedes that she herself was "rather late at the party" for phase 1, so a lot of her work there has involved reigniting vision and bringing home to the wider team the importance of delivering well-designed objects and landscape "because that will be our legacy". She has much more influence on the shape of phase 2, where strategy is still being set and partnerships have yet to be struck.
She wants to get word out that "we have a really impressive team" and "there are some really good pieces of architecture coming through". Have any of the designs disappointed? "When we have seen them, we turn them around," she says diplomatically. "At times we have seen things that could have been better." Her team then works with the contractor. "It's about pushing them that extra mile."
Will there be opportunities for small, more innovative firms? Hughes says she is keen to foster opportunities for the next generation but that the scale of contracts makes it tricky. "You can't overburden smaller practices, but they bring new ideas, and we are finding ways to support SME input," she says, promising more opportunities on phase 2.
She cannot rewrite phase 1 contracts to enforce collaboration, but she gives a couple of examples of smaller firms working in larger teams, such as bridge specialist Knight Architects advising on the landscape approach for viaduct design.
A landscape project
For Hughes, HS2 is in many ways a landscape project. The case for upgrading the Victorian railway network is a no-brainer, she says, but what really animates her are the opportunities presented by the corridor of land accompanying the route. "It's a really serious, important job," she says.
"The quality of the stations and the massive strategic landscape and how well that performs will be the real success of the project – how we use that land between London and Birmingham to objectively improve the quality of the landscape and how it connects to local communities."
This means everything from biodiversity to place-making. For instance, Aylesbury council is planning a major development next to the railway, so her urban design team is working with the local authority to make sure the two schemes "join up" and that roads and footpaths are designed in dialogue.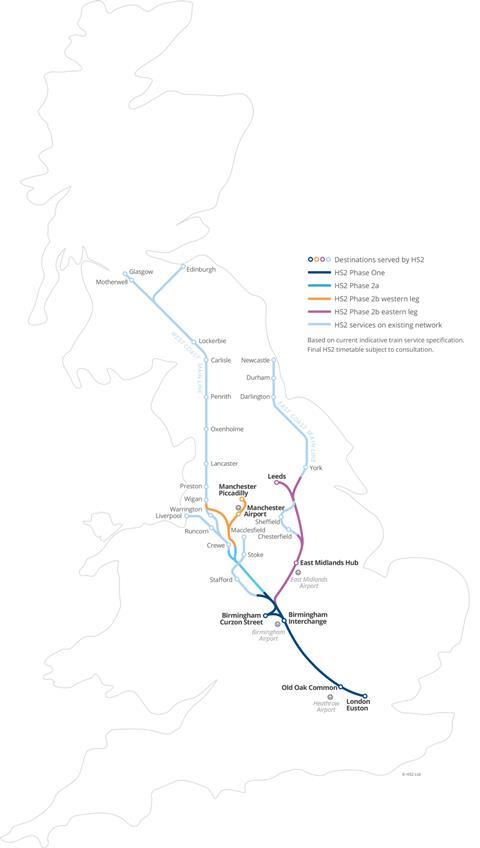 In the Colne Valley construction materials will be reused to create 127 hectares of chalk grassland, woodland, wood pasture and wetland on former arable land co-opted as a works compound. Cycle and walking routes are planned and almost seven million trees and shrubs will be planted along phase 1, although objectors say this can never replace the ancient woodland that will be destroyed.
HS2's landscape approach, laid out in a 32-page document, emphasises the need to be sensitive to global climate change and local context. Soft engineering is used wherever possible, a concept first brought to public attention at the Olympic Park. For instance, flood mitigation through ponds and planting rather than concrete barriers; noise mitigation through new landforms.
Hughes spent a significant part of her childhood in the Netherlands, where her engineer father worked for the European Space Agency. She finds romantic British notions of natural countryside rather backward – not to mention our planning system. "The whole of the UK landscape is effectively man-made, and this is just the next step in re-engineering it back to landscape," she says.
Huge public investment inevitably triggers a huge amount of innovation … we are pioneering techniques and methods of design and construction that have not been done before. It's like Apollo 11
"In Holland you know everything is man-made and founded on human thought. Infrastructure is how they make their settlements, roads and the landscape in between.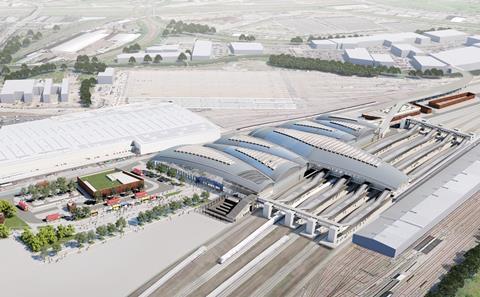 "What's most exciting to me about a project of this scale is that such huge public investment inevitably triggers a huge amount of innovation and that will inform other projects. We are pioneering techniques and methods of design and construction that haven't been done before. It's like Apollo 11."
Britain's net zero commitment means the consortia must halve their original carbon targets. Stations must exemplify low embodied carbon, power will be renewable. Hughes is particularly proud of Arup's timber Interchange station in Solihull, which she describes as "the most sustainable ever built".
Elsewhere concrete is being reinforced with sections of old wind turbine blades instead of steel rebar, a "world first" said to cut carbon production by 90%, while soil is analysed to determine what to combine it with post-construction to make it suitable for re-use, an innovation that will cut hundreds of lorry movements. Diesel machinery is being retrofitted and eye-recognition technology is being tested to study where people look as they navigate stations to improve the design of station wayfinding.
A frictionless, joyful passenger experience is central, says Hughes, who wants to eliminate all "where's my train" panic. A paradox of the project is the need to conceal the trains from the communities they pass through, using screens and "more tunnel than the Channel Tunnel".
It is the work of designers both to minimise the visual impact of the line and to make the experience from a largely viewless train less boring. A virtual reality simulation is helping them work out how to capitalise on what glimpses there are, but seating will probably be arranged around onboard activities rather than gazing out of the window.
Hughes describes being part of all this as her dream job. Her team is small – she mentions this a couple of times – so is working at a relatively high level, guiding, approving and setting standards, but is nevertheless "extremely ambitious". "We see ourselves as catalysts for creative thinking," she says.
"The value we bring is enormous. Infrastructure projects don't work unless you have really great designers around them."