A roundup of the latest products in interiors
Cold-rolled steel products
SAS International has launched a range of galvanised cold-rolled steel products. The EMAC Cold Rolled series for drylining applications includes:
• EMAC Stud & Track - doublerebated with high tolerances
• EMAC Wall Liner System - with anti-slip marks for ease of fixing
• EMAC Metal Furring System - supports plasterboard ceilings with connectors and channels
• EMAC Hanger - pre-punched for mechanical fixing to soffits.
SAS International guarantees all its metal ceiling products if they are installed in accordance with the AIS Best Practice Guide: Installation of Suspended Ceilings.The EMAC series has been tested in a range of build and board configurations. The Stud & Track can provide up to 66dB acoustic performance, 120 minutes' fire performance and severe structural performance.
www.sasintgroup.com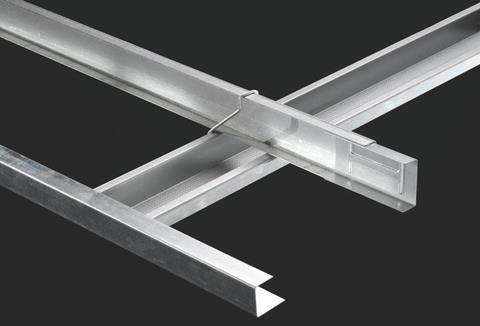 Wood wool ceilings
Knauf AMF Ceilings has created Heradesign, a range of ceilings manufactured in the company's wood wool factory.High impact resistance and good sound absorption values suit the product to education, sports and leisure facilities. The panels can be suspended in a traditional ceiling or used as a ceiling raft for areas in which additional acoustic control is required or where a suspended ceiling is not practical. Individual panels can also be hung as baffles or wall mounted. Different fibre thicknesses give a distinctive surface finish to each panel in the range, with fibres ranging from 1mm thick in the case of Heradesign Superfine to 3mm with Heradesign Macro. Each product has been made using sustainable materials, including wood from PEFCcertified sources.
www.heradesign.co.uk
Humidity-resistant ceilings
Knauf AMF has also introduced Thermatex Aquatec, a ceiling tile that offers 100% humidity resistance, a washable surface and high sound absorption. Aquatec remains stable even in permanently high humidity or temperatures ranging from 0°C to 40°C. The product is suitable for use in spas and swimming pools and the tile is also available with a Hygena anti-microbial treatment for healthcare and kitchen environments.Available in a variety of sizes, the tiles can be installed using Knauf AMF's new Ventatec Grid, which has a click-in, click-out design for easy assembly and disassembly.
www.amfceilings.co.uk
Glazing tool
GLASSOLUTIONS has launched an interactive tool and a range of products to help designers use glass more creatively in office, retail and hospitality settings. The tool demonstrates how different types of glass can be used for wall cladding, partitioning, feature glazing, furniture, balustrades, doors, shelves, mirrors and artwork. Three products introduced to accompany the online tool include the following:
• TEX GLASS - a laminated glass product incorporating fabrics from German textile designer Nya Nordiska. The glass can be used in partitions, screens, doors and furniture.
• CREA-LITE - moulded glass that uses colour, texture and varying translucency for bespoke interiors and external facades.
• CLIP-IN DOOR - a glass door design featuring an almost invisible hinge.
www.glassolutions.co.uk
Direct-to-wall solution
Ecophon has extended its Solo range with Solo Wall. Featuring fixings that allow it to be installed direct to wall, the product provides a solution where a traditional suspended ceiling might not be viable. Solo encompasses a wide variety of applications. Acoustic ceiling rafts are available in 10 geometric shapes as part of the Regular range; Solo Freedom allows bespoke shapes to be designed. Integrated lighting options and baffles complete both.
www.ecophon.com/uk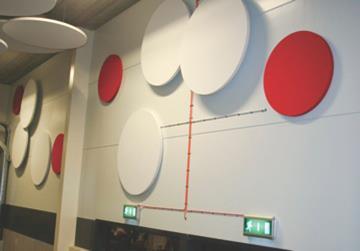 Washrooms range
Tenon Washrooms' new Pace range offers sleek grey contrasting panels and is supplied in a one-size-fits-all format for rapid installation. The kit comes with full-length door and a wall channel that covers all cut edges when the partitions and doors are cut to size. The channel is manufactured from extruded aluminium to give a robust finish. The washroom is available in Alpine granite or slate.
www.tenonwashrooms.co.uk
Defensive window film
Guardian Window Films has introduced a film that promises to shield businesses from exposure to intrusive wireless and cellular technology. Glass windows do not effectively block radio frequency (RF) and infrared (IR) signal energy from leaving or entering buildings. Guardian's Signal Defence Window Film aims to provide privacy, voice and data protection, security for wireless 802.11 networks, shelter from electromagnetic interference, IR blocking, and staff protection against electromagnetic and ultraviolet rays.
The firm claims the film stops 99% of RF, IR and UV energy penetrating windows. IR blocking mitigates the risk of conversations being captured through windows using laser microphones, while IR protection prevents laser microphones listening to conversations hundreds of metres away via the infrared part of the spectrum. The film is clear, so a building can be protected without changing its appearance. And a single application also protects occupants against flying glass in the event of a bomb blast.
www.guardianwindowfilm.co.uk
Finishing aid
British Gypsum has come up with a product that will eliminate the need to pre-treat surfaces with PVA, the bonding agent traditionally used for re-skimming. Thistle Uni-Finish is designed to provide a high-quality plaster finish across a range of substrates, avoiding re-skimming. It also removes the need to tailor the level of pretreatment according to the condition of the substrate as it adapts to the level of suction and adhesion required. The product will allow installers to use the one product across a project to achieve a consistent finish.
www.british-gypsum.com
Guide to raised flooring
A new brochure from distributor CCF details its range of Bathgate and Knauf raised flooring. The brochure offers information on the Permaflor range from Bathgate and the GIFAfloor range from Knauf. It details the grade, depth and weight of each type and recommends the most suitable application. Permaflor, for example, suits a busy working environment where full access to void-based services are required. Each access panel is available in a bare steel finish or factory-bonded finish such as laminate or carpet. GIFAfloor provides a solid monolithic surface for areas where decorative stone or sheet floor coverings will be applied.
www.ccfltd.co.uk
Minster product update
Minster has launched the fourth edition of its product catalogue. Featuring 700-plus new products, the catalogue is divided into key sections - from fire protection and acoustics to drylining and thermal insulation. It offers guidance on sourcing sustainable materials and solutions, including details on external wall insulation and solar photovoltaics. Through its partnership with Greenworks, Minster also
offers a variety of training courses, from introductions to renewable technologies to installer qualifications and assessor courses.
www.minsteronline.co.uk