A new generation of developer clients is shouldering its way into a buoyant property market, giving contractors a lot to get up to speed with
This week's announcement of a £700m joint venture firm to be set up by Berkeley Group and National Grid - St William - to develop up to 14,000 homes in London looks to be the latest of a number of new developers on the block. With the economy improving, behind many of the cranes appearing again across Britain's skylines lie the usual blue-chip developers, of course, from Barratt Homes to Land Securities and British Land.
And while Berkeley Group is behind this particular new venture, a growing number of fresher faces are now in town too, many products of systemic shifts, such as the globalisation of UK property investment and the rise of the private rented sector. These sea changes have disrupted traditional market patterns, bringing with them names, people and business models that are much less familiar to the wider world.
For UK construction, this means getting up to speed with how these new faces work. Contractors may indeed be increasingly spoiled for choice as demand for skills continues to outstrip supply, but those that don't keep pace with this new generation of property developers risk losing out.
Here, Building profiles the businesses which typify that generation, including those from the Far East and Eastern Europe, to residential players and Brits capitalising on neglected regional markets.
The Prime Residential Player: Mount Anvil
The business model
Mount Anvil is not exactly a new entrant, but few developers so successfully symbolise the recent explosion in prime outer-London residential property. Focused almost exclusively on homes for sale in zones one and two, the company earlier this year won backing to the tune of £200m from Ares Management, allowing it to expand its pipeline with a further £1bn of new homes. Its turnover next year is expected to hit a whopping £250m, up £30m on this year's estimated total.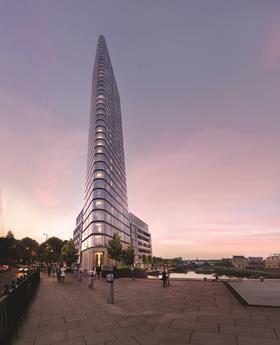 The pipeline
The company is now on site with several new-build schemes, with the Landau in Fulham, the Filaments in Wandsworth, and The Eagle and Lexicon (pictured, right) schemes near Old Street both due for practical completion next year. Last month, it bought a new site in Hampstead, which is a conversion opportunity building on its previous conversion at The Loxfords and Barnsbury Place in Islington. A full planning application is due in 2015.
How is construction work procured?
Mount Anvil is a "one stop shop" developer-contractor, meaning it does not appoint a main contractor, and instead goes directly to specialists. This allows it to "control what we do without getting into a tight contract with one party, so that we can be more dynamic and responsive with specifications," explains operations director Peter Burslem. It is focused on delivering the highest possible quality developments, and demands that as much work is carried out off-site as possible.
What are they looking for in a contractor?
"Our procurement is done on a 'best value' basis, which mean in practice: health and safety excellence, quality, deliverability, attention to detail and ability to manufacture off site," says Burslem.

The Private Rented Sector Developer: Fizzy Living
The business model
Fizzy Living, a subsidiary of Thames Valley Housing Association, just secured £200m of investment from Abu Dhabi's sovereign wealth fund. It is among the first UK companies, alongside the likes of Essential Land, to be buying and developing residential property specifically for rent. Because of its long-term backing, this "PRS" model means owning and managing a building throughout its lifecycle.
The pipeline
Fizzy is on the acquisition trail, with plans to expand its portfolio to 5,000 homes. Already, the company has four existing residential investments, including its "Fizzy City" scheme in Stepney (pictured, below), and another that it recently bought in Finchley, north London, which is the first that it will design and build itself. The focus is inside the M25, where plenty more new-build sites should follow this one.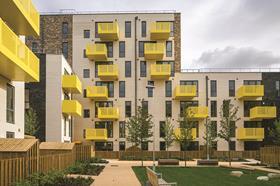 How is construction work procured?
Existing relationships from Thames Valley Housing Association give the company a head start in procuring contractors, but Fizzy may look at standardising layouts for efficiency, which could result in pod-type development. "At the moment, my preference is to develop designs ourselves and to control the product rather than do design and build," says senior development manager Alan Gillman.
What are they looking for in a contractor?
Because the private rented sector means developing buildings to then own and manage for the long term, Fizzy Living takes a keen interest in ensuring value is maintained throughout the length of an asset's lifecycle. Ultimately, success in this comes down to the people, and striking relationships with the right teams, Gillman explains.

The Regional Revivalist: Titan Investors
The business model
Regional city centres endured the office development pinch more acutely than most. But an increasing number of investors, from Abstract Land to George Capital and Rockspring, have begun edging their way back into sector. One developer that has pioneered here is Titan Investors, which was buying regional development sites when the rest of the market was looking the other way.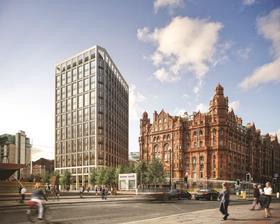 The pipeline
Titan is bringing forward Grade A office development sites in Aberdeen, Glasgow and Manchester, and has already delivered one in Bristol, which was sold on to Skanska Project Development to speculatively develop and let. Its biggest is in Manchester, an Eric Parry Architects-designed scheme (pictured, left) of 175,000ft2 directly opposite Manchester Central Convention Centre. The 130,000ft2 Silver Fin development in Aberdeen is currently being tendered.
How is construction work procured?
Titan uses single stage design and build, but says it is flexible to adjust the procurement strategy to a changing construction market. In Aberdeen, it has a tender list of four, with three big national players and one local outfit.
What are they looking for in a contractor?
Titan values track record in the sector, a conservative financial position and a direct relationship with the top management, who must stay directly involved.

The Far Eastern Developer: Dalian Wanda
The business model
Alongside Greenland, ABP, SP-Setia and Zhongrong, Dalian Wanda is one of the highest-profile Far Eastern firms to have burst onto the London development scene. The Chinese conglomerate is building high, with its One Nine Elms scheme (left) stretching to 60 storeys.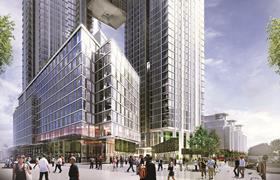 The pipeline
One Nine Elms is the company's first property development in the UK (under Wanda One (UK)), but it has ambitions to upscale. It is currently bidding to develop more than 7,500 homes at the Brent Cross Cricklewood South site, and aims to get more involved in large-scale development. Its current residential and hotel scheme in Wandsworth, London, contains 439 homes and a 187-room hotel.
How is construction work procured?
The company is pursuing a two-stage tender process at One Nine Elms, and is believed to have shortlisted Bouygues, Carillion, Mace and Skanska for the £400m job. Despite these contractors having a local presence, Dalian Wanda has not ruled out turning to Chinese contractors as the UK skills market tightens.
What are they looking for in a contractor?
Speed and efficiency are key, due to the pacier nature of the Chinese market, as is a collaborative approach.

The Accession State Arrival: HB Reavis
The business model
This Slovakian company's strategy is to build a "strong position" in the UK, having spent 20 years developing around 8 million ft2 of mixed space across Central and Eastern Europe. Here, it is sticking to offices because there is so much competition on residential and hotel uses, according to Tomaš Jurdák, director of HB Reavis UK.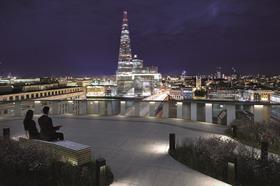 The pipeline
HB Reavis' first two schemes are 33 King William Street in the City of London, which is on site and has been rebranded as "33 Central" (pictured, and 20 Farringdon Street in London's "Midtown". The latter, which was acquired in October, has full planning consent for 75,000ft2 of offices, and demolition will start as quickly as possible, for delivery in early 2017. The company is now looking at around 15 further acquisition opportunities, and is trying to acquire two to three more projects by the end of 2015.
How is construction work procured?
The company acts as construction manager, letting "very specific" tender packages, according to Jurdák, who says it stays "very deep in the [tendering] process". Mostly, it lets the specialists packages via the traditional single-stage route and tends to approach around eight names that it already knows, never inviting tenders from companies "we haven't met before". It says it has strong links already with multinationals, given the amount of development it has done on the Continent, but adds that it is educating itself on key local players as well.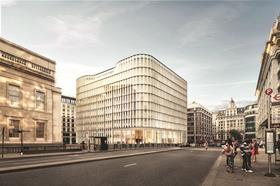 What are they looking for in a contractor?
It tends to hold the buildings once they are developed, so takes a keen interest in sustainability. But health and safety, quality, cost and level of experience are just as important, as is local area knowledge. "In Central and Eastern Europe, we have kept long relationships with suppliers," says Jurdák. "Here, we need strong partners that must understand the local area. We have contractors that want to work with us and provide excellent cost levels. But we do keep an open mind, especially in new markets."