That's the message to contractors from the UKTI chief executive. He tells Building why the world's emerging economies want to see more of British builders.
Nick Baird has a suggestion for the UK's biggest contractors. Baird, the chief executive of UK Trade & Investment - the government department responsible for promoting British exports and encouraging inward investment into this country - reckons they need to get out and about more.
A former UK ambassador to Turkey who has been in charge of the 2,000-post department since last September, Baird reveals he returns home from his many foreign trips with pleas for more British builders ringing in his ears.
"You see it all over the world," he tells Building at his office in UKTI's Westminster headquarters. "I was most recently in the Gulf and they were saying, 'Please, please, more British construction companies come out here - we want to see British companies building things'.
"There is a sense that Britain is more in the consulting, more in the project management, design engineering area. But they want to see British firms building things."
Our discussion comes at a crucial time for UKTI, a "non-ministerial government department" overseen by both the Foreign and Commonwealth Office and the Department for Business, Innovation and Skills. Given the dismal economic picture here in Britain and the increasingly frantic search for growth, the work of UKTI in driving trade with other countries is under the spotlight like never before. Even the prime minister David Cameron has been taking a direct hand in UKTI projects such as the British Business Embassy, the high-profile series of events it has organised to run in parallel with the London Olympics.
So how does Baird's work impact on the construction industry and how is he using the department's £300m-plus annual budget to help firms win work abroad?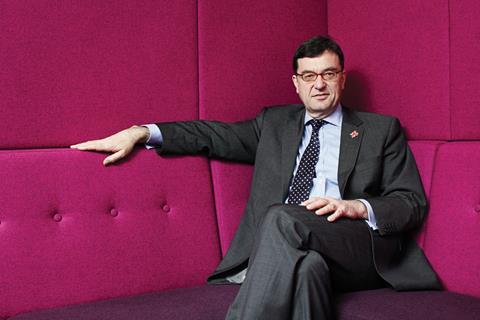 Emerging markets
His overriding priority, he explains, is to boost overseas trade and investment by targeting the "big emerging markets" in the world such as Asia, the Middle East and central and South America. The problem is that the UK is a weaker exporter to these areas than it is to the crisis-hit eurozone.
In fact, Britain has only a 1.2% share of large emerging markets' imports, compared with a 3.4% share of significant developed countries' imports.
That, Baird says, puts us behind Germany, France and "even" Italy - a worrying state of affairs, especially given that the UK's overall share of global exports has fallen sharply over the past decade from 5.3% in 2000 to 4.1% in 2010. As a result, chancellor George Osborne has set the target of ratcheting Britain up to £1 trillion of exports by 2020 - more than double the current figure.
Part of UKTI's response has been its High Value Opportunities programme, an initiative launched last year to help UK firms to target more than 50 of the largest and most valuable procurement opportunities around the world, which are largely in infrastructure. Already, the department is boasting of successes such as Carillion's £296m contract on a Msheireb Properties redevelopment project in Qatar and £80m worth of work won by various firms on the Singapore mass rapid transport scheme.
Baird says UKTI is seeking to "facilitate building of consortia" to access these types of project. "This point has been made to us by governments overseas as a weakness of the UK offer compared to Germany or France - that we tend not to fight in groups, as it were," he says. "They like to have an offer which includes the finance, the developer, the operating company with supply chains supporting them."
It's not only the largest firms that UKTI is seeking to help, Baird emphasises, pointing to a drive - again led by Cameron - to get 100,000 small companies exporting by 2020. Part of the trick here, Baird claims, is to spread the message of how UKTI can help firms that register with it to spot the right opportunities and contacts through what he calls "intermediaries" - banks, trade associations, lawyers and even magazines willing to highlight its work.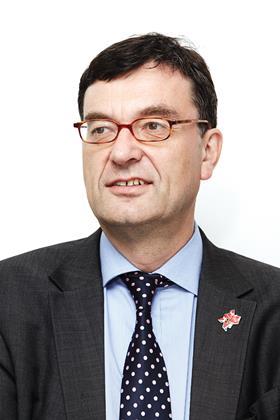 Britain's 'biggest showcase'
If the ongoing British Business Embassy - which included a construction and infrastructure summit on Wednesday - attracts the best foreign clients, it could provide a huge boost to the sector. The embassy seeks to show off the skills of the best UK firms to hundreds of foreign VIPs visiting London for the Games, with Atkins boss Uwe Krueger, architect Richard Rogers and Olympic cauldron designer Thomas Heatherwick among those taking part.
Baird, who was speaking before the embassy began, calls it the "biggest showcase of British excellence since the 1851 Exhibition" and says it has already generated a "fantastic" level of interest, despite a slow response to initial invitations, as reported in Building. "They will be excellent events at which businesses will get to meet really good international buyers," he says.
Cameron, Baird confirms, was heavily involved in planning the events and even made sure that official invitations - rumoured to be gold embossed - were sent out to foreign VIPs from British embassies around the world. "He is all over the detail of this," Baird says, "because he regards it as a massive opportunity and he has really wanted to get involved in everything we are doing."
This brings us to Building's 2012 campaign and the apparent gagging of Olympic firms by the no marketing rights protocol enforced by the London Organising Committee of the Olympic and Paralympic Games (Locog) - something Cameron himself has voiced concern over. Baird offers congratulations for the campaign but chooses his words about the protocol with care, calling the Olympic park a "good selling point for the British construction industry right across the board".
"Whatever constraints there are, they are not affecting UK companies doing unbelievably well," he says. "We've been doing everything that we can, within the rules, to really give companies the opportunity to use what they've done on the Olympics in a positive way. Our suppliers directory has the details of 170-odd companies that have been involved and we promote that directory around the world."
We've been doing all we can, within the rules, to give companies the opportunity to use what they've done in the olympics
He also points to trade missions to Brazil and Qatar that have helped UK consultants like Arup and Aecom to win work on forthcoming Olympic Games and World Cups.
Baird is also highly optimistic about UKTI's continuing drive to tempt institutional investors, such as sovereign wealth funds, to take stakes in British infrastructure, despite there being precious little to report since Osborne made it a priority last autumn.
He says: "There are huge opportunities in that area because sovereign wealth funds typically invest in sovereign debt and this is not the best place to be at the moment."
In fact, Baird is more hopeful that this will materialise than he is about contractors from here going over there - an issue he returns to as the interview draws to a close. Although he admits there are exceptions and that it all comes down to a judgment call that only the firms themselves can make, he also speaks of the "wistful concern" of potential foreign clients eager to see more British talent.
"We know the reasons - they don't want to take on that level of risk and so on," he says. "What is certainly true is if ever there was a change of mind in the construction sector around this, there is huge demand for British expertise from countries that are prepared to pay for quality."
So there you have it. Main contractors of Britain - it's over to you.<