People love the idea of garden towns and villages – and 14 of them are planned for the UK. But will they live up to the original vision and how sustainable will they really be? Emily Twinch reports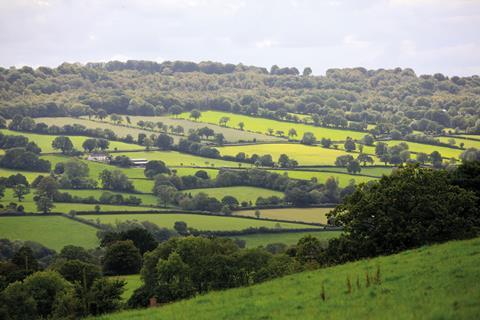 Over the past decade, garden communities have become an increasingly popular way of delivering housing, with Conservatives, Labour and Liberal Democrats all attracted to their positive branding.
In 2014, the Lyons Housing Commission, set up by the Labour opposition as part of a public policy review on housing and led by Sir Michael Lyons, concluded that garden cities were "essential to meeting housing need over the medium to long term". Although then local government secretary Eric Pickles suggested this meant "dumping rebranded eco-towns on local communities", a year later the Conservative/Lib Dem coalition government released a prospectus entitled Locally-led garden villages, towns and cities with a support package for areas that wanted to create a garden community. It also announced that it would back a 15,000-home garden city at Ebbsfleet in Kent.
The delivery of 14 garden villages and three garden towns across Britain
In 2016 the Conservative government promised a "new wave" of garden towns and cities. Then prime minister Theresa May, in her government's first announcement of 2017, pledged to support the delivery of 14 garden villages and three garden towns across Britain with a £6m pot for the villages and £1.4m earmarked for the towns in Buckinghamshire, Somerset and the Essex-Hertfordshire border.
Garden villages - Where they are and where they are at
Long Marston, Stratford-upon-Avon
A total of 3,500 homes, a six-hectare business park and a relief road. Cala Homes has begun construction on the first phase of development materminded by JTP Architects.
Oxfordshire Cotswolds
Preferred options consultation ended in October, illustrative masterplan this spring. Grosvenor Developments to apply for outline planning for 2,200 homes.
Tresham, Northamptonshire
Also known as Deenethorpe airfield garden village. Council agreed updated strategy in July 2019 for 1,500 homes. Basis for planning application to be submitted this summer.
Culm, Devon
First stage of masterplan went to public consultation in February. It forms a part of the Cullompton town centre masterplan project which will see the introduction of up to 5,000 homes, the potential reopening of Cullompton railway station and a relief road to ease congestion.
Infinity Garden Village, south of Sinfin, Derbyshire
Plans are for 1,850 homes are awaiting approval. Environment Agency has objected to the flood risk mitigation model which was submitted saying it was "not fit for purpose".
Bailrigg, Lancaster
Outline planning application for 680 homes and demolition of Low Hill House.
Dunton Hills, Brentwood, Essex
Plans are for a village south of the A127 with recreation provision and green spaces. Brentwood council signed off 2,700 homes in January but a councillor argues plans breach green belt principles. Public consultation on draft planning document lined up for this summer. Government deciding if plans can be adopted.
West Carclaze, Cornwall
Plans submitted to council for 1,500-homes development, a third of which will be affordable. A school, sports park and 16km of walking and cycling trails are included in the 500-acre site. First phase of construction to start this year.
Welborne, Hampshire
A 6,000-home scheme granted outline planning permission in October 2019. First residents for 1,000-acre scheme set to move in by late 2021, but this relies on new junction for M27.
Spitalgate Heath, Grantham, Lincolnshire
Plans for 3,700 homes submitted in 2014, approved in February 2019. A relief road is being built to support development which includes a 224-hectare village, sports facilities, a primary and secondary school and a riverside park.
Halsnead, Knowsley Merseyside
Set to bring almost 1,600 homes, part of a Liverpool City Region Combined Authority investment fund which will deliver access routes into the village. Construction is expected to start this year.
Handforth, Cheshire
Plans for up to 1,500 dwellings and 175 elderly care residential units, plus a new primary school and a children's day nursery.
Longcross, Surrey
Construction has begun on houses located off the M3. One of the smallest garden villages with 1,500 homes and a business park.
St Cuthbert's, Cumbria
The largest of the proposed villages with plans for up to 10,000 homes. Last month it was awarded £320,000 by the government.
Construction is due to begin next year and take two years.
Labour, had it won last year's general election, would have introduced legislation for the "next generation" of garden communities, according to its 2018 housing green paper. And in January this year, Boris Johnson's government promised a further £6m to progress garden towns and villages.
But delivery of these projects has been slow. Research from the consultancy Lichfields, released in December last year, showed that the 49 garden communities in the government's programme since 2014 will provide 403,000 homes, up to 182 primary schools and 56 secondary schools, and 600 or more hectares of employment land – but not before 2050.
Lichfields found that homes are unlikely to be delivered in scale until the next electoral cycle. Although the consultant concluded that the developments could be turning out 16,000 dwellings a year by the 2030s, this seems a small number, considering the government's commitment just over a year ago to delivering 300,000 homes a year by the mid-2020s – so much for them being "essential to meeting housing need".

Perhaps one of the reasons for such slow delivery is that garden communities have their own set of development challenges. The Town and Country Planning Association (TCPA) charity – founded by the father of garden cities Ebenezer Howard in 1899 to create the first projects at Letchworth and then Welwyn, both in Hertfordshire – says garden communities should be "well designed, healthy places" with the "right employment, community facilities and a range or housing" or they "risk becoming dormitory commuter suburbs – the antithesis of the garden city idea".
Howard's idea was to combine the countryside and town, to create places to live and work and for communities to have plenty of green space. But schemes have been criticised for being higher density than Howard originally envisaged and not being "green" enough by today's standards. So, are the garden villages in the pipeline likely to live up to the original vision?
An answer to development?
As the 14 communities in May's 2017 announcement are still largely in the planning stage – only five of them have outline planning permission to date – their potential success is hard to gauge. But there are other garden cities around the world that can be considered as examples.
Howard's Letchworth and Welwyn garden cities are generally considered to have been a success but others have been criticised for desecrating the countryside and for lacking transport infrastructure in and around them. Some proposed garden cities became little more than dormitory suburbs as residents continued to travel to urban hubs for work.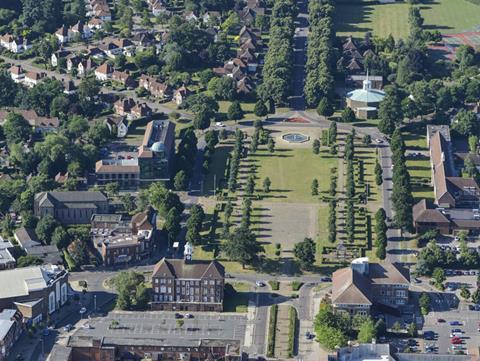 Anthony Breach, housing analyst at The Centre for Cities think tank, highlights a garden city experiment in South Korea where people ended up commuting, pushing up carbon emissions. He suggests that "garden cities were an answer to 19th-century Victorian London but not 21st-century cities".
He adds: "People try to put distance between where they live and work. People work where land is more expensive and live where the land is cheaper. Forcing people to live and work in the same place is ineffective."
If garden communities are a branding that "presents the argument for new urban expansion, that's fine" – "people like the idea of garden cities" – but as stand-alone communities they are not an answer to development, Breach says.
Over time, there will be employment opportunities in the community

Philip Robson, planning barrister at Kings Chambers
All the garden villages will need to entice the private sector to provide jobs and shops. But, says Philip Robson, planning barrister at Kings Chambers, "with populations as low as 1,500, this may prove problematic".
Although Andrew Whitaker, planning director at the Home Builders Federation, believes that "employment will come", he says it takes time. "When you first build the houses [people will] inevitably travel out for work but, over time, there will be employment opportunities in the community."
Silvia Lazzerini, head of planning and design for strategic land at developer Grosvenor, which is working on a garden village in the Oxfordshire Cotswolds – one of those named in 2017 – admits that "employment takes longer" than creating a "sense of place" with homes. She says the vision for the Oxfordshire project is that people "live, work and play in the same place" but that there is a "choice for the community". Grosvenor's aim is to make the site attractive to employers, she adds. The developer is understood to be looking for a major employer/investor to attract branding and identity.
Garden towns and villages - A potted history
Sir Ebenezer Howard's garden city ideal was first published at the end of the 19th century. The founder of this influential movement published To-morrow: A Peaceful Path to Real Reform in 1898. It led to the adoption of self-contained communities surrounded by greenbelts across the UK.
Howard set up the Garden Cities Association in 1899 to help him introduce the first garden city in the UK – Letchworth Garden City in 1903. Welwyn Garden City followed in 1920.
Howard's garden city movement situated communities around concentric patterns with a central park surrounded by a broad avenue. The success of garden cities with their tree-lined avenues, high-quality houses and improved air quality led to global capture. Garden cities were soon present in Scandinavia, the US, Australia, Japan, South America and beyond.
Garden villages and suburbs such as Hampstead Garden Suburb, St Helier in London and Bourneville in Birmingham may have been smaller in size than original garden cities but retained the same principles.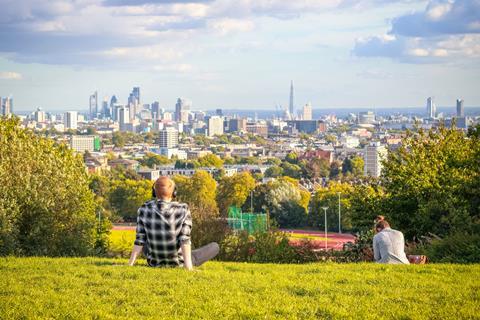 The New Towns Act was established in 1946 following the second world war to refocus on the ideals Howard set out half a century before. The creation of Stevenage, Milton Keynes, Runcorn and Telford received mixed responses compared with the garden cities that came before them.
The Town and Country Planning Association – originally the Garden Cities Association – retains many of the same principles in its provisions for garden cities, towns and villages, including:
Generous green space, public parks and tree-lined streets
Mixed housing types that are affordable
Strong local jobs for the community
Beautifully and imaginatively designed homes
Opportunities for residents to grow their own food
In 2014 then chancellor George Osborne announced that Ebbsfleet in Kent would become the first garden city in England for over a century, featuring seven parks and 15,000 homes.
On 2 January 2017, plans for 14 garden villages, each with between 1,500 and 10,000 homes, and garden towns each with more than 10,000 houses were announced by the government.
These smaller projects were proposed due to opposition to "urban sprawl" in the garden city projects.
Andrew Longley, head of the north Northamptonshire joint planning and delivery unit, working on the Tresham project on Deenethorpe Airfield, says: "We are trying hard so it's not a dormitory village on the edge of Corby." The aim is to create 1,500 jobs on the site, he says. Planners for Tresham also have ideas for "flexible" buildings on the site that can be business properties or homes, Longley adds. So what of the density and green space?
Although there will be some higher density housing in Brentwood's Dunton Hills development – another of the 14 – the council's director of planning and economy Phil Drane says a key aspect of the development will be lots of green space. "Green space runs through the middle of it," he adds.
One of the reasons why Brentwood chose to create a garden community was because, after consultation with members and the local community, it reached the conclusion that it was a "series of villages", Drane explains. He says Dunton Hills will deliver a "significant contribution to the housing needs of the borough but continue that village character".
The ambition is to deliver a country park, green space and "biodiversity elements"
Longley says Tresham will be low density and a lot of effort has gone into the landscape design and ecosystem services. He calls it a test bed for quality design ideas.
Tina Maryan, a council area planning officer in mid-Devon working on the Culm Garden Village, says the ambition is to deliver a country park, green space and "biodiversity elements", along with zero carbon buildings, renewable energy, jobs, schools and healthcare.
But even if these schemes manage to create healthy and vibrant places, as the TCPA says they should, they still take a long time to come to fruition. Matthew Spry, senior director at Lichfields, points out that it can take about five years to get planning permission on these schemes, two to three years to get the first homes built, then another 10 to 15 years to complete.
Tresham has been in the planning for more than 10 years. It is hoped that a planning application will go in this summer, it will be agreed in the new year and building will start about 18 months after that.
Spry says: "The schemes [in the government's programme] are going at a pace you would expect, if you are a realist."
Funding boost
The government's interest certainly boosts the drive to bring the garden schemes forward. The Ministry of Housing, Communities and Local Government (MHCLG) says it has allocated £45m of capacity funding to help 49 garden community developments, not including Ebbsfleet, since 2015.
Maryan says that being one of May's 14 garden villages "has raised the profile of the project with government, and with local communities and other stakeholders". Government funding has helped "with the project management [of Culm] and to allow studies and expertise to be commissioned", she adds.
Longley echoes this. "That funding in 2017 allowed us to hire consultants and expertise," he says. He adds: "The funding has allowed us [the council] to be more in the driving seat in terms of making sure aspects of the proposals that make it special are followed."
Richard Jones, partner at consultancy Arcadis, says one of the issues with garden communities is "getting it through planning". He suggests that "across the number of units, it's [the money given by government] not very much", considering the "amount of money that developers are now spending on planning applications".
Infrastructure
One significant way the Westminster cash could help is to solve infrastructure issues that are often one of the major sticking points of these projects. Creating brand new infrastructure or fitting in with what is already there can add on considerable time to a development. The government created the Ebbsfleet Development Corporation to speed up the building of 15,000 homes on the site and it has so far invested £100m in infrastructure to unlock development. Lichfields estimates that garden communities have been allocated £1.35bn of the government's £5.5bn Housing Infrastructure Funding pot.
Maryan says: "Infrastructure is the biggest challenge for Culm." And Longley says: "One worry for us is the traffic, and how that is managed." Whitaker says: "There's a very strong market in these [garden] developments. Putting lots of houses in one place with infrastructure is attractive to developers." However, he also warns: "It's very difficult to put the infrastructure in but everyone demands it." Jones says that without infrastructure, schemes will fail to get off the ground: "The infrastructure has to be viable for a private developer to get involved. If you are trying to engage the private sector, you have to have something that is credible."
Another risk for garden developments is a change in political administration. Because the projects take so long there will inevitably be elections during that time.
Jones says that garden communities "need successive governments to buy into the same vision". Spry says: "If there's local political opposition it will be tough to bring a development forward. [These schemes] work well when there's a local political will."
Lazzerini feels that the Oxfordshire project will be safe from political changes "as long as we have demonstrated that this benefits everyone in the local area". She adds: "If you have an enlightened council you should have a good collaboration of people trying to get things done."
We don't want to have a top-down approach to masterplanning

Silvia Lazzerini, Grosvenor
Lazzerini also talks about the importance of bringing local communities along with you. Local residents will often warm more to a scheme with the "garden" development tag but, as with any big project, there are always objections.
Lazzerini says that Grosvenor's approach in Oxfordshire is a "strong vision of community engagement. We don't want to have a top-down approach to masterplanning". She explains: "For quite a few months we were in listening mode, and people started to warm to it [the scheme]."
Longley agrees. He also says that taking time over the proposals has been key to gaining public support. "Not rushing things has been important to bring along local authorities [such as parish councils] with the plans, and hold public consultations. The feedback has been positive."
Longley also addresses the point that garden communities, arguably, deliver relatively low numbers of units. "It's not instead [of other developments] – it's part of the mix," he says. Tresham is providing 1,500 homes but that is just part of the 20-year plan to provide up to 40,000 homes, Longley says.
A spokesperson for the MHCLG says: "Well-planned, well-designed, locally-led garden communities play a vital role in helping meet this country's housing need well into the future, through providing a stable pipeline of homes. It is not just about getting the numbers up – it is about building places that people are happy to call home."
So, as these schemes are more popular than the alternatives and should, eventually, help with delivering the homes the country needs, perhaps, as Whitaker says, "it doesn't matter about the label. They are major developments – and that has to be a good thing."