In the second in our series on rethinking building design in the wake of the pandemic, Jordan Marshall reports on a booming healthcare sector and the government's ambitious health infrastructure plans
Rethinking Design series: Hospitals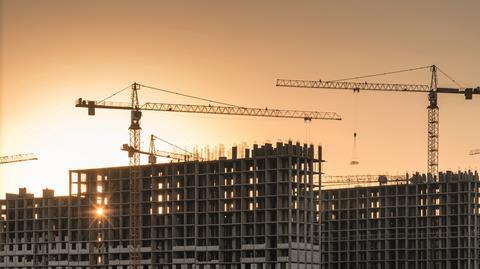 Hospital building programmes are in the spotlight like never before.
The delivery of the Nightingale hospitals to provide emergency relief care during the first weeks of the coronavirus crisis demonstrated the pace at which health facilities could be built – and proved that the UK construction sector has the capability to deliver these types of healthcare facilities on demand.
Add to this a government programme to build 40 hospitals within the next decade, as well as the implications of the pandemic on the physical makeup of hospital buildings, and it is clear that the design and the way in which these facilities are delivered is certain to change in numerous ways over the coming years.
While certain sectors have dried up in the wake of the pandemic, firms are flocking to the booming healthcare sector – an area that the government has promised to spend big on. The Department for Health and Social Care has revealed 32 hospital projects to be built as part of its Health Infrastructure Plan 1 and 2 (HIP1/HIP2), and the race is on for both those trying to get hospitals built and those looking to build them.
"Given the way the market is at the minute, healthcare bids are coming out thick and fast, by the week. It is quite a thing," says Ged Couser, principal at architect BDP. "There is the HIP 1 and HIP 2 lists of hospitals, and there is a little bit of an arms race as to which trusts can get out of the blocks first. There's quite a lot of competition, and the market is responding to that."
Couser concedes that, while there are limitations to the capacity of the construction sector, there is a solution to this. "I think what it means is that we've got to design buildings and hospitals and healthcare facilities in a very particular way to make sure that they are deliverable," he says, "and that they can be built to the budgets and to the programmes that we're being faced with."
We've designed a lot of high-quality, RIBA award-winning hospitals over the years. But a common theme runs through them all – intelligent offsite construction

Ged Couser, BPD
There is definitely a need for different design elements arising from both the covid-19 pandemic and the increasing use of manufacturing technology in the construction of hospitals. According to Gleeds' director of healthcare, Victoria Head, this will become evident in a number of ways, but one of the key areas is ventilation systems.
"The provision of oxygen is super important," she says. "So most new-build hospitals will have med pipes, medical gases, including oxygen. And that provision and resilience of oxygen is very important for covid."
Another aspect that is likely to change is the provision of negative pressure rooms, so that patients can be isolated. Head also highlights the less obvious design ramifications of covid, saying that the ability to implement social distancing has become a quandary for those looking to design a hospital.
"It comes down to the less technical design elements that allow for social distancing to be maintained," she says. "Waiting rooms need to get bigger, car parks need to get bigger – there's all of that."
But, as Head says, it's a careful balancing act to design and build in these elements, particularly as spaces such as waiting rooms are the parts of these facilities that have traditionally been designed to use space as efficiently as possible. "You wouldn't want to go into designing these facilities that are vast and then not used, because that becomes a very expensive asset to maintain. But at the same time, if it's going to be around for a while, and we're going to be maintaining these distances, we are going to have to think of providing more circulation space."
Rory Pollock, Laing O'Rourke's health sector lead, highlights the fact that smaller wards and single-bed rooms are definitely going to be in greater demand as a consequence of the pandemic. "If there has ever been a need to accelerate design for manufacture and assembly (DfMA) and modern methods of construction (MMC), it is now," says Pollock. "The fact that we have diminishing assets from a healthcare point of view that need rapidly upgrading, but also the fact that these deliveries are made at pace, at speed, which is absolutely the directive being given, [mean] we can't really deliver these traditionally any more."
BDP's Couser agrees. "We've designed and delivered a lot of large hospitals, really high‑quality, RIBA award-winning hospitals over the recent years. But there is a common theme that runs through them all. And that is about using intelligent offsite construction."
The £3.8bn healthcare injection
With a £3.8bn programme of works up for grabs it is unsurprising that firms are looking to expand into the healthcare sector. Following confirmation of the 40 hospitals that will be built as part of the government's programme (see panel "40 New hospitals, the government's plan", below), offsite construction specialist Merit launched Merit Health, a new healthcare division focused on building hospitals faster, more cost-effectively and sustainably.
The business also plans to deploy enhanced infection control, which can make wards covid-19 safe. Tony Wells, managing director at Merit, claims the government is only going to deliver its ambitious building programme if companies like Merit enter the fold and show how it can be done. "This will also be a critical element towards achieving the NHS's net zero carbon commitment," he says. "Our individual hospital bay ventilation and extraction technology also means no cross-contamination, which is critical as the NHS continues to deal with covid-19 as well as future potential pandemics."
Merit Health will use the company's offsite manufacturing technology to significantly reduce long-established building construction timelines, something that Wells says will be critical in supporting the government's hospital building pledge. According to Merit Health, while a typical acute facility takes three to four years to build, from inception to handover, its offsite approach can deliver projects in half that time. Around 75% to 90% of the buildings are manufactured at the 270,000ft² Merit factory in Cramlington, Northumberland.
Gleeds' Victoria Head agrees it is vital that DfMA and MMC are integrated into projects from the outset and says that one of their most significant strengths is the fact that walking into a hospital built using these methods one would be unlikely ever to know they were built using non-traditional construction.
And this does seem to be integral. According to Laing O'Rourke's Paul McNerney, director of UK building, it is imperative for the successful delivery of healthcare facilities that NHS trusts engage with the supply chain early and embrace DfMA and MMC from the start. "I think one of the concerns and reservations that clients often have around modern methods is that it's somehow restrictive, and removes bespoke design of a particular property, leaving the landlord with a grey monolithic box," says McNerney. "That isn't the case though. We've been building in this manner for more than 10 years, going back to projects, in the south‑west of England, where the factory was first opened."
As an example, Laing O'Rourke has managed to refine a broad palette of products, be they structural elements, services, bathroom parts, or facades, meaning there is the capability to deliver manufactured yet bespoke buildings.
"We've now got a very thorough catalogue of techniques and approaches," McNerney says. "Specific products can be brought together in different ways to achieve the outcome."
While the ability to offer clinical specificity and desirable aesthetic design will always be significant, providing scale on repeatable elements such as single bedrooms is key to maximising efficiency from both a design and a construction perspective.
McNerney's colleague Pollock says: "We can create a bit of an investable model that way. You have got single-bed accommodation, where you've got an excess of 16,000 bedrooms, which arguably could be all the same across the country. It's an investable model for a number of different contractors that we can invest in and roll out."
This idea of combining individuality and uniformity, that there needs to be a more cohesive approach from different hospital trusts, is something the sector, the government and the NHS will need to work together to achieve. And it is essential they do so as, without an efficient design and construction process, the deliverability of the hospital building programme will be challenging if not impossible.
Pollock says: "There is such a huge opportunity from a procurement point of view, to not have 40 separate designs with 40 separate designers and 40 separate contractors. There's a responsibility really among all of us in the sector to combine and share."
40 new hospitals: the government's plan
On site
Midland Metropolitan Hospital, Smethwick, West Midlands
Bringing together urgent care services from three hospitals across the region into one site.
Cumberland Cancer Hospital, Carlisle, Cumbria
Modern oncology hospital with equipment and facilities to comply with national service specifications, transforming cancer care services for patients across north Cumbria.
Royal Liverpool Hospital, Liverpool
New facility to replace existing hospital.
3Ts Hospital, Brighton, Sussex
Three-phase building works to deliver regional centre for teaching, trauma and tertiary care at Royal Sussex County Hospital.
Pending final approval
Moorfields Eye Hospital, Old Street, London
New eye care, research and education facility at Moorfields Eye Hospital and UCL Institute of Ophthalmology.
Defence and National Rehabilitation Centre, Loughborough
New £300m rehabilitation centre at Stanford Hall in Nottinghamshire.
Northgate Hospital, Morpeth, Northumberland
Rebuild to provide single integrated secure service centre of excellence, and re-provision of Newcastle and Gateshead adult acute inpatient services at St Nicholas Hospital, Newcastle. Reprovision of children's and young people's medium-secure inpatient services to Ferndene in Prudhoe, Northumberland.
Greater Manchester Major Trauma Centre
Additional non-elective, high-acuity hospital to support Greater Manchester major trauma service and transfer of high-acuity surgery.
Hospitals to be developed in 2020-25
Princess Alexandra Hospital, Harlow, Essex
New integrated, high-tech healthcare campus to replace ageing hospital.
Watford General Hospital, Hertfordshire
Rebuild, including women's and children's services.
Whipps Cross University Hospital, Leytonstone, London
New hospital providing services including emergency and maternity.
Epsom and St Helier University Hospitals, Surrey
Major new hospital.
University Hospitals of Leicester
Rebuild at Leicester Royal Infirmary and Glenfield plus new facilities at Leicester General.
Leeds General Infirmary, Yorkshire
Centralising children's and adult services with pathology services at St James University Hospital.
Hospitals given seed funding to develop plans, building 2025-30
The Hillingdon Hospital, north-west London
Rebuild to replace ageing estate to tackle significant critical backlog.
Charing Cross Hospital, London
Rebuild of Hammersmith Hospital, new clinical academic redevelopment near Imperial College White City campus, co-located with the biomedical campus. Major refurbishment of Charing Cross.
St Mary's Hospital, Paddington, London
Rebuild.
West Suffolk Hospital, Bury St Edmunds, Suffolk
Rebuild to replace poor estate and provide better patient environment.
Addenbrookes cancer hospital, Cambridge
New cancer hospital.
James Paget Hospital, Great Yarmouth, Norfolk
Rebuild.
Milton Keynes Hospital, Buckinghamshire
New women's and children's hospital.
East Sussex Healthcare NHS Trust
New hospital at Eastbourne; new wards and refurbishment at Conquest Hospital in St Leonards-on-Sea; clinical building at Bexhill.
Hampshire Hospitals NHS Foundation Trust
New hospital at Basingstoke and North Hampshire Hospital; major refurbishment at Royal Hampshire Hospital, Winchester.
Royal Berkshire Hospital, Reading
Rebuild to replace ageing estate to tackle significant critical backlog.
Kettering General Hospital, Northamptonshire
Rebuild.
Queen's Medical Centre, Nottingham; City Hospital, Nottingham
Rebuild of both sites.
North Manchester General Hospital
Rebuild to provide new healthcare facilities to replace poor estate and provide better patient environment.
Royal Preston Hospital and Lancaster Royal Infirmary, Lancashire
Planned replacement with either one or two hospitals, subject to consultation. Appropriate re-provision of three community urgent care hubs and three out of hospital hubs.
Shotley Bridge Hospital, Durham
New hospital including inpatient beds, outpatient activity, chemotherapy, and diagnostics to replace Shotley Bridge Hospital.
Christchurch Community Hospital, Dorset
Rebuild to consolidate services into new community hubs, with associated investment in district general hospital and mental health.
St Ann's Hospital, Dorset
New-build on existing site for child and adult mental health services.
Derriford Emergency Care Hospital, Plymouth, Devon
New integrated emergency care hospital, bringing all urgent care into one hospital. Dedicated areas for children and frail patients.
Cornwall Children's Hospital, Truro
New women's and children's hospital at centre of Royal Cornwall Hospital site.
Royal United Bath Hospital
Programme of work to deliver a new cancer hospital, reduce critical areas of organisational risk and improve the quality of the environment for service delivery across the northern part of the Combe Park estate.
Torbay District General Hospital, Torquay, Devon
Rebuild. New smaller acute "hot" hospital, a "cold" elective centre and a collaborative North East South elective centre all underpinned by an electronic patient record system and technology-enabled care.
Musgrove Park Hospital, Taunton, Somerset
Rebuild.
Bournemouth Community Hospital, Dorset
Rebuild.
North Devon District Hospital
Rebuild to provide new facilities to replace ageing estate and enable delivery of new models of care.
Poole Community Hospital, Dorset
Rebuild with theatres and sterile services. Linking acute and community services to reduce pressure.
Dorchester Community Hospital, Dorset
New build on site and also to build new ED and ICU. Service model sees better integration of the DGH with GP and community services.