Rowecord Engineering has gone under, taking at least 430 jobs with it. But what is the cost to the wider industry, when it loses the expertise offered by specialist firms?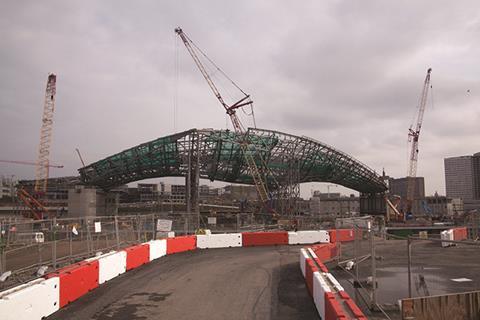 Last week's news that £68m-turnover steel specialist Rowecord Engineering has been put into administration has been described variously as a tragedy and a disaster - not only for its employees and customers, but for the economy of south Wales, where it was based.
The collapse has already led to the loss of over 430 of the firm's 500 staff, with no clear sign that the remaining jobs will be salvaged, and work has stopped at major projects for Tata Steel in Port Talbot and Sahaviriya Steel Industries (SSI) in Redcar, Cleveland.
With Rowecord being the third-largest steel specialist in the UK, behind some of the most memorable structures of recent years in the form of the Olympic aquatics centre roof (pictured) and the Mary Rose Museum revamp, the story of its demise is of interest to more than just those directly affected. Its downfall after 46 years as a company dedicated to high-quality technical and design skills shows how brutally unforgiving the current recession is, giving no respect to reputation or track record. It also raises the question of how the industry will hold on to the high-level expertise needed to forge a sustainable recovery.
While explaining to the Welsh Assembly why the devolved government was unable to save Rowecord from going under, Welsh economy minister Edwina Hart last week described it as a "world-renowned" business with an "exceptionally skilled" workforce. The testimony of those who know the company shows this was not mere political rhetoric.
Rudi Klein, chair of the umbrella trade body the Specialist Engineering Contractors' (SEC) Group, knew the management of the firm over many years. "This is a company that invested large amounts in innovation, in things like BIM, a company that had high standards. The people there were extremely bright, and good engineers working at the top of their game. It's not just a disaster for Rowecord, it's a disaster for the industry."
Rowecord, founded in 1967 by Ben Hoppe and managed in later days by his two sons Andrew and Ian, was known for being able to tackle the more complex jobs that other specialists might not have the technical nous to pull off - for example, it was behind a number of elegant Wilkinson Eyre-designed footbridges, dependent for their execution on bespoke hand-turned steelwork.
Willie Shaw, construction operations director at Mace, who has been working with Rowecord on the £135m British Museum extension project, says he hopes the firm's employees will be funded by Rowecord's administrator to finish the complex job, which is 95% complete. "It is gut-wrenching to see such a fantastic family company have its heart ripped out like that. They're without doubt one of the best teams I've ever worked with - you very rarely find the kind of passion and loving care they've displayed in their work."
So what went wrong? In general terms it was very simple - the recession killed it. In a statement issued this week Ben Hoppe, chair of Rowecord, says the firm was "hit very hard by the current market conditions". "We've had very few orders in building structures and the publicly procured market for infrastructure bridges has also been depressed."
In addition to that general market strain, Rowecord's charismatic and long-standing managing director, John Blackwell, retired in 2009, 17 years after being appointed. One source who worked at the company until 2006 and has continued to observe it subsequently, says: "John was a massive part of the development of the business over the years."
Rowecord Engineering had three principle markets for its steel products: commercial buildings and sports facilities such as the aquatics centre, which required steelwork of more than usual complexity; plant for industrial processes, such as its work for Tata Steel; and bespoke bridges - in particular footbridges.
Although the signature bridge projects were small, they were high profile and, importantly, high margin. But these projects, common under New Labour's regeneration programmes, fell away with the current government's austerity policy. The former company employee said: "They were very severely hit by the construction decline. It was notable they hadn't produced any of their funky bridges for some time. Those projects were important."
While the decline in the general commercial building market has been well-documented, Rowecord was also hit by problems on specific engineering projects. Alistair Wardell, of administrator Grant Thornton, says: "There were projects shelved which they were due to be engaged upon. Coupled with that, there were specific projects over-running which caused significant cash flow difficulties."
These problems came after the firm took on a large volume of work in 2011 to combat the downturn - with its most recent results, for the year to 30 June 2012, showing turnover up 80%. The former employee says: "It was a case of over-stretching themselves and then running into difficulty completing projects."
Wardell declines to say which projects helped bring the business down. However, Hoppe's statement makes clear it experienced overruns on "several major engineering projects."
They were good engineers working at the top of their game. It's not just a disaster for Rowecord, it's a disaster for the industry

Rudi Klein, SEC Group
The biggest of these was Rowecord's £185m 2012 job for Tata Steel to build a blast furnace in its Port Talbot steel works. A spokesman for Tata, which has in various forms been working with Rowecord since 1970, confirms the project took up to three months longer to complete than was originally anticipated, causing Tata "extreme difficulties" because of the delay in anticipated production capacity. But Hoppe's statement specifically exonerates the project, admitting the blast furnace job caused "significant cash flow issues" for Rowecord but saying these were resolved by the time of the administration and could not be blamed for it.
The Tata spokesman said: "We settled with Rowecord over the issue to our mutual satisfaction in February and have continued to work with the firm. It's not true at all to say that this contract brought the company down. We were shocked to see it, but feel we have an entirely clear conscience."
Other engineering projects the firm was working on include a £30m coal injection plant for SSI in Redcar and a £6.5m job for the Dover Port Authority to build a passenger ferry berth.
A spokesman for SSI, where workers have left the site, declined to comment on whether there were problems with the project, but said it had, until Rowecord's administration, been on course to finish on time at the end of May. He said: "We're disappointed and we're looking at alternative firms in order to get the job done."
The Dover Port Authority said it had no dispute with Rowecord over its scheme, and said it was seeking "early discussions" with administrator Grant Thornton to complete the project, for which steelworks have been delivered but not fully fabricated.
Whatever the truth of the specific problem projects that hastened Rowecord's downfall, it is clear that the Welsh Assembly attempted to intervene as the situation worsened, given the importance of the firm to the south Wales economy. However, minister Edwina Hart said this "very substantial" offer of assistance was turned down on the basis it would not be enough to enable the firm to avoid entering administration. By the time the administrator was finally called in last week, it found it was not even clear whether there remained enough money in the business to pay staff.
The prospect of the workers or management of Rowecord clubbing together to buy the firm out of administration has been raised in the debate over the firm in the Welsh Assembly, but the administrator has said he is "not optimistic" of achieving a sale. This means that not only are more than 400 highly skilled staff left wondering where their next pay cheques are going to come from, but that clients in need of Rowecord's expertise will have nowhere to turn. For SEC Group's Klein this highlights the real catastrophe for construction in the story - the potential loss to the industry of a set of highly skilled people.
He says: "The industry is desperately short of the level of innovation, and investment in skills that this company had. We just can't afford to keep losing this kind of business."
Rowecord's signature projects
2012 Olympic aquatics centre
Mary Rose Museum
Cardiff City stadium
Liberty stadium, Swansea
Newport City footbridge
Sail Bridge, Swansea
Rowecord's current schemes
British Museum extension
Sainsbury Wellcome Trust Neural
Centre for UCL
Coal Injection Plant for SSI
Berth 6 project for Dover Ports Authority