The RICS has faced a lot of criticism lately, with its global expansion drive and proposal to drop its top level qualification under fire. Iain Withers finds out how chief executive Sean Tompkins plans to reconcile ambitious plans abroad with winning back support at home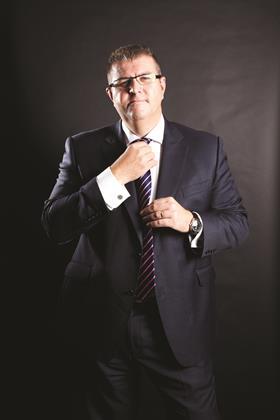 If you ask Sean Tompkins what his biggest achievement has been, a year into his role as chief executive of the RICS, he'll say: that the industry's biggest QSs are actually taking his calls. On the eve of his appointment from the role of chief operating officer in September last year, relations between the RICS and some of its largest members, including Davis Langdon and EC Harris, had got so bad that some were threatening to cut all ties with the body.
A year on and talk of a walkout seems to have died out. But Tompkins' policies have still left some QSs feeling alienated. He has presided over an accelerated international expansion drive, with the RICS setting up in Brazil for the first time, and its first top board meeting in Asia. Now he has plans to establish global standards across the whole of property, construction and land.
Leaning forward earnestly in his office on the top floor of the RICS' international HQ on London's Parliament Square, Tompkins explains, at a rate of knots, the case for going global, how he is trying to win round QSs at home and why he hopes
he could be in line for an end-of-year bonus.
Away
If you want to gauge how much the RICS has changed particularly over the last year, you need only look through Tompkins' phonebook. He boasts a direct line to India's prime minister, Manmohan Singh, and Brazil's president, Dilma Rousseff. David Cameron is not on the list. But as Tompkins points out, he is the first boss in the professional body's history to appoint a director (Mark Walley) specifically to head its UK operation. "For 142 years the RICS didn't have a separate UK organisation," he explains. "We now have a UK board and a UK director for the first time."
Tompkins' restructure reflects the RICS' new international outlook. It has six major regional offices outside the UK - in Brussels, New York, Hong Kong, Sydney, Dubai and New Delhi. It is also keeping an eye on Africa, with a view to setting up a regional office there in the coming years. The ultimate goal? To set global standards for all built environment professions. Tompkins admits this is still a way off and that it may take 10-15 years just to get a "significant number" of professionals working to RICS standards in countries where it already has a presence. But he believes the key to gaining traction around the world is to "make sure we're successful in the fast-growing BRIC economies".
But, as many UK QSs are wont to ask, why go global at all? Tompkins leans in further, visibly enjoying the chance to take his critics on. He explains that being relevant internationally is not just central to the survival of the RICS, but to the surveying profession itself. "There's no other option. If you're not relevant and understood globally there may not be a valuable future profession," he says. "My job is not just to make sure the RICS survives in 2011/12, but to make sure that in 20, 30, 50 years time we're still relevant." Tompkins characterises RICS' expansion as a battle to establish the profession in parts of the world where surveying - let alone quantity surveying - is unheard of.
He admits it's a challenge. In India - a powerhouse for engineering - the struggle to gain market traction for surveying is proving particularly tough. "Engineering is recognised, but cost consultancy and property management are not seen as professions," he says. Yet the RICS is making progress politically, with some of its standards even being written into Indian law.
Similar struggles are taking place throughout the RICS' global network, Tompkins says. But he believes the potential rewards for perseverance are "massive". Demand for surveyors - particularly program managers and cost consultants - is growing rapidly in emerging markets, he says. "All the future super economies I've visited are demanding those skills. All of the new economies require international investment. They are fast realising that professional standards will need to increase to attract international money."
This is where the RICS comes in. "Other areas of professionalism - such as accountancy and law - have been firmly established in these economies," Tompkins says. "But property and construction is not on the same professional footing. This gives us a unique opportunity." It was this opportunity that first tempted Tompkins away from his role heading up marketing at global insurance giant Prudential to the RICS in 2002.
How does Tompkins respond to critics who claim that the RICS' global scale will devalue its standards? "Absolutely not, because our whole brand is about gaining recognition for our standards." But recent moves to open up new routes to chartered membership - including to those who have not got a RICS accredited degree - have made some surveyors nervous. Last month Building reported that the RICS is also discussing plans to drop its flagship top level qualification - Assessment of Professional Competence level three - which has also angered some QSs. But Tompkins says: "We've got to look at how people around the world will develop in construction. If there aren't any RICS-accredited degrees in Brazil, we have to find [other] ways of developing people into the profession."
He reacts angrily to the suggestion that the RICS is seeking to increase its membership in order to shore up its income. "We're not on a desperation drive - I know people have said that but it's just not true."
At home
Getting UK QSs back on side has been Tompkins' "primary objective" during his first 12 months as chief executive, he says. "It was a real area of big concern. It would have been a very dark day for this profession if any of the major organisations that support the profession no longer supported it." He says he has spent a lot of time holding meetings with the major QSs and believes there is now "a lot more engagement".
Jeremy Horner, global chief executive of Davis Langdon, says he has been won over: "There has been a bit of separation over the years - QSs have not felt as represented. But [Tompkins] has been a breath of fresh air and there's now good industry engagement." It's a view shared by many in the industry, including Richard Steer, chief executive of Gleeds: "We are more optimistic now than at the beginning of the year. He's responding to criticisms of the previous regime and things have improved."
And Tompkins admits the RICS took its eye off the ball in recent years when it came to working with UK QSs. According to an internal RICS survey published last month, 20% of members are still unconvinced about the organisation's global expansion strategy - although this is well down on the 60% of 10 years ago. He argues that he is beginning to win QSs over.
Tompkins says he has put a greater emphasis on construction during his first year, with "significantly more" policy and media work in that area. The balance between construction, property and land is now, he says, "as balanced as it's ever been". He says the RICS' fingerprints are all over the government's low carbon and construction strategies, with key RICS figures on many of the government committees. "One of my most proud achievements was when I went to the launch of the low carbon strategy and looked through that plan - RICS is leading six areas within that. We are leading - front and centre - not just as surveyors but for all professions."
Clearly there's a lot on Sean Tompkins' plate – so why, at £255,000, is his salary almost a third less than his predecessor Louis Armstrong's £347,000? This seems to be a sore point. Over the course of several minutes, Tompkins points out that he is combining two jobs in his current role, as the RICS has not recruited anyone to replace him as chief operating officer. However, the salary was reduced as part of a plan to link the pay of senior staff to performance. Given that emphasis on performance, he's now hopeful of a generous end-of-year bonus. "They have been very clear that I have the ability to perform in the organisation and that will be rewarded."
He'll just have to hope the QSs agree with him.
Quickfire
In the stands or on the box In the stands
Biggest thrill The most shocking thrill was finding I could actually run the London Bupa 10k, which I did this year in 1hr 10mins
Ultimate holiday destination Asia's absolutely fascinating. Vietnam, Singapore, they're very lively, go-ahead economies full of people who want to create success rather than moan
Biggest fear That my daughters would follow the wrong half of the family and support Arsenal rather than Chelsea
Favourite decade Eighties
iPhone or BlackBerry BlackBerry
Room 101 Traditional British reluctance to promote itself