China and India may be the big beasts of the East but UK construction would do well to train its sights on South-east Asia where huge untapped potential lies waiting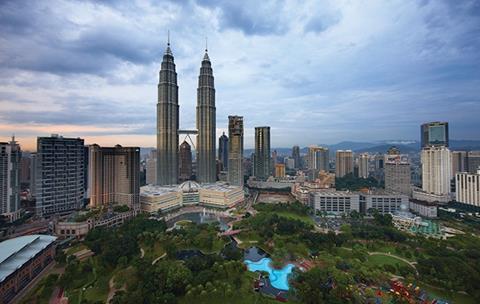 The UK government could be said to be infatuated with China and India - barely a month goes by without a senior politician heading east to encourage UK firms to join them there, or entice local businesses to invest in the UK. Prime minister David Cameron, chancellor George Osborne, business secretary Vince Cable and London mayor Boris Johnson have all led trade missions to one or both of Asia's economic giants in recent years, with many successes chalked up, including UK construction firms winning major commissions in the two countries, and Chinese investment ploughing back in the UK in nuclear projects, Manchester Airport City and several London real estate deals.
There's little surprise these two Asian tigers top their target list. Business ties with the region's two most populous nations are seen as essential in a globalising world. On page 30, law firm Pinsent Masons details projections that China will invest £105bn in UK infrastructure by 2025.
But there is much more to Asia than China and India. South-east Asia, long seen as a hedging bet by UK firms when weighed against the continent's more prosperous northern economies, is now fast attracting attention in its own right. The region boasts three of the world's top 10 most rapidly growing construction economies - Indonesia, Vietnam and the Philippines, each growing between 6-9% each year - according to Global Construction Perspectives and Oxford Economics. Three other construction economies in the region - Singapore, Malaysia and Thailand - are also growing strongly, at 3-5% a year. The region also has huge untapped potential. The 10 countries that make up the Association of South-east Asian Nations (ASEAN) have roughly the same economic output as the UK, yet 10 times the population, at 600 million people.
Throw in recent political unrest in Hong Kong, and economic slowdown in China, and South-east Asia starts to look like a more attractive prospect. Building joined architects and clients descending on Singapore last month for an architecture festival, to see up close what the buzz was about.
Starting in Singapore
Singapore is known as "Asia for beginners" among ex-pats. A former British colonial outpost, it has a legal and planning framework still recognisable to Brits, and a well-educated, largely English-speaking population. It's the natural starting point for many UK firms in the region and its location in the centre of South-east Asia also makes it an obvious base.
"It's the place to be," says Clive Lewis, associate director at Arup Associates, speaking outside the recently opened state-of-the-art Singapore National Stadium he helped design. "You have access to so many places from here, within four hours' flight you can reach something like two billion people."
Singapore has a thriving construction market in its own right, as it builds rapidly to service its growing population, which has almost doubled in the last two decades from 3 million in 1990 to 5.4 million people last year.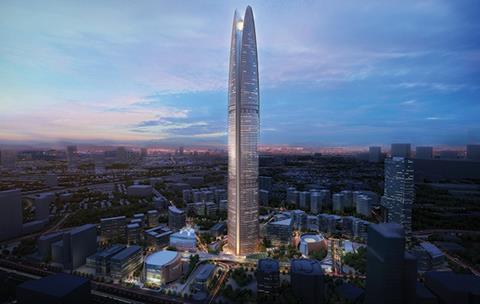 Infrastructure is top of its government's agenda, with expansion of its metro, a new airport terminal, relocation of its port and a high-speed rail link to Malaysia in the pipeline. Meanwhile, it finds innovative ways to grow its housing and commercial space, including reclaiming further land from the sea, investigating options to build above roads and railways, or underground.
Some businesses that work out here suggest Singapore could even outstrip Hong Kong as Asia's foremost financial services capital - a proposition that seems more credible after the protests on the streets of Hong Kong in recent months.
"Hong Kong is stuck on the edge of China and we are seeing problems there [as a result of that] at the moment, whereas Singapore is independent and secure," says Turner & Townsend's Asia managing director Duncan Stone, in his office overlooking central Singapore. T&T bases its Asian operations, which includes a sizeable China business, out of Singapore, rather than Hong Kong. Its skyline - with its glistening array of modern skyscrapers amid clumps of lush tropical trees - attests to its rapidly developing economy. The further you travel from Singapore, the less familiar things become, but there are bountiful opportunities to tempt firms out of their comfort zone [see boxes, below].
Exploring the region
For US architect KPF, the practice's first projects were in China and Japan, but it has been growing rapidly into South-east Asia, particularly over the last three years, and now has projects in Thailand, Singapore, Malaysia and Indonesia. Director Forth Bagley says Thailand's capital Bangkok and Indonesia's capital Jakarta are "very busy" for the practice. In Bangkok its projects include a head office for Thai brewer Singha, with accompanying theatre and hotel, while in Jakarta it is designing two high-rise office buildings. "As an architect where is the potential to impact the most? You'd point to Jakarta, Bangkok, Kuala Lumpur, Ho Chi Minh City," Bagley enthuses. "It's going to be one of the most exciting regions over the next 10 years."
Zaha Hadid Architects is one UK architect which would like to follow KPF's lead. With several projects already in China and Japan, the practice is keen to venture further, says associate Simon Yu. "We'd like to branch out into Asia Pacific, including to Korea, Indonesia and Vietnam," Yu says, sat in the sprawling conference centre of Singapore's mega hotel and mall complex, Marina Bay Sands. "We're certainly open to whatever's out here."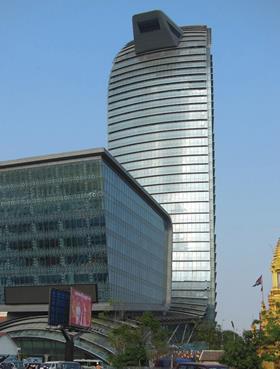 TFP Farrells has worked in Singapore and also ventured into Cambodia, to develop the country's tallest building for local bank Vattanac, shaped like a dragon. "Symbolism and iconography are important in the region," says the practice's Asia director Stefan Krummeck. "Cambodia is still in its infancy but it has the potential to develop."
The region is also creating its fair share of wealthy investors looking to invest in property overseas, with the UK top of their wish list. Last month Malaysian developers Sime Darby and SP Setia signed a £1.3bn deal for the next phases of the redevelopment of grand London icon Battersea Power Station, with the finance largely coming from Malaysian banks. "For us a large part of the attraction of South-east Asia is to forge relationships with clients that are sizing up development opportunities back here in the UK," says RLB chief executive Lance Taylor. "It is a fast-developing and very exciting region."
Winston Hauw, managing partner for RLB Singapore and its regional offices, which has 600 staff in South-east Asia, lists many challenges for UK firms operating in the region, including acquiring a good understanding of the local business culture and market; establishing a strong local network of clientele; adapting their UK business model to the emerging market environment; finding and employing suitably qualified and experienced staff; nurturing local leadership and succession planning.
Some firms caution that corruption is an issue in some South-east Asian countries, when working with the public sector in nations outside Singapore and Malaysia. "There's big potential in infrastructure as some countries in the region are far behind. But it's a bridge too far for some," says T&T's Stone.
"We'd put ourselves in that bracket. Clients want this and that and obviously you have to make sure you don't contravene anti-bribery regulations in the UK." PPP projects managed by investors are seen as a safer route into infrastructure markets. All the firms spoken to recommended Brits should find a local partner to work with in each of the south-Asian markets. To manage risks, in some countries you can secure down payments before you start work, typically around 5-10% of the project fee.
Ironically, as the UK agonises over whether or not to leave the European Union (EU), one consultant in South-east Asia says the region lacks just such a body there. "The ASEAN needs to be more like the EU," says Stone. "How these countries get together will be crucial to their success - for instance, in terms of harmonising market conditions and reducing trade tariffs." Although Chinese money is important in South-east Asia, Stone argues the Chinese don't have the market wrapped up: "The vast majority of nations in South-east Asia are democratic and lean away from China."
Karen Tham, regional director for South-east Asia for Aecom, which has offices in six countries in the region, says: "There's a need for more experienced people, particularly architects and engineers in the region."
Kevin Jose, global board director of Aedas, who is based in Singapore, agrees there are shortages in the region that UK firms can fill: "There's a shortage of engineers and of contractors," he says. "We're working with more international engineers to make up for the shortfall." As for the risks, he says: "As long as you know what you're doing, you'll be fine. You figure out how to manage the risks the best. It's not without its risk and challenges, but it's great fun."
What's happening where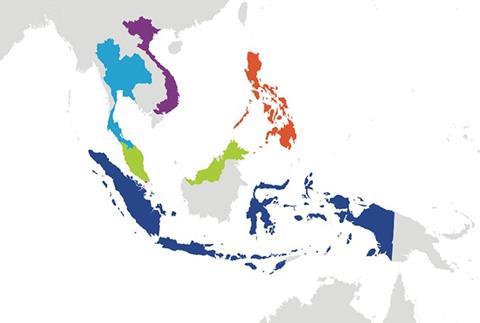 Thailand
Construction output 2012: $27bn
2025 projected: $49bn
Forecast construction output growth: 4.7% pa
The rough guide: Thailand's economic prospects are solid and its government has made a strong commitment to upgrade its infrastructure. The rate of urbanisation is currently low in Thailand, with only 34% of the population currently living in urban areas, but the country's capital Bangkok, with a population of 9 million, is forecast to grow more than 2% per annum up to 2025. The country's infrastructure and commercial sectors are expected to grow strongly.
Malaysia
Construction output 2012: $33bn
2025 projected: $56bn
Forecast construction output growth: 4.2% pa
The rough guide: The construction industry recorded a 21.2% increase year-on-year in the first quarter of the year, while the large volume of ongoing construction projects in the Iskandar region alone doubled in value from the MYR 5.6bn ($1.7bn) recorded in 2008 to MYR 12.6bn ($3.8bn) in 2013. Construction in 2015 is envisaged to expand at 10.7%, supported by the civil engineering, residential, and oil and gas sectors. Major projects include the Iskandar redevelopment zone in the south of the country over the strait from Singapore, which EC Harris is working on, and a new 700-acre mixed-use island reclaimed off the coast of Penang in the north, designed by UK architect TFP Farrells.
Vietnam
Construction output 2012: $24bn
2025 projected: $57bn
Forecast construction output growth: 6.9% pa
The rough guide: Vietnam achieved 5.62% GDP growth for the first nine months of 2014 arising largely from the recovery in the agriculture, forestry, construction, and industrial sectors. The property and construction market has been weak, but it showed initial signs of recovery towards the second quarter 2014. To revive the industry, the State Bank of Vietnam, together with several other banks, have drawn up VND 120 trillion ($10bn) worth of loan packages for investors, contractors, and building material suppliers to create credit flow and to speed up construction and development.
Singapore
Construction output 2012: $25bn
2025 projected: $40bn
Forecast construction output growth: 3.6% pa
The rough guide: The Singaporean government has been deliberately cooling the nation's overheated commercial and residential sector, shifting the construction sector's focus to infrastructure and high-tech manufacturing projects, such as biotech projects. The country has ambitious infrastructure plans, including ensuring every resident is within 10 minutes walk of a metro station.
Philippines
Construction output 2012: $41bn
2025 projected: $85bn
Forecast construction output growth: 5.9% pa
The rough guide: The Philippines economy is expected to continue its robust expansion into 2015 to achieve a GDP growth of 6.4%, although this may be slightly dampened by higher inflation and monetary tightening by the government. New construction permit approvals are up 21% for Q1 2014 over the same period the previous year. The government has also recently launched a massive infrastructure development programme costing PHP 62.3bn ($1.4bn). Along with the growth of tourism, manufacturing and business process outsourcing, there is increased construction of civil infrastructure work, residential and commercial buildings, industrial and utility facilities.
Indonesia
Construction output 2012: $256bn
2025 projected: $577bn
Forecast construction output growth: 6.5% pa
The rough guide: Indonesia is the world's fourth most populous nation and half of ASEAN's population is in this country. Its construction economy is forecast to grow from the 10th largest in the world in 2012 to the fifth largest in 2025, while its housing market will become the third largest in the world over that period, overtaking the US.
Sources: Global Construction Perspectives and Oxford Economics; RLB research