At this enormous store in Chester, M&S is putting its Plan A sustainability programme to the test. And from the zero-waste policy to the innovative use of natural materials, all the evidence suggests that this is one plan A that is actually working … Building reports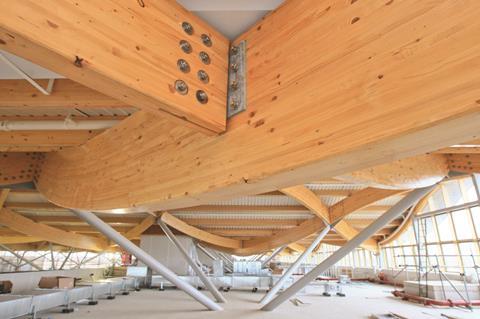 There are already some satisfied Marks & Spencer customers in Chester, despite the fact that the retailer's latest superstore outside the town isn't opening until the summer. The lions at Chester Zoo are contentedly sharpening their claws on a tree removed from the Cheshire Oaks construction site and rabbits at a local breeder have made some of the project's spare plastic pipe their home. That's because this project has a zero waste to landfill target and Ed Dixon, environmental champion at contractor Simons, has had to find some unusual ways of finding a home for the stuff that couldn't be recycled.
At 195,000ft2, M&S Cheshire Oaks is a monster - the biggest store to be built under the retailer's Plan A programme. This comprises 180 sustainability targets with 21 specifically for property - all 21, including the zero waste to landfill target, are being addressed at Cheshire Oaks. It is the third "sustainability learning store" to be built by M&S and trials a range of sustainable materials and technologies which, if prove successful, may eventually form the basis of its core building specification (see below).
The retailer has grand ambitions. "We would like to build a store out of all natural and sustainable materials," says Munish Datta, head of property Plan A at M&S. "The market isn't ready for that kind of thing but it will only become ready if we make demands of it."
He adds: "Beyond that, it's about overseas expansion and taking Plan A over to Europe. We'd like for it to become a compelling reason why European developers and local authorities want us using their neighbourhoods."
Less is more
The Cheshire Oaks store makes a compelling case for just that. Its most striking sustainable feature is the wooden roof made up of 1,400m2 of curved glulam beams. By using wood, there is 20% less dead weight, which means less structure and foundations are needed.
The curved beams are supported by a series of steel columns, but getting the two materials to work together did cause some problems. "You've got a natural roof of timber, which tends to move and which is tied to a steel structure, which doesn't move that much," says Rex Littlewood, business director at Simons. "To put up a steel frame and then put a timber roof on top, and then to cross two or three levels of timber, added two or three levels of complexity."
We'd like to build a store out of all sustainable materials. The market will only become ready for that if we make demands of it

Munish Datta, M&S
This meant many of the wooden beams had to be trimmed on site to get the holes for the 5,000 stainless steel bolts used to fix them to the steelwork to line up.
One advantage of the roof style is that it can be left exposed, which means that M&S can do away with suspended ceilings. "The key thing is we are always trying to use less material," says Calvin Grant, technical manager at project architect Aukett Fitzroy Robinson. That said, site electricians had to be very careful about laying cables in the overhead cable trays to ensure they looked neat and tidy.
A bigger headache has been ensuring that all the wood used on the project is Forestry Stewardship Council (FSC) certified. As Building's visit to the site comes to an end, Dixon is busy turning away a timber delivery because the FSC paperwork is incomplete. There are elements on the lorry needed for today's programme but, as far as Dixon is concerned, there is no way it is being unloaded. He describes the scene as "a regular occurrence".
Dixon says forcing the supplier to pay the haulage costs to take it back is the only way that the supply chain will learn that the paperwork has to be right first time, not days later. If that makes managing the project a little more difficult, then that's tough.
Rosi Fieldson, head of environment for Simons, says this project has been good preparation for the introduction of the EU Timber Directive in 2013, which will make both suppliers and contractors responsible for ensuring there is no illegal timber in their buildings. "We know we can do it and develop a supply chain to meet whatever challenges arise in the future," she says.
A twist of lime
The Cheshire Oaks store is also the biggest project to date to use a mix of hemp and lime, known as hemcrete for the cladding. Hemcrete is very green as it locks up carbon dioxide, is very breathable and is a good insulator. Using it in precast panel form is also a first - previously it has been cast in situ, and before that used in block form.
"In the original plan we were going to cast it on site but when we looked at it we went with the precast solution," says Fieldson. The reasons were twofold. According to Fieldson, casting it in situ would result in about 10% wastage. The other was that only by ensuring that the mixture has the right balance of lime and hemp can you harness the best of its thermal properties, which is easier to do in a factory than on site in a North-west winter.
A rainscreen system protects the precast panels from the weather. The system is attached to the panels and lime render is sprayed over as the final finish - this isn't trowelled smooth but left as it is, making the process very quick. An earlier project by Aukett Fitzroy Robinson for brewer Adnams also used hemcrete and relied on hand-applied lime render, which took much longer than anticipated. Grant says the kit-style system used here proved a very smooth process and allowed the building to be made watertight very quickly.
It has incurred some additional costs, but you have to put that in the round and look at the life cycle of the building

Rex Littlewood, Simons
All these measures didn't come cheap. Indeed, M&S won't say how much the store cost. "It has incurred some additional costs [because of the environmental aspects]but you have to put that in the round and look at the life cycle of the building," says Littlewood. "In the end, this building will be cheaper than a traditional build because of the lower energy costs."
Datta adds: "I think that being green need not cost more. If you look at some of the aspects that are very heart-warming, such as zero waste to landfill or the community engagement [we're doing here], that does cost a little more, but it's negligible to the overall cost of the project," he says.
M&S is not afraid to test that theory. Engineer Buro Happold is currently completing a year-round assessment of the retailer's last learning store at Ecclesall Road in Sheffield, which Datta says has led the retailer to include living walls in its specification wherever possible.
An assessor is yet to be appointed at Cheshire Oaks but the results from this, along with a fourth learning store to be built in 2013, will be published together to help to inform the rest of the industry about sustainable commercial building.
"Not enough is done in the industry in chasing down targets," says Datta. "People have a lot of glossy brochures about having these targets, but there aren't a lot of glossy brochures about what happens when they hit them."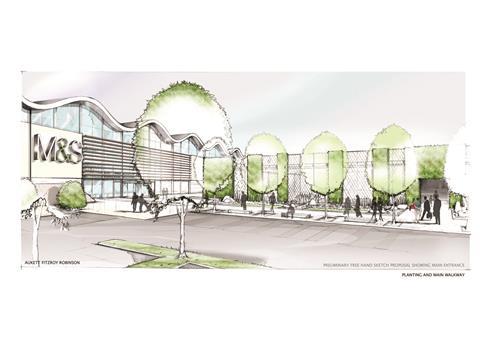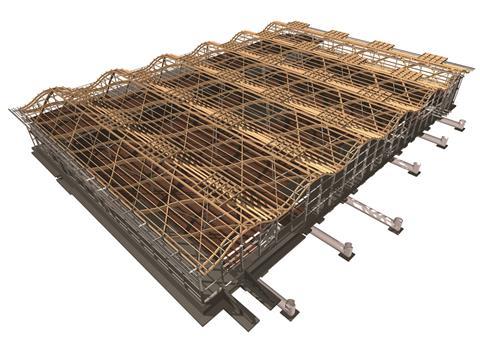 ECO CHAMPION
Simons took the decision to make environmental champion Ed Dixon and head of environment Rosi Fieldson responsible only to business director Rex Littlewood, not the project manager, in order to ensure sustainability concerns were not compromised by the usual project pressures of time and cost. It was the first time the contractor had used this type of structure.
"Any decision on a construction project is about time, cost and quality, and there's now another one, which is sustainability," says Littlewood. "While the construction team are striving headlong to meet the construction targets, sometimes they are not so focused on the Plan A targets and Rosi [and Ed] could have got compromised. But I was there as the arbiter."
The difference was noticeable to Martin Donlon, director of M&E consultancy SDS, who says he has worked on many projects where there has been a lot of talk of sustainability, only for it to fade into the background. This project, he says, was different. "Someone suggested a simple change to the accent lighting. Then there was a whole lot of emails that went around saying that it might impact on energy, and a whole debate kicked off around it," he says.
IN NUMBERS
100% of the aluminium on the roof is recycled
60% of the aggregates in the build are recycled
40% of the materials in the cast concrete benches are recycled
Over 100 tonnes of carbon captured in the building
On target to hit 99.5% of timber to be FSC certified
0% waste to landfill
70% of store heating is provided by biomass and reclaimed heat